Last month, I was one of several local travel writers invited to Grand Geneva Resort to meet with Executive Chef Nelly Buleje and sample some of the changes he intends to bring to the menu at the Chop House locations at the Grand Geneva, Milwaukee, and Madison. If he manages to make even some of them, he'll have accomplished much more than most new Chefs bring to established locations like these.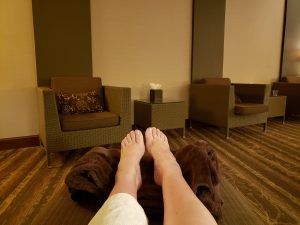 As the showcase of Chef Buleje's new dishes was going to take some time, the Resort invited us to stay the night and sample some of the other amenities enjoyed by patrons. Arriving tense after a drive up to Lake Geneva in a raging snowstorm, I was booked into the Spa and had a very thorough massage from a fabulous masseuse Desseree and a relaxing rest in their comfortable facility. The warm earth-tones there complement the Grand Geneva's Prairie-style architectural ethos well and it is certain to put anyone into the correct frame of mind for enjoyment. The facility and services are top quality and every bit as good as you can expect from the finest hotels and spas in Chicago.
After my massage, I drove the short distance to the main resort to check in only to find it in a state of extreme activity, as it was the beginning of a school break for many area children.  They were there in droves, along with their parents, ready to ski on the new-fallen snow.  It was fun to see all of the enthusiasm, even though the check-in line was long.  The resort made certain to keep us all happy by bringing those of us in line a glass of beer. Grand Geneva understands hospitality.
After receiving the key to my room, I entered only to find a preliminary gift from the Chef…a fantastic tray of sweets along with some of the most delicious hot chocolate I've ever had.  And a couple of shots of alcohol to sweeten it even more.  Each was distinctive and each paired perfectly with the rich chocolate.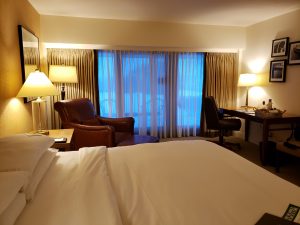 The room was decorated in the same warm earth tones found elsewhere in the Grand Geneva, enlivened by photographs of some of the antique boats visitors to Lake Geneva often see in the summertime.  There was plenty of room to work (not that you should), relax, and rest.  I even had my own patio with a lovely view over the snow-covered lawn.
But I was there to learn about Chef's new vision and so I soon joined my colleagues downstairs at a private room at the Chop House. We were greeted there by Grand Geneva's Marketing Manager Lindsey Nemcek  and General Manager Jeff Stewart and stood chatting for a few minutes of shop talk before Chef Buleje arrived to start off the proceedings with a bang.
The first thing you notice about him is his tremendous energy and enthusiasm.  He's young to be as accomplished as he is, but it's the genuine love of what he does that immediately impresses.  And his love for Grand Geneva, where he began his culinary career as a young man right out of high school, is apparent.  He credits the direction of the kitchen staff there with helping him find not just a job, but a career that he's dedicated himself to with all his energy and creativity in play. His mentor was the acclaimed chef Robert Fedorko, who helped him as a young chef at Grand Geneva, where he rose to chef de cuisine, overseeing the golf and ski chalet as well as Timber Ridge Lodge & Waterpark. He moved then to the Milwaukee ChopHouse, became executive chef at the Richmond Marriott in Virginia then at Sonesta Resort at Hilton Head Island and Cleveland's Metropolitan at The 9, leading the culinary team and overseeing menu development while winning Cleveland's prestigious Iron Fork competition two years running.
Now he has come home in triumph to reinvent the scene of his earliest successes. Drawing on his Peruvian, Guatemalan and Mexican family food traditions, his extensive world travels and more than a decade of experience, Chef Nelly has assembled a crack team to rejuvenate the ChopHouse's menu while retaining all of the traditions that made it so great in the first place.
Chef Nelly has an eye to all aspects of the menu from production to procurement ensuring flavor is built into every meal from the beginning.  He's built a custom dry-age box for the ChopHouse's new special whiskey-aged rib steaks (one of very few in the country) and is procuring their pork from Uplands Creamery heirloom hogs which feed on whey from Upland's Pleasant Ridge Reserve cheese.
"I'm always in search of new flavor profiles and culinary techniques," Buleje assured us. But that really is the least of what he's trying to achieve.
And he doesn't think small at all. In a conversation that actually happened after our meal, he told us that his true vision is not just to update the ChopHouse, but to network with the other area restaurants to transform Lake Geneva into a foodie hotspot.  To paraphrase, "Chicago is the number two food town in America and Milwaukee also has a great culinary scene.  There's no reason that Lake Geneva, which caters to patrons from both of those places, shouldn't have the same quality and excitement in its food."
But he's mindful of the ChopHouse's traditions as well, and the expectations of Grand Geneva's guests.  And that is also reflected in the inspired choices we sampled.  Chef Nelly introduced each beforehand and explained his vision and new take on traditional fare. People arriving expecting their surf and turf will not be disappointed, just elevated by these new offerings.  And the wine pairings are just as inspired as the food.  There's a reason the ChopHouse won Wine Spectator's Award of Excellence in 2018.
Course 1 – Lobster, king crab, shrimp lobster deviled eggs, oysters, caviar (see featured photo) and umami smoked salmon collars with charred scallion salsa verde. Paired with Belle Glos, Rose, Sonoma County 2016.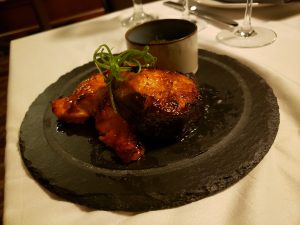 This was a lot to unpack because there was a lot.  Everything was delicious and fresh as it should have been. The flavors of the lobster, crab, and oysters were largely left alone and were superb. The deviled eggs were divine as was the caviar, adding the perfect salty kick.  But it was the umami smoked salmon collars where Chef really used his creativity and they were smoky and rich and wonderful and like nothing I'd ever had before. If you like smoked salmon, you'll be absolutely wowed by these. If you don't like smoked salmon, these might make you a convert. The flavors work in perfect concert to enhance the experience from scent to taste to texture. They are truly incredible and everyone was more than impressed, this was actual genius at work. A great way to start off a tasting.  The wine was light and refreshing, perfect for not overwhelming the fish, but still so delicious on its own that you drank the entire glass.  I will be seeking some out for my own collection.
Course 2 – Vegetable – Aromatic salt, pumpkin seed oil roasted winter vegetables and chermoula, paired with Sonoma Cutrer, Chardonnay – Russian River Valley 2016.
It was here that Chef Nelly stated his commitment to guests who are vegan or who are dedicated to following a healthy plant-based diet.  He feels they are underserved by most restaurants and vows to make ChopHouse a destination for them as well, not treating them as an afterthought as they are in so many meat-heavy restaurants.
Each of these vegetables was treated to their own complementary sauces, perfectly paired with their roasty flavor and elevating the entire thing into a real experience, not just a side dish.  The beets and carrots were so glorious I would eat them again and again and this was one of my favorites of the sampling and I think showed off Chef Nelly's creativity.  So few people do really well with beets.  This isn't enough for an entrée, but I hope it is indicative of how he plans to treat entrees for the vegetarian guests because this was a thoughtful, careful and curated lineup of flavors with each sauce enhancing the exact vegetable it was paired with.  The light, crisp but vibrant Chardonnay was perfection with this course.
Course 3 – Sea Bass, Country Ham, Roasted mushrooms, ham broth peas, and pistou. Paired with Orin Swift, Papillon – Napa Valley 2015.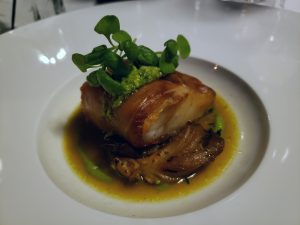 I think this was many of my companions' favorite course. I am an easy mark for fish, but I found the country ham a little overwhelming here for the bass, it was also a strong texture, not tough, but it was so strong in comparison to the light fluffy perfectly cooked bass that I didn't love it.  Both were better on their own, I think. Again, the wine was exceptional with this course and backed off the saltiness of the country ham.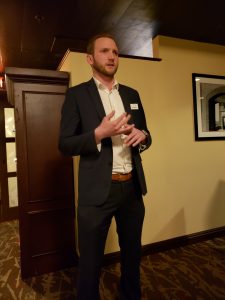 In between this course and the next, Chef invited in Kyle Waschow, Restaurant Manager at Grand Geneva Resort.  In his spare time, Kyle likes to invent cocktails.  And he brought us his newest creation – the Waschow Smokey Bulleit Old-Fashioned, involving Bulleit bourbon, simple syrup, blackberries, and a smoking technique that really added to the flavor. He literally burned a plank of wood, smoked the glasses and then poured the craft cocktail into it.  It was very impressive. I wish I had liked the flavor profile of the resulting cocktail a bit more, but I am not a fan of Bulleit on my best day, I find it harsh, and I found it harsh here as well, but if you're a bourbon drinker and you like Bulleit, you might really like this. The smokiness is recommended, though. That was very nice and it was just very entertaining to watch.  And it shows Chef Nelly's encouragement of creativity among everyone involved with ChopHouse.  That's how to lead.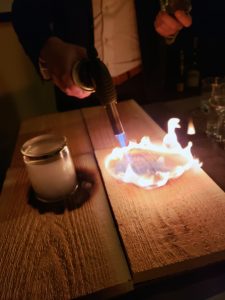 While Kyle was finishing our cocktails, the fourth course arrived, Chef Nelly's inspired take on traditional steak and potatoes.  It exemplifies what he's trying to achieve with keeping familiar and traditional dishes on the menu but elevating them to be a foodie's dream.
Course 4 – Dry Aged Cowgirl Ribeye – Smoked marrow butter, loaded marble potatoes, and brussels sprouts. Just look at this.  It is perfection. The steak was perfectly cooked.  The potatoes were so rich and flavorful they will make a potato-lover weep and people who find potatoes boring will eat every bite. The brussels sprouts were next-level roasty and toasty, caramelized and just so completely delicious. ChopHouse is a steak house.  If this is what they're going to do to steaks, you are clearly in the best of hands.  Go order this.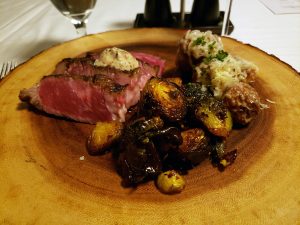 Course 5 – Baked Alaska – Chocolate, chocolate, chocolate, cherries and meringue, Ponzi Vineyards – Pinot Noir, Willamette Valley, 2014.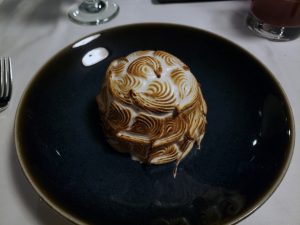 People basically laughed when this came out.  It is the most traditional thing you can imagine and usually so dull.  We stopped laughing immediately when we tasted it, though. Everyone was full, everyone just kept eating this because it was so good, we couldn't stop. As usual, Chef Nelly amped the traditional up to eleven and just kept going to twelve and beyond. This is what other places dream of when they offer something like "death by chocolate". But this has incredible cherry flavor and perfect meringue, too.  It is just so, so good, but you'll probably have to share after eating one of these entrees.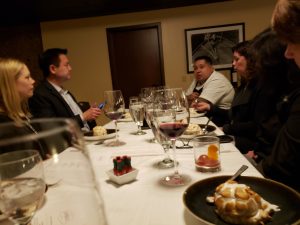 At this point, Chef Nelly just sat down with us and we talked about food, and the inspiration and creativity it takes to invent new experiences. It's not just playing with the latest technique, it's finding just the right ingredients, then assembling them and preparing them in a way where the flavor profiles are elevated by proximity and combination. It's the use of a lifetime's worth of research and studying of flavors from around the world to make something as American as meat and potatoes into a true flavor experience.
Then he told us about his vision of making not just ChopHouse, but Lake Geneva as a whole, into a foodie mecca. He's already networking with other area restaurants to make this a reality, and if he can pull it off, it's just a benefit to everyone in northern Illinois and southern Wisconsin.
But in just the ChopHouse locations under his control, you're going to find some of the most inspired eating of your life. The new menu is expected to debut on Memorial Day weekend.  You should make the trip to Lake Geneva to try some of these splendid dishes and wines. If you are a ChopHouse regular and find your favorite is no longer on the menu, try the closest equivalent because you can bet Chef Nelly has thought about it and found a way to improve it through applying a new technique or new flavor combination. Make reservations here.
All photography by Suzanne Magnuson.