The largest city in Kansas, Wichita brings a hip new vibe to art, culinary, architecture, and culture that makes it a great getaway. Known as the "Air Capital of the World," Wichita is the corporate home of Cessna, Hawker Beechcraft, Learjet and other aircraft manufacturers. Visit the Kansas Aviation Museum to learn more about its early aviation history. What impressed me most was the strong sense of civic pride you'll see throughout the city. They fly the Wichita flag everywhere and on everything!
Here's what to do in Wichita
The iconic image in Wichita is the Keeper of the Plains sculpture that stands at the confluence of the Big and Little Arkansas rivers. Created by Native American artist Blackbear Bosin, this 44-foot, 5-ton steel sculpture overlooks the city. Every night firepots are lit and drum beats are heard, creating a Ring of Fire showcasing the relationships between earth, water, air and fire. Visitors and locals gather to get caught up in this spirit. Don't miss it.
History of the Wild, Wild West at Old Cowtown
Come see what it was like back in the day of 1860s and 1870s Wichita. At the Old Cowtown Museum, hear stories of the early settlers with authentic buildings, period furnishings, clothing, farm equipment and other tools of everyday life. See a family farm, print shop, saloon, doctor's office, general store and more. Costumed interpreters and live reenactments bring it all to life.
Museum of World Treasures
Dinosaurs, a piece of the Berlin Wall, Ancient Egyptians and World War II collectibles are all on display at this marvelous museum. Great for the whole family, you'll discover new treasures in every corner and lots to talk about.
Chill with Chewy the Sloth 
Stroll through Tanganyika Wildlife Park and you'll have a chance for hands-on experiences with lemurs, giraffes, penguins, kangaroos and more. With their innovative "Behind the Scenes Tours," you can feed Chewy the 2-toed Sloth or interact with the Lorikeets as they drink nectar from your hand.
Art and Architecture all over town
Bronze sculptures along Douglas Avenue in downtown, bright colored murals, art installations and museums are everywhere in Wichita, reflecting the creative spirit of the city. This is Frank Lloyd Wright country, where his prairie-style Allen house designed in 1918, is considered of the "10 great Frank Lloyd Wright homes" in the country. Built for newspaper publisher, later governor and U.S. Senator Henry Allen and the wife, Elsie, the house brings nature inside with horizontal lines, earth tones and interior furnishings.
Get the best views of Horizontes, the largest mural in the world created by a single artist, from the highway. Painted on a grain elevator, this mural depicts people of color representing the nearby African-American and Hispanic communities.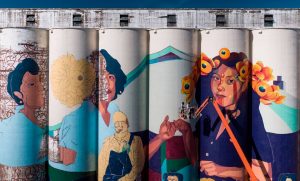 The Wichita State University enhances the city's art profile even more with Spanish artist Joan Miró's Personnages Oiseaux (Bird People). Walk through campus admiring the Rodin and other masterpieces. Stop at the Ulrich Museum, a collection of contemporary art from the 20th-21st century. The new Pizza Hut Museum will show you how the popular restaurant chain got started.
The Wichita Art Museum, one of the river museums, features an outstanding collection of American art featuring Edward Hopper, Dale Chihuly and Thomas Eakins. See the Georgia O'Keeffe retrospective; Art, Style, Image currently on display through June 23.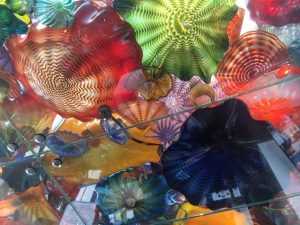 Culinary Explorations
Start your day off right at HomeGrown Wichita with their fresh-baked coffee cake, topped with warm caramel sauce. Or, try Pop-Tarts that will make your taste buds POP! Enjoy hearty sandwiches and salads. Open for breakfast and lunch.
Other breakfast restaurants include Leslie Coffee, where everything centers around toast, accompanied by excellent coffees. Avocado Toast and Banana Almond Toast are divine. At A Beautiful Day Café, you can see the fresh ingredients growing in their garden as you enjoy their fabulous omelets. Banana Buckwheat Pancakes are rich and wholesome.
For a casual lunch, you can't go wrong at the downtown food trucks in the ICT Pop-Up Urban Park. Check their Facebook page to see which trucks are parked for the week. Try Piatto Neapolitan Pizzeria with its wood-burning oven from Italy, flatbread pizza varieties and local brews. You'll taste the passion in every bite.
Formally a food truck, Prost is now a full-service, sit down restaurant, reflecting Wichita's German population, located in the new shipping container park, Revolutsia. Sit outside in their Urban Bier Garden and enjoy authentic German cuisine and brews that change monthly. Try the pretzels or flammkuchen as appetizers and schnitzel, bratwurst and bierock as entrees.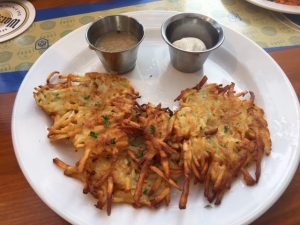 For a sophisticated dinner, George's French Bistro is like a taste of Paris, right in the Midwest. Their unique exterior looks like a French café. Inside, the cuisine looks as beautiful as it tastes with careful attention to every detail. Start with the Charcuterie Board or savory French Onion Soup. I recommend the potato encrusted salmon, haricot verts, lemon beurre blanc & a garnish arugula salad as an entrée. Save room for Nutella and banana crepe.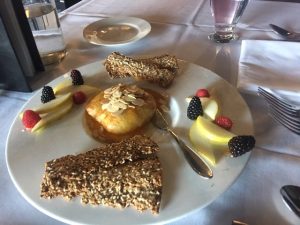 Hotel Recommendation – Hyatt Regency Wichita
With an ideal location right on the river, the Hyatt Regency offers luxury accommodations with great views of the city or Arkansas River. The river beckons below for a walk or run on the expanded River Walk. Enjoy comfort and style the Hyatt way with 24-hour StayFit gym, indoor pool, whirlpools, free wi-fi and more.
Get a great start to your day and begin at the Harvest Kitchen/Bar, where you can enjoy the bounty of the harvest. Seasonal breakfast, lunch, dinner and bar fare menu items are served around locally-grown produce, grains, meats and dairy products. For something lighter, grab and go coffee and a pastry at Peak's Market.
Come see the big city town with a warm, friendly Midwest attitude in Wichita!