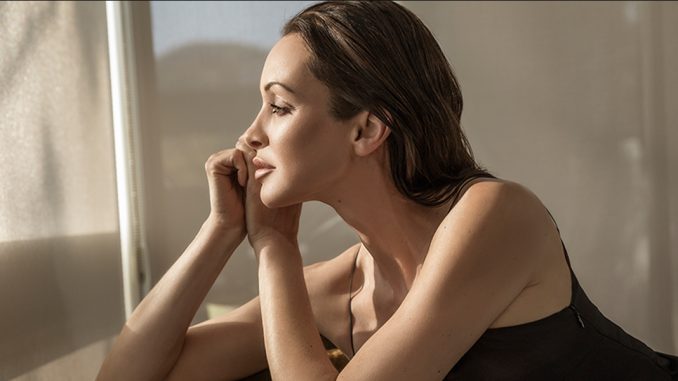 When you think of the 1990's, you think of "Must See TV" shows like Seinfeld, Friends and The Fresh Prince of Bel Air. It was the era that gave birth to the grunge rock of Nirvana and Pearl Jam, and Bubblegum Pop Princesses Britney Spears and Christina Aguilera. Beanie Babies were a collector's fad, Appletinis and Cosmos were the libations of choice, and supermodels exploded into superstardom. No one can forget George Michael's iconic "Freedom" music video featuring "The Big Five"- Naomi Campbell, Christy Turlington, Linda Evangelista, Cindy Crawford and Tatjana Patitz. There was Kate Moss, Claudia Schiffer, Stephanie Seymour, Helena Christensen and a stunning German girl with a Twiggyesque pixie haircut and naturally full and pouty lips named Patricia Hartmann.
We had a chance to sit down with Patricia and talk about her impressive modeling career and her newly launched cosmetic brand – Runway Rogue.
SS– Tell me how you were first discovered as a model:
PH– I did not dream of being a model as a teenager, it happened by chance. I was approached in my hometown of Munich at age 17 by a modeling scout. I ended up doing some test shoots. When I was 18 I went to Paris for one summer to try my luck in one of the biggest fashion capitals of the world, and never came back! I lived in Paris for 6 years before moving to New York.
SS– Is it true that Karl Lagerfeld suggested that you cut your hair to your famous Twiggy inspired pixie? What was your relationship like with "Der Maestro"?

PH– I was sent to a casting at Chanel headquarters on Rue Cambon. There was a line of models all the way out the door, and I saw them go in and come back out in a matter of seconds, so I thought my chances were pretty slim. When I stepped in front of Karl I was very nervous, but he immediately took an interest. He asked me where I was from, and we began speaking German together. I tried on some outfits, and Karl seemed to love them on me. Then: "I want you for the show, but we must do something about that hair" pointing to my then long locks. He called in the hair-lead for the show, Yannick D'is, and asked his opinion. He suggested that I needed a more modern edge and that we should cut my hair short. We went into the hair and makeup room and he cut my hair right there on the spot. The next day I was booked for the Chanel show. My relationship with Karl was great, we always spoke this funny mixture of German and English that no one else could understand. He loved strong women, not shy wallflowers. He brought me out of my shell and taught me to be confident. No, he demanded that I be confident…

SS– Tell me about your most memorable "modeling moment" during your career. Was it on the runway, shooting a campaign, when you garnered your first magazine cover?
PH– My most memorable moment was definitely my first fashion show, the Chanel Show. I had an emergency session with Miss J Alexander. [America's Next Top Model, at the time he was the Catwalk coach of Paris] the night before, but I was still all nerves. The moment I stepped on the runway it all went away. During the 90's, fashion shows were as much about the models as the designers. I was the new face out there, everyone was wondering who Karl's new muse is. At the end of the show he grabbed my hand on one side and Claudia Schiffer's on the other and we walked out together for the finale. The next day it was all over the press, and I was named 'Karl's new Liebling" It was the beginning of my career, and I had Karl to thank for it. He was a creative genius, he was outrageous and he didn't believe in political correctness. I loved every moment of it.
SM– A few years ago, you decided to develop and launch a cosmetics line of lip products- Runway Rogue. Why cosmetics? What inspired this new business venture?
PH– During my career I drew a lot of inspiration from the talented makeup artists I worked with, specifically Kevyn Aucoin, Laura Mercier and Francois Nars. I love skincare and all aspects of beauty, but I have a special love for color cosmetics, because of their transforming quality. By that I don't mean hiding behind makeup, or God forbid using it as a mask, but haven't you ever found that one lipstick that makes you feel like a million bucks in one second? I want to make the kind of products that make the list in questions such as: " if you could take 3 beauty items on a deserted island….." lol. But seriously, Runway Rogue is about products that make you feel good, that make you feel sexy and ready to take on the world. Because at the end of the day, LIFE is your Runway….

SM– Where do you see Runway Rogue in five years?
PH– Runway Rogue is a brand that is created by experiences – my experiences – not in a boardroom, and this is how we market Runway Rogue. By keeping our social feeds true to the DNA of Runway Rogue, through photo shoots, fashion shows and featuring the hustle and bustle backstage, we are growing the Runway Rogue social media presence organically with a mix of inspiring, educational and collaborative content. We are planning on expanding the line into other areas of color cosmetics, in addition to adding to the e-commerce retail experience of our customer with interactive and engaging content. We are focused on a multi-generational customer, and in 5 years, we are committed to be the must-have beauty product on and off the Runway. The Runway was such a big part of my career, and the 'Rogue' gives not only me, but every woman permission to be her own fabulous self, maybe push some boundaries and express her creativity.
For more information on Patricia and Runway Rogue, visit them on the web or on their Instagram.