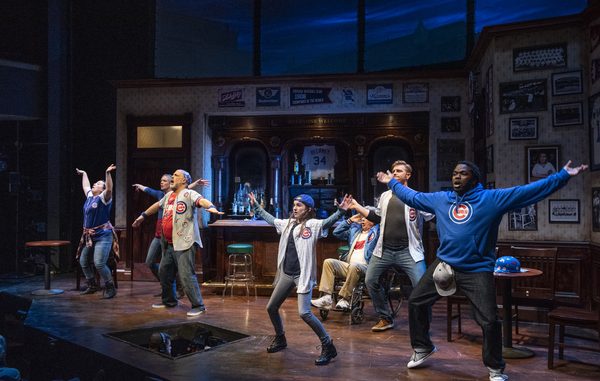 Reversing the Curse
Wow! When the cast enters, strikes a pose and you can't keep yourself from grinning, you know you're in for a good ride. And what fun Miracle: A Musical 108 Years in the Making was last night! Inspired by the 2016 Chicago Cubs, the musical is as much about baseball as it is about a close-knit Chicago Irish family fighting to keep family connections intact and their Wrigleyville bar alive. The opening night audience was filled with Chicago Cubs fans, many dressed in team shirts, jackets and hats, who laughed and applauded, understanding well the enduring hope and angst behind TANY, 'There's always next year.'
The scene is Maggie's Bar named for Maggie Delaney (after Chicago's own Maggie Daley) who has died four years before the musical begins. She was the force behind the family business. After her death, son Charlie (Brandon Dahlquist), a former baseball pitcher who gave up his career to take over the bar from his dad Pops (Gene Weygandt), is in financial trouble. Feeling cursed with a failing business, his failure mirrors that of the Cubs' longest championship drought in Major League Baseball – 108 years. Charlie has, at last, lost hope even as his wife Sofia (Allison Sill), daughter Dani (Elise Wolf, alternately played by Amaris Sanchez), and Pops share unbridled enthusiasm for both home teams: the Cubs and their family. Concerned friends are characters (and indeed they are) Larry (Jonathan Butler-Duplessis), Weslowski (Michael Kingston who also plays Sleaze), and Babs (Veronica Garza).
Director Damon Kiely's production runs smoothly through lighting and scene changes. Conductor Kory Danielson and his musicians hidden under the set perform seamlessly with the cast. The creative set design by Collette Pollard, girdled above with striking multi-media panels, is rearranged with ease, making the audience believe we are all at the ballpark, in the bar or bedroom or hospital, even in a cemetery beside Maggie's headstone. Dina DiConstanzo's choreography is exuberant.
Ryne Sandberg, former beloved second baseman for the Cubs, surprised the audience after intermission with a Seventh-Inning Stretch. He led us in a rendition of 'Take Me Out to the Ballgame' popularized by announcer Harry Caray, most recently made memorable in Chicago by Bill Murray in Game 3 of the 2016 World Series.
The Cubs did win the seventh game of the series after a disheartening 17-minute rain delay during which the convincing members of the Miracle ensemble agonized with fans everywhere. Meanwhile, the real-time outfielder Jason Heyward gave a pep talk that helped propel the Cubs to victory. I'll wager he didn't say, 'There's always next year.'
Wise counsel from Pops and Sofia help Charlie reverse a tough decision, akin to reversing the dreaded Billy Goat Curse. Young Dani's abiding faith in the future ignites them all and Maggie's Bar is snatched back from the greedy hands of neighborhood bar owner Sleaze. Miracles do happen when everyone plays for the team.
Jason Brett has written a smart, clever book full of teasing lines about being a Southsider, 'Oprah's stuff' being right, the Sox and Cardinals. The audience loved hearing Cubs lore, including references to the 1945 Curse of the Billy Goat directed to team owner Philip K. Wrigley. During the 2016 season, fans were asked to 'reverse the curse' by not eating meat.
Composer and lyricist Michael Mahler created fourteen songs lively as well as poignant, from 'Cubby Bear Blues' to 'What's the Pitch' to 'Look for a Miracle.' 'Do the Superstition' was energetic and hilarious. 'The Voice Above the Crowd' with music by Larry Novak and lyrics by Julian and Rhona Frazin, sung first by Pops and later reprised by Dani, was lyrical in both vocal ranges.
Originally conceived by William Marovitz and Julian Frazin and produced by William Marovitz and Arny Granat, the arrival of MIRACLE has gifted Chicago a heart-warming show about real people that deserves a wide audience. The soul of Chicago has always been about more than mobsters and corrupt politicians. Thank you for this brand-new and exciting Chicago-born evidence!
Photography by Michael Brosilow
Miracle: A Musical 108 Years in the Making is now playing at the Royal George Theater on Halsted Street in Chicago through July 14. For tickets: Miracle the musical website or call the Box Office at 312.988.9000.