(St. Petersburg, FL) June 1, 2019 – "Too many notes." This is the perhaps one of the most memorable quotes from Peter Schaffer's theatrical and cinematic classic "Amadeus." Spoken by Count Orsini Rosenberg, "Too many notes" is a not-so-subtle jab at the creative genius of Wolfgang Mozart. Translation: that brilliant work must be edited in order for it to be more palatable to the audience's short attention spans. What is prophetic about these three little words is if one were to slightly modify this phrase to "Too many words," then it would be extremely applicable to the art and craft of playwriting in the 21st century. I have written ad nauseam in previous articles about the trend of "Theatrical Texting for the Creative ADD." And I oftentimes wonder if plays like Eugene O' Neill's "Long Day's Journey into Night" (which opened at American Stage this weekend as part of its American Legacy Series) would survive a world premiere in this day and age. Probably not. However, even with the dreck of new works that must satisfy the limited intellects of millennials and the next generations, classics like "Night" persevere and thrive, especially at the St. Pete theatre. American Stage's presentation of the Pulitzer Prize award-winning drama about family and addiction is not only the best show in its 2018/2019 season, it is no doubt the best 2019 production in the Tampa Bay area so far.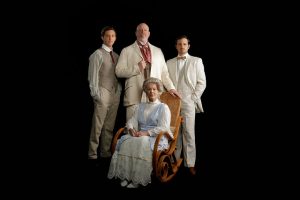 It is 1912, and a Connecticut coastal fog, as well as something even more ominous, seem to haunt the summer home of the Tyrone family. Actor and property owner James (James Keegan) is trying to control the uncontrollable demons that possess his entire family. In addition to confronting his own resentment regarding his lost opportunities as an actor, James has to care for his younger son, Edmund (Josh Odsess-Rubin), who is suffering from consumption. The family patriarch has nothing but disdain for his eldest, Jamie (Billy Finn), a hopeless drunk who seems to slip into emotional oblivion. And then there is James's wife, Mary, (Janis Stevens), a ghost of a woman who is not only addicted to morphine, but also her regret over the choices she has made with her marriage, her sons, and her life. All of this tension builds up and explodes throughout a single day.
For a play of this long length – it is three-hours long, in addition to two 10-minute intermissions, two factors must come into play: the direction and the acting. Director Brendon Fox's creative guidance is nothing short of brilliant, always keeping the story's pace at a tight speed without losing any of O'Neill's beautiful poetics and powerful emotional impact. This production did not feel long AT ALL, and shame on those audience members who left after the first act because the play has characters that actually COMMUNICATE with each other (huge shock!). This superb production deserves better respect than that.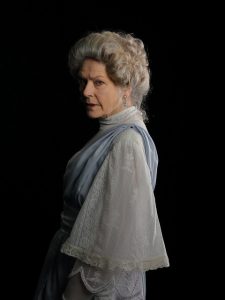 Every single performance by the actors is like watching a Master Class lesson in acting. Stevens is a force to behold with her Mary. In Act 1, the American Stage veteran is a picture of prim vulnerability, fresh and relieved after kicking her addiction at the sanitarium. However, when seeing Edmund's declining physical health, which causes her to fall off the wagon with the morphine, Mary is in a spiritual and mental decline of her own, and Stevens slowly peels every layer of her character's emotional armor as though she were sadistically tearing off a layer of her own skin. It's a painful descent into chemical-induced madness and Stevens wonderfully illustrates how her addiction can unleash Mary's spite and bitterness against her family. But the actress still maintains a level of sympathy regarding her desire to restore her faith in God, especially during her quiet moment with the housekeeper, Cathleen (a fiery, hilarious performance by Rose Hahn).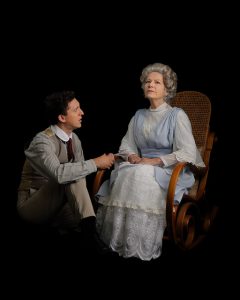 Equally moving is Keegan, whose James is reminiscent of a healthier Burl Ives, but with less bluster and more intensity of a lion trying to protect his pride. His powerful gravitas enhances his abused ego and miserly actions when it comes to Edmund's and Mary's medical care. On the surface, he is the captain of his ship, with his charm and commanding presence steering the course. But internally, Keegan patiently reveals his heart breaking with each agonizing second as the day progress. One of the most touching moments occurs when James recounts a time when the famed Shakespearian actor Edwin Booth complimented him on his performance as Othello, an event which brings tears to Keegan's eyes. Another, more subtle, moment of tenderness that the seasoned actor shows is during a card game with Edmund. They stop playing, and the young man shares a story about his past. Odsess-Rubin leans back in his seat, with his feet on another chair near Keegan. As Edmund continues his story, Keegan holds his son's feet and rests his chin on them in complete awe of his son's insight on life. Keegan's eyes melt with pride and love, further illustrating his talents as a true artist. Lastly, his chemistry with Stevens ignites on the stage, like a torch that is always in danger of consuming both characters.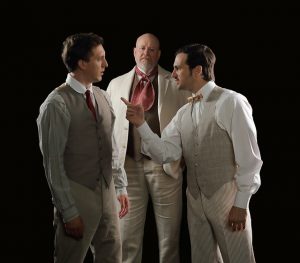 Odsess-Rubin and Finn bring spectacular levels of self-destructive power to the story, perfectly completing the dysfunctional family portrait. Odsess-Rubin' Edmund is a true tortured artist, whose longing for his mother's approval makes him feel as though he were the mythological Sisyphus's pushing the boulder up the hill for all eternity, only for that boulder (like Mary's bitterness) to roll back over him once again. Odsess-Rubin captures his character's sickly nature, but still has an inner passionate flame to stand up to his family when certain lines of decency are crossed, especially from Finn's Jamie, whose charisma and self-loathing show absolute potency during his times on the stage.
But the main kudos goes to Artistic Director Stephanie Gularte and the other American Stage staff for going back to the basics and producing this profound work of art, the kind of art that all contemporary playwrights should take a few lessons from. And if they do, where more dramatic plays become actual stories and not just agenda-ridden diatribes or literary fast-food I.M.s, then there might be some hope for 21st century theatre after all.
Peter A. Balaskas is a fiction writer, copyeditor, and playwright.
A Long Day's Journey Into Night runs from May 29 through June 30, 2019
163 3rd St N.
St. Petersburg, FL 33701
Photos by Lisa Presnail