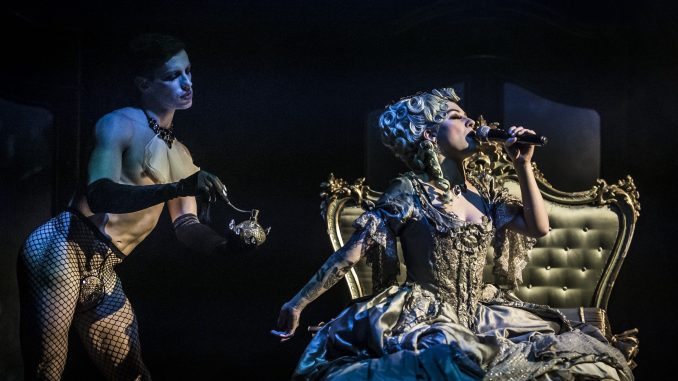 You arrive at the Company XIV showplace in Bushwick to see Queen of Hearts, which, is advertised as having been "inspired" by Lewis Carroll's Alice's Adventures In Wonderland. You are, in fact, invited to "fall down the baroque burlesque rabbit hole." The will-call booth is a table staffed by scantily-clad men wearing G-strings and not much else. The outer lobby is dark, the whole place is suffused with herbal smoke. The theater is large and wide, with single chairs toward the back and cushy two-seat lounge chairs (the "VIP couches") up front. More chairs are outfitted below the semi-circular stage, the foot of which is lined with dressing-room style single bulbs. Two enormous chandeliers hang at the edges of the stage, toward the back.
There's a Victorian-style single bed on stage. During the opening number, Lady Alice (LEXXE) will occupy that bed in a sumptuous era-specific gown, from which she will emerge from time to time in various equally extravagant stages of undress. No, this is not your childhood Alice. But on its own terms, Queen of Hearts, is an imaginative, visually stunning, musical send-up of the children's classic. It's probably overlong by at least a half hour, and not all of the numbers impress equally; but the sheer ability of the performers to contort the human body through labyrinthian gyrations of song and dance is often nothing short of astonishing.
As conceived, choreographed and directed by Austin McCormick, Queen of Hearts invokes the source material while using virtually none of its language. Except for the presentation of intermittent placards with notes like "Pool of Tears" and "Tweedledee and Tweedledum," there is hardly a direct invoking of Carroll's words. Instead the cast performs striking iterations of dance, aerial acrobatics, and gymnastic prowess in set pieces that invoke individual chapters in the book. The performers sing mostly well-known pop songs—Rossini and Tchaikovsky make appearances, too, as does the Can-Can—in order to tell the story. The recorded music inadvertently or not, references Alice's themes or characters: Neil Sedaka's "Alice in Wonderland" opens the show, the mad tea party is introduced by Frank Sinatra's "When I Take My Sugar to Tea," Tom Jones alludes to the grinning Cheshire cats in "What's New Pussycat?" and so on. But where Carroll's Alice is built on a playful subverting of language through the use of nonsense rhymes and puns, McCormick—in his substituting a range of physical gymnastics for Carroll's linguistic ones—means to be no less socially or politically irreverent.
While setting Queen of Hearts in the 19th century, the director's targets (Trump and the right wing among them) exist in a very real present. Indeed, Carroll himself used Alice, in part, to fry his own offending demons, in particular the moralistic, scolding nature of what passed for Victorian-era children's literature. Queen of Hearts just may be the most literal presentation of a fairy tale king not wearing any clothes (and queen and other royals and anybody else in a position of power). Of course, Carroll dresses his characters, even if sometimes outfitted only in cardboard; Queen of Hearts merrily dispenses with that formality altogether.
McCormick honors the burlesque element by infusing most of the performers' routines with elements of striptease, and the audience I saw the show with happily obliged by cheering and whooping it up at appropriate moments. Some of the more noteworthy or body- (and mind-) bending performances include dancer Ashley Dragon, who somehow manages to attach herself to a spinning, looping human-sized cyr wheel during the "Eat Me" segment; the burlesque performer Lilin Lace, as the most elastic, contortion-prone caterpillar alive; Mad Hatter Marcy Richardson, who sings classical soprano and performs aerial dance atop an elongated aerial hoop hoisted about 12 inches from the ceiling; and Storm Marrero, who displays some vocal gymnastics of her own, as befitting a raging queen bent on executing the heroine.
The production elements are no less stimulating: Zane Pihlstrom's opulent, pliable costumes and set design consistency invoke a layered, Victorian sensibility that, by turns, can be quickly and easily dismantled with each character's disrobing. Sarah Cimino's makeup design locates the characters in their respective guises: dreamlike, erotic, menacing. And Jeanette Yew's lighting design is by turns brilliant and darkly conspiratorial; the dark theater we walk in on before the show even begins seems lit only by orange spots, thereby creating an expectant, provocative mood for the Company XIV cast to eagerly exploit.
Which it does—in all manner and variations. Which may be the idea of burlesque in the first place. In Gypsy, the Broadway musical about pioneering burlesque star Gypsy Rose Lee, Stephen Sondheim wrote lyrics prescribing what it takes to succeed on the burlesque stage. That number was called "You Gotta Have a Gimmick." Queen of Hearts finds elevated company in its use of Alice's Adventures In Wonderland as both gimmick and foundational subject matter. It just goes one step further in making sure that grown-ups and parents get the message as well.
Queen of Hearts. Conceived, Choreographed and Directed by Austin McCormick. Cast: LEXXE, Michael Cunio, Storm Marrero, Lilin, Marcy Richardson, Sam Urdang, Allison Ullrich, Nicholas Katen, Ross Katen, Jourdan Epstein, Laszlo Major, Ryan Redmond, Jacoby Pruitt, Ian Spring, Nolan McKew and Ashley Dragon. Creatives include costume and set design by Zane Pihlstrom; lighting design by Jeanette Yew and makeup design by Sarah Cimino. Two hours and thirty minutes, with two intermissions. Now playing through August 18th at Theatré XIV on 383 Troutman Street, Bushwick, Brooklyn. The performance schedule is Thursdays and Fridays at 8pm; Saturdays at 5pm and 10pm and Sundays at 8pm. Single tickets are priced from $75.00 to $105.00. VIP Couches for 2 are priced at $325.00 and $365.00 (Premium). For information, tickets and bookings go to www.companyxiv.com.