Father's Day is almost here. Be sure to look at the Splash Magazine Worldwide Gift Guide for a lovely item to purchase. However, if you are interested in something to do, read on. There are restaurant suggestions, and more.
Delight Dad on Father's Day with a Modern Indian Barbecue at Mango Pickle
This Father's Day give Dad a break from the grill by letting Michelin-praised restaurant Mango Pickle serve him something exciting and different—a Modern Indian Barbecue. Located in Chicago's Edgewater neighborhood (5842 N Broadway, Chicago, IL 60660; 773-944-5555), Mango Pickle's kitchen is led by Chef/Owner Marisa Paolillo, who will surprise and delight Dad with her creative take on smoked and charcoal grilled Indian specialties. She blends some of the world's greatest spices with the highest quality, locally sourced and sustainably raised ingredients to express her modern approach to Indian cuisine. Dinner service begins at 5 p.m.

Chicken Wings Tikka at Mango Pickle
Mango Pickle's Father's Day dinner menu offers delicious meat, poultry, seafood and vegetarian options so there is something for everyone. Among the starters are House Made Goan Sausage Thali ($18) a spicy dish from India's west coast, served with paneer, turnip pickle, leaf greens, fresh turmeric and roti; and The Keema Lamb Burger ($16), a northwest Indian version that's wonderfully spiced and augmented with micro greens and Mint-Yogurt Chutney. Other choices include Chicken Kabab Bun ($18) with hung yogurt, tikka masala and micro greens; and Barbeque Chicken Wings ($14) prepared with tikka marinade and served with fried flatbread and mint-yogurt.
Lamb Biriyana at Mango Pickle
Entrées include Live Main Lobster Malai Curry ($36) an east Indian preparation with coconut, green chili and red rice; and Lamb Biriyani ($26) a dish with Indian Muslim origins, prepared with market vegetables and basmati rice. Vegetarian choices include Red Rice Salad ($18) with mixed greens, Indian pickles and sliced coconut; and Pao Bhaji of Market Vegetables ($24) served with potato, green beans, heirloom tomatoes, spring onions and green garlic.

Enhance your meal with slow-rise Garlic Naan bread ($5) or Whole Wheat Thepla flatbread ($5).

Complete your celebration by pleasing Dad's sweet tooth with the southern Indian Mango Kulfi ($9), served with strawberry jam, whipped cream, ginger and ghee; or the eastern Indian Mishti Doi ($9) with yogurt, chocolate and nougatine.

To make reservations, visit mangopicklechicago.com or call 773-944-5555.
__________________________________________________________________________
June Special Promotions at Red Fish Bleu Fish in Chicago's Hyde Park
Deals for Dads on Father's Day
Complimentary first cocktail for Dads with the purchase of dinner
½ price rib dinner for Dads
Red Fish Bleu Fish (5121 S. Harper, Chicago; 773-952-4744) is Hyde Park's newest destination for expertly prepared seafood and more. The varied menu features a wide variety of delicious appetizers, salads, creative entrées and traditional deep fried specialties. Specialty cocktails, a fine wine and beer selection and luscious desserts round out the Red Fish Bleu Fish experience. This month, there are some good times and special promotions going on at this casual, comfortable and stylish restaurant.

Last May, Red Fish Bleu Fish's sister restaurant, Porkchop, also moved to the same location for a "co-branded" dining experience. Enjoy both menus for the best in seafood, barbecue and Southern comfort favorites.

Celebrate National Lobster Day, Saturday June 15
Did you know that most lobsters travel over 100 miles a year? Well now they've made it all the way to Chicago's Hyde Park! Saturday, June 15 is National Lobster Day, so treat yourself to a delicious Maine Lobster Tail ($36) at Hyde Park's Red Fish Bleu Fish, 5121 S. Harper Ave (773-952-4744).

Fusing comfort with seafood fare, Red Fish Bleu Fish offers a variety of delectable dishes that will leave you happy as a clam. Try the Mango Avocado Lobster Salad ($14) with fresh heirloom tomatoes, hard-boiled egg, and topped with a delicious white balsamic dressing.

Among the classic street food fare, on National Lobster Day choose the featured Cheesy Cajun Lobster Fries (market price). It is a decadent entrée that showcases a whole lobster, fried or grilled, served over thick, fresh cut fries and topped with cheese.

For the more adventurous seafood connoisseur, try the Build Your Own Seafood Boil (market price). Pick your mix of seafood, taste, spice level and side and watch your own creation blow you out of the water.

Red Fish Bleu Fish offers vegan and vegetarian options for those who prefer to stay on land. Try the Wild Mushroom Pea Risotto ($16) and the Citrus Quinoa Salad ($11).
______________________________________________________________________________
Perry's Steakhouse & Grille 16-ounce Bison Cowboy Chop with a classic chimichurri available all day on Father's Day June 16

WHO: Perry's Steakhouse & Grille
WHAT: Opening early at 11 a.m., patrons can enjoy off-the-menu $6.95 cocktails until 4 p.m. and the three-course Pork Chop Sunday Supper Special from 4 p.m. until 9 p.m. Enjoy additional one-of-a-kind, off-the-menu dishes or the full dinner menu which are available all day.
Available All Day
16-ounce Bison Cowboy Chop: A rich and savory entrée served with browned garlic and a classic chimichurri for $59.95.
Perry's full dinner menu.
Available from 11 a.m. – 4 p.m.:
Three brunch-inspired cocktail specials: Mimosa, Bloody Mary and Brandy Milk Punch for $6.95 each.
Available from 4 p.m. – 9 p.m.:
Perry's three-course Pork Chop Sunday Supper Special is available every Sunday, including Father's Day, for $34.95 per person, including a choice from six salads, Perry's famous seven-finger high pork chop and a dessert trio of vanilla bean crème brulée, chocolate crunch and praline cheesecake.
WHERE: Perry's Steakhouse & Grille, 5 Oakbrook Center, Oak Brook, IL 60523, (630) 571-1808
WHEN: Sunday, June 16 | 11 a.m. – 9 p.m.
____________________________________________________________________________
Let Dad's Spirits Soar on Father's Day with a Special Brunch Buffet and Dinner Specials at Prairie Grass Cafe in Northbrook
Dad never had it so good on Father's Day! Happy Dads, Granddads and their families will converge on Prairie Grass Cafe (601 Skokie Blvd, Northbrook, IL 60062; 847-205-4433), Sunday, June 16 for a spirited Father's Day Brunch Buffet designed by co-chef/owners Sarah Stegner and George Bumbaris. The extravagant and delicious buffet will offer many choices prepared with fresh, locally sourced and sustainably raised ingredients. Father's Day Brunch will be served from 9:30 a.m. to 1:30 p.m., Sunday, June 16. The price is $53 for adults and $18 for children 10 and under (tax, gratuity and beverages are not included). View the full Father's Day Brunch menu online. Reservations are strongly recommended.
Every guest starts the meal with the delicious Prairie Grass Cafe Signature "PGC Benedict," Poached Egg with Spinach and Roasted Tomato Hollandaise followed by the buffet, with something for everyone.
Following the Signature "PGC Benedict" starter, choose from the abundant buffet including:
Caramelized Onion "Tarts" with Gruyere Cheese, Tomatoes & Zucchini (Served Warm)
Mixed Greens, Herb Shallot Vinaigrette
Grilled Vegetable Platter, Creamy Feta Spread, Crumbled Feta
Bean Salad, Red onion, Herbs, Fine Diced Celery, BBQ Vinaigrette
Ancho Marinated Skirt Steak
Shepherd's Pie
Grilled Wild Salmon, Basil Remoulade, Balsamic Reduction
Shrimp Cakes, Spicy & Sweet Tomato Chutney
Chilaquiles, Shredded Chicken, Shredded Cheese, Guacamole
Warm Pesto Salad of Tomato, Asparagus, & Zucchini
Spicy Italian Sausage Pasta, Leeks, Mushroom, Mozzarella Cheese
Oven Roasted Potatoes
Breakfast style offerings include:
Omelets station: Peppers, Mushrooms, Onions, Tomatoes, Cheddar Cheese, Ham, Spinach
Waffles Made to Order, Maple Syrup
Applewood Smoked Bacon / Homemade Breakfast Sausage
Bread station
Mini Breakfast Pastries
Mini Chocolate Croissants
Cantaloupe, Honeydew, Watermelon, and Pineapple
Mixed Berries
For those with a sweet tooth, the dessert station is extraordinary:
Yogurt & Rhubarb Parfaits, Mint, Strawberries
Warm Berry Crumble
Cake Station: Coconut Cream Cake, Chocolate Peanut Butter Cake, Goat Cheesecake, Chocolate Chip Cookie Cake
Signature Crepe Station: Valrhona Chocolate, Strawberries, Jam, Whipped Cream
Father's Day Continues with Fabulous Dinner Specials
For those wishing to celebrate Father's Day dinner, you will enjoy terrific specials along with the regular menu from which to choose. Selections include local Maple Creek Farms (WI) Pork Ribs with Twice Baked Potato and Slaw ($28) and Grilled Copper River Salmon with Caesar Salad with Mighty Vine Tomatoes, Avocado and Sliced Cucumber ($34).
Make sure you show Dad and Granddad how much they mean to you and your family by indulging them with this delicious, spirited Father's Day celebration at Prairie Grass Cafe.
______________________________________________________________________________
Asparagus Frittata ready to wrap for lunch
Asparagus is up and running. Purple and green bundles stack across our farmer's market tables; I'm thrilled to bring home several pounds each week. Fresh, local asparagus is worth waiting for. There's no comparison with the empty flavor of shipped in asparagus found in supermarkets at other seasons. Sage advice: eat your fill now; indulge until you're asparagused out, then wait until next year.
Frittata ingredients
Use a volley of cooking methods to keep the vegetable interesting— blanching in boiling salted water, gentle grilling, sautéing, roasting, quick braising, using for soup or tucked into a stew at the last minute. The key to asparagus deliciousness is light cooking, and light saucing. I love the classic hollandaise, aioli, vinaigrettes, fresh mint pesto, raita or a warm sorrel cream. Each day of its season invites a new asparagus adventure.
My asparagus of choice is the purple variety. This culitvar imported from Italy is sweeter than the green, contains antioxidant anthocyanin, and shimmers into a purplish green shade when cooked. It's stunning on the plate and delectable to taste.
Cut Asparagus
The other day I was looking for an asparagus lunch I could make up the evening before, wrap in wax paper, tuck into a
bag and eat on the go or on a bench in the park. Ideas kept coming up frittata, frittata, but I found the suggestions too eggy. I was looking for a savory asparagus cake with just enough egg to hold it all together rather than a bland omelet with a hint of asparagus. Most frittatas have you begin them in a skillet and finish in the oven. To crank up a whole oven for a 10 minute flash of the pan is a waste of energy in my book, so I'd cook mine totally in a frying pan—
the old world way before everyone had an oven. As it turns out, my frittata is more of like a Spanish tortilla. It's light, super tasty and a quick, handy trick to have up yoursleeve. Time for picnic food.
Choose a frying pan
Asparagus Frittata
8 oz. trimmed asparagus, purple suggested, (2 scant cups sliced)
2 tablespoons olive oil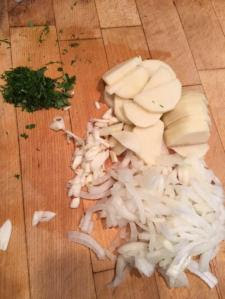 chopped veg
1 medium/small potato (6 oz)
½ medium onion (3-4 oz. peeled, heaping half cup chopped)
2 garlic cloves, peeled and chopped (optional)
1 tablespoon chopped fresh herbs (thyme, mint, marjoram or parsley)
3 large farm fresh eggs
2 tablespoons grated Parmesan or Romano cheese (optional)
salt
Slice the asparagus into ½ inch pieces, leaving the tips
saute under butter papers
whole up to an inch. Cook the asparagus in 3 cups of boiling, well salted water for 2-3 minutes or until tender. Immediately pour into a colander and spread out to cool.
Meanwhile sauté the chopped onion, garlic and potato in 1 tablespoon olive oil. Use low heat to prevent browning. Cover with butter papers to encourage steaming. Cook until the potato and onion are tender. Stir in chopped herbs and season with salt. Scrape the onion mixture out of the paninto a bowl and combine with the cooked asparagus. Taste for seasoning.
Wipe out the frying pan with a paper towel, making sure the surface is spotlessly smooth and return the pan to high/moderate heat.
Beat three eggs in a bowl and season with salt. Combine the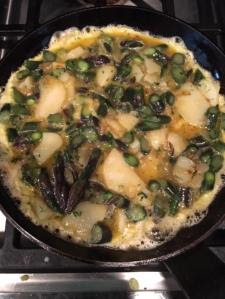 Frittata cooking
beaten eggs and the warm, cooked asparagus mixture.
When the frying pan is hot, swirl in 1 scant tablespoon olive oil. Immediately pour in half of the egg mixture. Sprinkle over the grated cheese and top with the remaining veg/egg mix.
Shake the frying pan to prevent sticking, reduce heat to moderate and continue to cook shaking the pan from time to time for 4-5 minutes. Use a palate knife to loosen the edge of the frittata, shake to loosen and top the frying pan
with a wide plate. Place one hand on the bottom of the plate and holding the pan handle with the other hand, invert the frittata onto the plate.
Return frying pan to heat; wipe clean with paper towel; swirl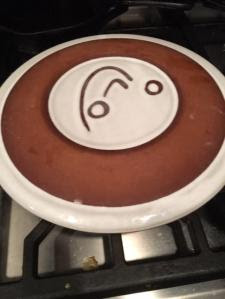 Ready to flip
in few more drops of olive oil and slide in the frittata, uncooked side down. Use the palate knife to tuck in any stray bits. Shake the pan and cook for another 2-3 minutes or until browned on the other side Slip onto a plate. Cool and cut into pie shaped wedges. If at all possible, store out of the fridge for best flavor; fine to hold at room temperature for a full day. Serves 2-4
P S The cooking method may seem somewhat complex, but once you have a go at it, it's quick and easy.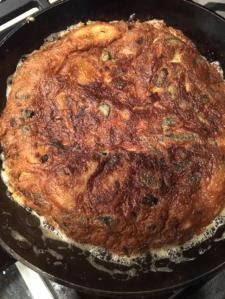 Flipped Frittata
______________________________________________________________________________
CUPITOL
Sunday, June 16 – Don't break the bank buying a meal for dad – bring him to Cupitol for Steak and Eggs (with a beer!) for Father's Day ($15). Bring dad in for prime skirt steak, salsa verde, queso fresco and two eggs any way your dad likes them plus a beer from 11AM-close.
· All Month – The burger of the month is the Mateo. This prime beef burger is topped with cheddar, bacon, jalapenos and grilled onions (and add avocado for just $1). And don't forget – snap a photo of you and your burger, post it on Instagram with the hashtag #CupitolBurgeroftheMonth for a chance to win a $50 Cupitol gift card!
______________________________________________________________________________
How to Succeed
"Highly Recommended!"-Colin Douglas, Chicago Theatre Review All the Broadway music, dance, and fun you expect from a screwball 1960's big-office comedy. The writer that gave you GUYS AND DOLLS brings you the blooming romance between Finch and Rosemary, and has you witness back-biting nepotism and ladder climbing– all starting from the mail room! With songs like I Believe in You, The Brotherhood of Man, Grand Old Ivy, and Company Way, the Music Theater Works 26-piece orchestra and talented cast make How to Succeed the perfect theatrical experience! Wednesday, June 12 • 2 pmFriday, June 14 • 8 pmSaturday, June 15 • 8 pmSunday, June 16 • 2 pm All performances at Cahn Auditorium in Evanston. TICKETS from $34!Introduce the young people in your life to the joy of musical theatre!Ages 25 and younger 1/2 price for all performances.
Looking for a great family outing for Father's Day?Join us on Sunday, June 16 at 2 pm!
You might want to celebrate Father's Day a little late at the Field Museum
Free Admission Day
Event summary
When
Jun 26 9:00AM – 5:00PM See more dates
Location
Field Museum 1400 S Lake Shore Drive, Chicago, IL 60605
Alert
About this event
Just for Illinois residents: Spend a day at the Museum—for free!
On Free Admission Days, Basic admission is free for Illinois residents with proof of residency. Discounted passes are available in person and cannot be purchased online in advance.
Free Admission Days are the perfect opportunity to explore our general admission exhibitions with your family or a group of science-loving friends. Or, use these days to check out special ticketed exhibitions or a 3D movie with a discounted Discovery or All-Access Pass.
Photos: Courtesy of Cindy Kurman, B. Keer and MJ Cuisine