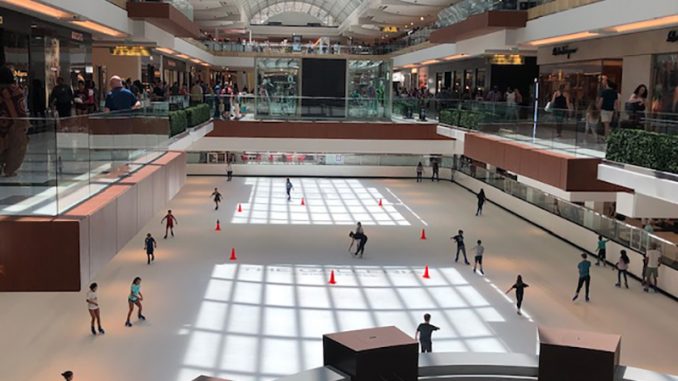 Family events have been my reason for many short visits to Houston, Texas over many years. Visits have also provided the opportunity to see some wonderful museums and art galleries and one year, even the Houston Ballet outdoors. Hotels have usually been located near the Galleria and it has become a kind of tradition to stop in and check it out whether I purchase anything or not. But it is hard to resist buying a little something. On each visit, it seemed that the Galleria increased in size.
Recently, I had another lovely family event in Houston. The weather was very hot and a visit to the Galleria seemed perfect, given the short amount of time available. One young relative who had never been to Houston needed a bathing suit and decided to check out the Galleria with me, and even to take photos of some of the eye-catching window displays.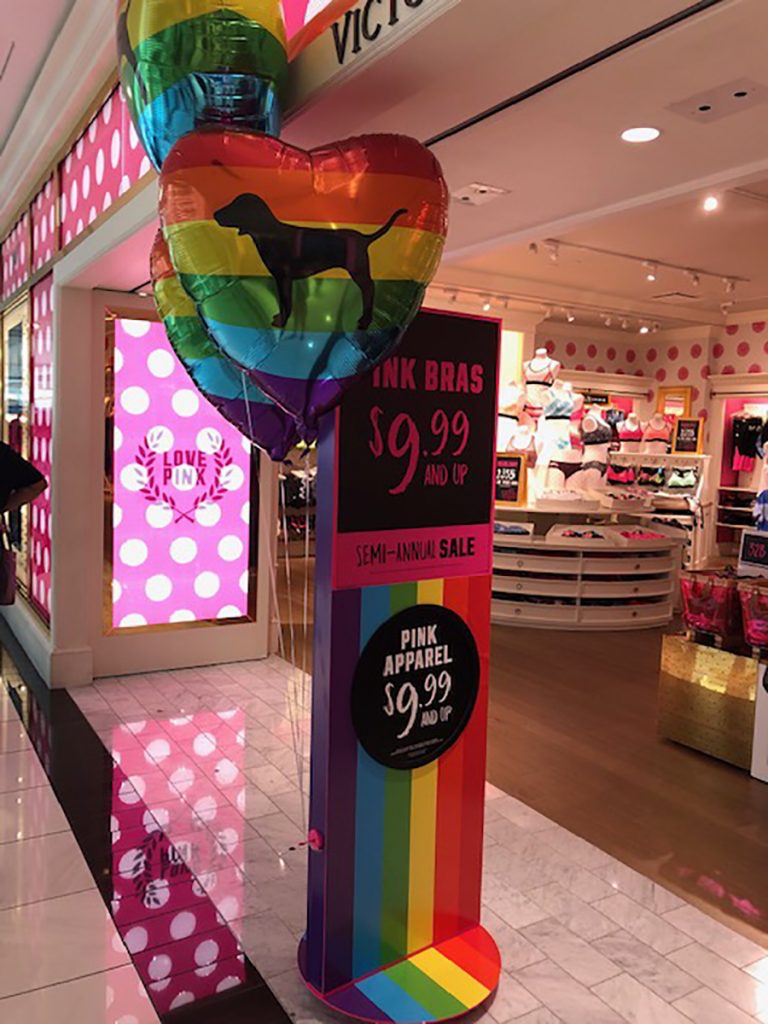 Though I did not know it when I visited, my seat mate on the plane told me that the Galleria is the place where visiting dignitaries are taken. It is also a very popular site for weddings and wedding photos. In addition, at night there are horse and buggy rides that encircle the Galleria.
The Galleria is regarded as one of the world's best shopping malls. Wikipedia, says that, "With 35 million annual visitors, The Galleria has constantly been named the most visited attraction in Greater Houston.[14]Department stores and other tenants earn their highest sales in the Houston area at the Galleria."
Entering the Galleria, the ice-skating rink, known as "Polar Ice" quickly comes into view. Positioned beneath an impressive atrium, it is huge – 20,000-square-foot (1,900 m2) ice skating facility with 80 feet (24 m) x 180-foot (55 m). "Polar Ice" was originally built in 1970, the very first built inside a mall. There is a jogging track on the roof around the atrium with a view to this rink.
The Galleria which was developed by Gerald D. Hines, opened on November 16, 1970.[1] The new shopping center, anchored by Neiman Marcus, was modeled after the Galleria Vittorio Emanuele II in Milan, borrowing, as its most distinctive architectural feature, a glazed barrel vault spanning the central axis of the mall. When it opened the mall had 600,000 ft² (56,000 m²) of retail space. Currently the Galleria at age 48 boasts: 339 stores and serviceswith total retail floor space of 1,926,563 sq ft on 4 floors.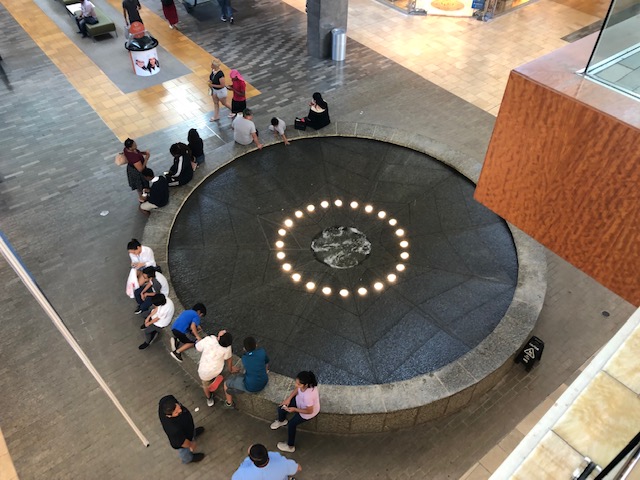 Soon after we started our exploration of the Galleria, we asked one of the guards about interesting things to see. She was very friendly and directed us to the ceiling to floor water fall near Macy's. This seemed to be at the opposite end of the mall and as we worked our way to that destination, we passed shops of all kinds with great displays, As we walked along, we noticed the mall was filled with people who seemed to be from many places. People were in tuxes, shorts, humorous dress and all seemed to be having a great time.
Caroline's thoughts about her first visit:"I really enjoyed the experience! All the stores were welcoming and the Staff seemed very helpful and happy the be there. I felt very appreciative of all the Gay Pride support that was present in lots of storefronts, because i believe everyone should be treated with respect and equality, and this mall was very welcoming! I was also quite impressed by the ice rink as well! hadn't seen that one before!"
Photo credit: Caroline Jensen
More information about the Galleria