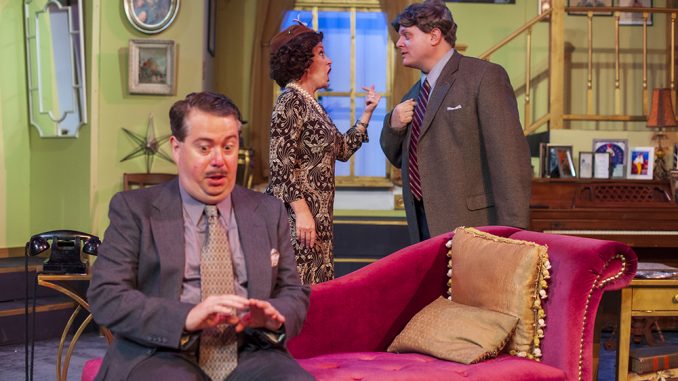 Noel Coward's Present Laughter is deep comedy, presciently performed by the Pear Theatre.
Present Laughter is as enjoyable and relevant to tweaking contemporary sexual mores as when it was first performed in 1942. Present, in that the theatrical performance exists in an evanescent moment that will quickly pass, Laughter in the sought after audience as well as internal response, staving off darker thoughts and inevitabilities. In wartime, it must have appeared as a flickering resuscitation of a vanished lifestyle; revived in 2019, expressing LGBTQ sensibilities, it might have just been written.
Director Walter M Mayes has artfully created an ensemble that appears to have played together before and perhaps they have and will many times again. Monica Cappuccini as Miss Eriksson was an insouciant, sarcastic Swedish maid whose arch commentary on the literally passing scene of lovers, will not be seen again until Blue and Yellow arrives in the cinema decades later. Kristin Walter is a serenely unflappable Liz Essendine, a wifely deus es machina, who neatly ties up loose plot ends. Jenni Chapman is an archly coy Daphne Stillington, of the quintessential disappeared latchkey.
Latchkey loss is the pretend excuse presented by females in the circle of the protagonist, for showing up at his apartment late evening, requesting accommodation, plus. "Latchkey," door key to Americans, is a term that became familiar in  Hitchcock's "Dial M for Murder, where its absence and then discovery, self incriminates a murderer. The "Macguffin" a device or object that drives a plot forward, a term originated by Angus McPhail, an associate of Alfred Hitchcock but usually associated with the latters",  name is typically a serious highly desirable mysterious object. In Coward's iconography the latchkey opens the portal to an elusive happiness that may be obtained by acolytes, who by  propping up their leader, may realize  the hope that he will keep them going, too.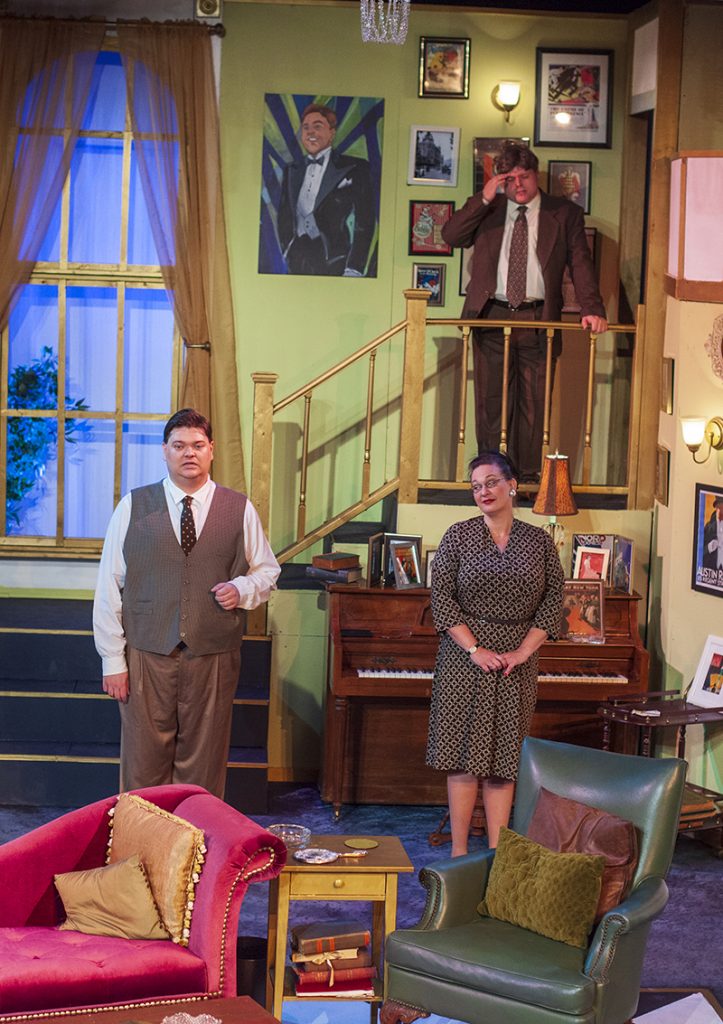 Gary Essendine, an accomplished actor played with consummate verve by Charles Woodson Parker as a bi-sexual ambient spirit, superbly channeling Noel Coward's self-interpretation of fraught theater luminary, putative CEO. Swirling around him is a claque of business partners, romantic interests and household staff. Before the technology start-up with its founder's group led by a charismatic figure in whom others imputed their dreams and hopes, there was the theatre "posse," with a similar dynamic. Noel Coward, the quintessential British mid-century sophisticate and cynosure, the counterpart of American cousin, composer and songwriter Cole Porter, exemplified the covert gay lifestyle, satirizing and glorifying it at one and the same time.
Coward and Porter shared a hidden and submerged gay identity, now commonplace, even mainstream. Gay sensibility, infusing  apparently heterosexual characters and relationships, make Present Laughter contemporary. Indeed, a recent London revival revised the gender of some of the performers to make the point explicit but that is hardly necessary. Indeed, a subsidiary text of Present Laughter is that gay and straight identities are not binary but that we all have varying proportions of each, irrespective of our sexualities. Taking the form of a "bedroom farce," with characters appearing and disappearing from view, depending upon their relationship to Gary, a leading man with a posse of  business associates, employees and lovers. 
The "firm," as Gary calls his coterie, is in crisis as Gary ages and struggles against expected displacement by asserting youth through the concealment of a toupee and multiple dalliances with younger admirers who have misplaced their latch key and need an overnight refuge as well as with contemporaries who want a direct relationship with him rather than through their husbands. Thus, Present Laughter's network diagram becomes increasingly direct, superseding intermediaries, through everyone's relationship to Gary and each other.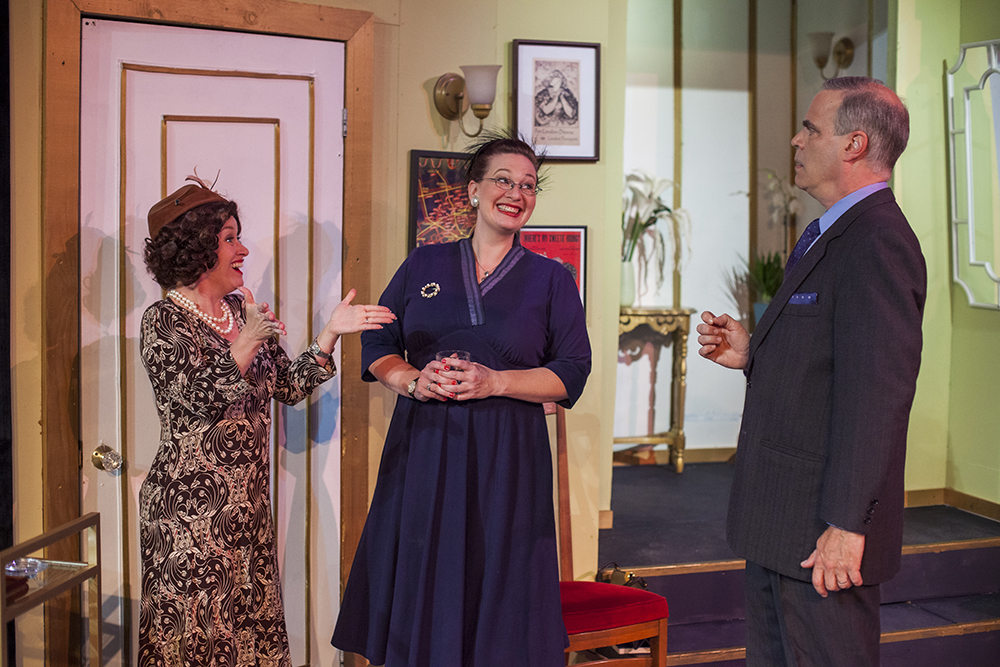 Nevertheless, class lines are not breached, as sexuality proceeds on, but not across, class lines as household staff exist as shadows with imputed rather than depicted lives, seen in the firelight in a Platonic Cave rather than the sunlight of performance that shines directly on the upper classes. Laughter is no upstairs /downstairs with equal presence and crossover. Class, if not gender, barriers are intact. 
All photos by Michael Kruse Craig
More information about the Pear Theatre