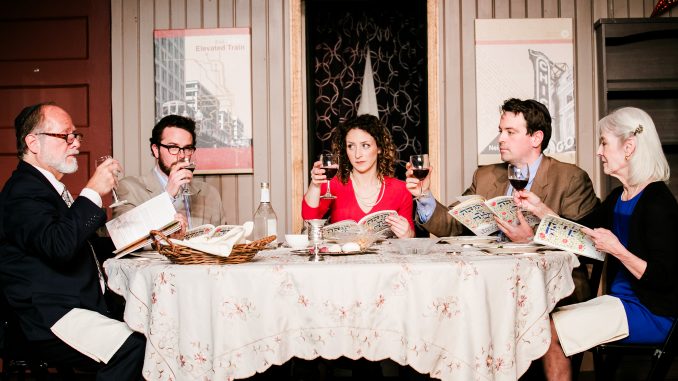 When you want to discover an inviting, uniquely designed and one-of-a-kind theater venue, your destination must be Oil Lamp Theater, in downtown Glenview, Illinois. My husband and I visited the theater at 1723 Glenview Road recently to enjoy Beau Jest, the wonderfully entertaining and laugh-out-loud comedy by James Sherman.
Simply said, I've never experienced such a pleasant and homey environment to immerse myself into a play…but more about that later.
But first here's a little history about the Oil Lamp Theater and its founder, Keith Gerth. Originally, in 2005, Keith began to stage invitation-only theater productions in his Lakeview, Chicago condo for up to 35 friends and guests. As his mother had collected oil lamps for his rural boyhood home to light the house during power outages, he named his intimate home theater Oil Lamp Theater. Keith staged 20 living room productions between February, 2005 and March, 2012 when the venue became a not-for-profit theater in an intimate 60-seat space in downtown Glenview, a short car ride north of Chicago.
As first-timers, we entered a quaint lobby, which featured a living room with lots of chairs and couches, a magnificent elongated bar with home-baked cookies, food treats and (my favorite) M & M's interspersed between cocktail glasses. Oil Lamp Theater is BYOB so most of the audience bought wine or other liquors with them which Keith's wife happily filled in the pretty glassware they had on display at the bar.
As Keith Gerth explains, the theater performs plays designed to present and appeal to core American values including love and relationships. The selected plays have won multiple North Shore CHOICE AWARDS in 2017, 2018 and 2019.
The 2019 season features the funny live show we laughed our way through, Beau Jest, which continues through July 7th. It tells the story of Sarah Goldman, whose parents want her to marry a nice (aka as rich) Jewish doctor. Things go terribly wrong and happily right with many comedic twists and turns. We totally enjoyed this sweet romantic comedy. And afterwards, my husband and I were able to meet and greet Madeline Baird(Sarah), Mathias Blake(Chris), Zachary Finch(Bob), Alex Ireys(Joel), Julie Mitre(Miriam), and Ken Rubenstein(Abe), the talented stars of the show as they casually left the theater.
You'll also want to buy tickets for A Kind of Love Story by Jenelle Riley – on stage between July 25 and September 8. Agatha Christie's Murder on the Nile showcases September 26 through November 10. The 2019 grand finale is It's a Wonderful Life – A Live Radio Play by Joe Landry. Buy your tickets for this classic holiday tradition online or at the box office.
You can read about these fabulous plays on the website http://oillamptheater.org/plays-events/
Tickets for each special show are $40 for adults and $25 for students. You can buy them anytime, so make sure you plan to enjoy one or more of these plays.
Photo credit:  Gosia Photography

The box office phone number is 847-834-0738
For directions and local places to eat, visit http://oillamptheater.org/plan-visit/
Oil Lamp Theater also provides handicap parking and seating (available upon request).
To join the mailing list and receive newsletter updates, sign up at http://oillamptheater.org/contact-us/
You can also support OLT, a registered 501c(3) nonprofit organization with a tax deductible donation.
Splash Magazines Worldwide is pleased to share this review with Chicagoland visitors and guests from around the country and world.