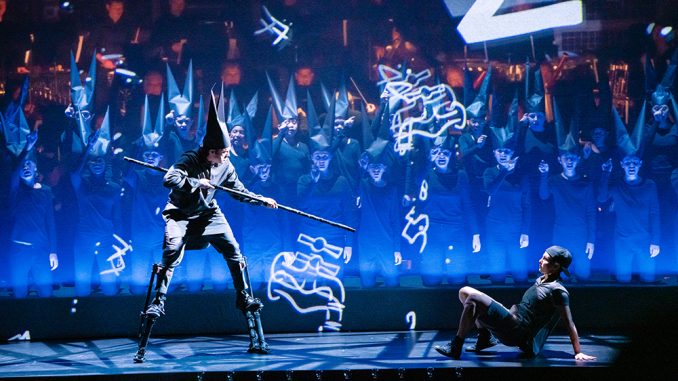 By Leila Maria Kehl

English National Opera director Martyn Brabbins has been enthusiastically received during  his US debut, and it is fantastic to have him here in the San Francisco. He led the San Francisco Symphony in Ravel's L'enfant et les sortilèges on June 27 & 29-30 at the Davies Symphony Hall, San Francisco.
Before the start of the one-act opera "The Child and the Magic Spells", that in the original French version is called "L'Enfant et les Sortilèges", Brabbins and John Wilson served their audience an "aperitif" with the comforting and romantic chamber music melodies of Debussy, the allegro molto movement from Fauré's "Piano Quartett No. 1 in C minor"n and Ravel's "The Enchanted Garden from Ma Mére", an extract of the Mother Goose Suite.
John Wilson began with the playful excerpt from the Children's Corner Suiteand is joined by members of the San Francisco symphony for "La plus que lente", a waltz that was originally thought to be for one pianist but has been transcribed into a multi-instrumental version. Impressive violin vibratos and gently floating cello sounds contributed to a sense of mystery, elegance and melancholy.
Then, the rather contrasting, dramatic "Noël des enfants qui n'ont plus de maison" brought us back to year 1915 when Debussy wrote this as his last composition. All autobiographic desperation and fury about the attacks against France in the First World War are brought to life with mezzo-soprano Ginger Costa-Jackson's vocal performance.
The floating and moving sounds of the piano quartet by Fauré balances the previous protest excitement. Celebrated talent Sayaka Tanikawa played the piano with a wonderful spectrum of nuances between loud and quiet, soft and intense, slow and swift, creating an underlying calmness with an overlay of waves of energy. It is remarkable how beautifully the ensemble creates a balance between individual instrument performances and overall harmony, like sparkling picture parts that unite in a broader, colorful painting.
Easily, The Enchanted Garden, performed as a piano duet by John Wilson and Peter Grunberg, can be imagined as the opening gate to the magic world of the opera that follows.
James Bonas, the director, and animator Grégoire Pont have reimagined opera with a captivating, semi-staged production. The light show is not merely a "special effect" that we have come to expect from modern stage productions. Instead, it feels like an integral part of the stage setup and plays an important role in complementing the marvelous acting performance and storytelling. It's an innovative and refreshing take on modern opera stage design that does not only look beautiful and mesmerizing but adds real artistic value and depth to the story and its characters.
Isabel Leonard, starring as the child, portrays the character's stubbornness in a charming and authentic way and her mezzo vocals shone with brilliance and clarity. The rebellious, naughty boy who destroys tea pots, wallpaper and a school book, tortures animals and misbehaves, is soon confronted with the objects and animals which come to life. Another particularly powerful scene is performed by Anna Cristy who paints an audible picture of a flickering fire, underlined by her waving arms in conjunction with Grégoire Pont's exceptionally crafted animations.
The orchestra under the special guidance of Brabbins, enchanted us with their creation of a fascinating world of music that got its finishing touches of magic through the choirs' sounds of night and forest. Overall, it is an explosion for the visual and auditive senses that is to be remembered.
PHOTO CREDIT: Brandon Patoc
More information about the San Francisco Symphony