Fourth of July is almost here and Splash Magazines Worldwide is sharing tips, recipes, travel information and anything else to help you make the most of this holiday. We want to wish all of our readers a very happy holiday celebration.
There is nothing quite like a backyard barbecue and giving your guests great flavor without making you work always makes things easier and more fun for you. Kumana is inspired by a family recipe that has been passed down through generations. Crafted from real, creamy avocados & ripe chili peppers – it's traditionally drizzled on grilled meats, sautéed vegetables and sandwiches. Honestly, Kumana works on pretty much everything you love to eat. It took over two years of sourcing the best ingredients that give this sauce its signature fresh and vibrant flavor. The three great flavors are: original, hot and finally the flavorful spicy mango. For more information, visit: Kumana
CheapOair®, the premiere online travel agency and leading provider of affordable flights, has announced its 2019 top ten most popular destinations for the Fourth of July. This year, Los Angeles took the number one spot as the most-booked destination with data showing that its average roundtrip airfare had decreased by 14% compared to last summer.
Orlando, which topped the list in 2018 , fell toward the back of the pack with a ninth place ranking despite its status as the most affordable destination of the top ten cities with an average roundtrip airfare of $221.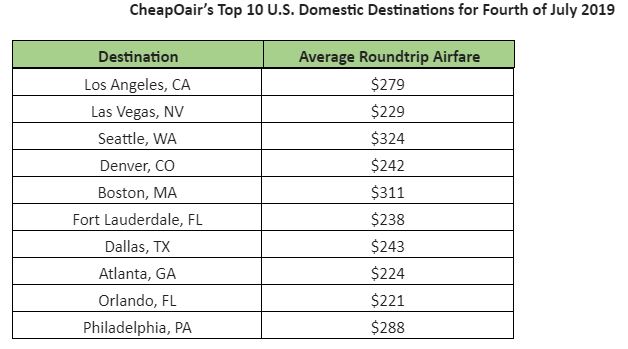 If you are looking to keep your beer or soda cold under the Fourth of July sun, just slip it inside of the 22 Below Sub Zero Koozie. The 22 Below Koozie is designed for standard and slim 12oz cans and made with patented cryo-lock system to lock in the cold while blocking out the heat.
The Pop Cap bottle opener is perfect for beer, soda or for any other bottle with a cap. Skip the struggles of finding a way to open your bottle and just keep this handy caps off bottle opener in your pocket. The built in magnet keeps the cap in place after removal – no dropping on the floor to step on later! For more information, visit: Pop Cap
The s'more, a century-old American tradition, has been re-born. This summer, Stuffed Puffs™, the innovative filled marshmallow – made with real chocolate – makes debut at WalMart®. Stuffed Puffs has created an innovative and proprietary manufacturing process to do something that's never been done and "make a good thing even better."
Everyone loves s'mores. But not everyone loves making them. Juggling marshmallows, chocolate bars and graham crackers around a campfire, or hot grill, can be a sticky challenge. All too often, the marshmallow does not get hot enough to melt the chocolate. Stuffed Puffs ingeniously solves the problem by putting the chocolate inside the marshmallow: "the chocolate melts while the marshmallow toasts." It's the fail-safe way to make a perfect s'more.
Stuffed Puffs will be available at WalMart® stores across the country in time for America's summer season. Consumers should keep an eye out for them, as they are going to be one of the season's hottest new items. At a suggested retail price of $3.98, Stuffed Puffs are likely to move off the shelves as fast as they are gobbled up at barbeques, campfires, and everywhere else family and friends get together to enjoy the summer and one another's company.
For more information, please visit www.stuffedpuffs.com
Whether you're hosting or attending a soiree to celebrate America's birthday, below are two fun and festive cocktail recipes, that include delicious kombucha, that will surely impress everyone. The Red, White, and Boozy and the Strawberry Mint Mojito, are not only yummy and refreshing but totally Instagrammable that all your guests will be gawking over them! For non-alcoholic beverage options, a Vanilla-Raspberry Kombucha Float will be a hit for both kids and adults.
The Red, White, and Boozy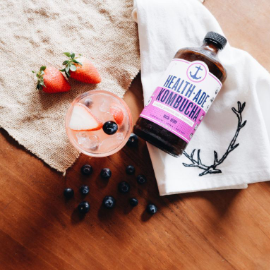 "The Red, White, and Boozy" via @sareish
Ingredients:
2oz Blue Curacao
2oz Coconut water
1oz Vodka
Instructions: To create this cocktail, first combine the coconut water and vodka in a cocktail shaker and shake well. Grab a handful of ice in a tumbler glass. You will layer the liquids based on heaviness with Blue Curacao at the bottom. After pouring Blue Curacao into the glass, take a spoon and flip it over. Be sure to slowly pour the mixture in the shaker over the back side of a spoon—do not pour it directly into the glass because it will mix with the blue layer. Take the Maca Berry Health-Ade Kombucha and slowly pour over the spoon until the layers are stacked.
Strawberry Mint Mojito

Ingredients:
· 8oz Original Health-Ade Kombucha
· Fresh Mint
· Fresh Strawberries
· Fresh Blueberries
· Mint garnish
· Muddled mint and strawberries
· Optional: Make it a cocktail with 1oz of rum
Instructions: To create this cocktail, you will need to freeze fruit ice cubes at least 3–4 hours before serving. First rinse and chop fresh strawberries and blueberries to make the fruit cubes. Place a mixture of blueberries and strawberries in an empty ice tray and fill with water. Place in freezer. To make the mojito, muddle fresh strawberries and chopped mint in a cocktail shaker. Add optional rum and handful of ice cubes. Shake well. Pour into bottom of cocktail glass. Take fruit ice cubes out of the freezer and stack in the glass. Slowly pour Original Health-Ade Kombucha over cubes and garnish with fresh mint leaves.
Vanilla-Raspberry Kombucha Float
Ingredients:
Instructions:
· 1 bottle Original Health-Ade Kombucha, chilled
· 2 large scoops of vanilla ice cream
· 1 scoop raspberry sorbet
· ¼ cup fresh raspberries
· Fresh mint for garnish
Instructions: Place half of the raspberries into a large glass and lightly crush them with the back of a spoon. Layer in scoops of ice cream and sorbet, alternating vanilla-raspberry-vanilla. Top with remaining raspberries. Slowly pour the kombucha into the glass. Top with a sprig of mint and enjoy.
Miami's Casa Tua Cucina at Saks Brickell City Centre iscelebrating with this patriotic gin cocktail – the American Dream.
Photo Credit: Casa Tua Cucina at Saks Brickell City Centre
AMERICAN DREAM
2 oz. Blue Lavender Infused Gin
2 oz. Raspberry Sour Foam
1 oz. Lemon Juice
1 oz. Simple Syrup
1 Mint Leaf
Parrano® cheese invites you to re-imagine your favorite summer recipes this summer to "Pair With Parrano"! Parrano® is a delicious cheese that is best described as capturing the nutty flavor and buttery aroma of fine, aged Italian Parmesan and the smooth, creamy texture of a young Dutch Gouda, bringing you the best of both worlds: a cheese that is full of flavor and versatile enough to cut, shred and melt.
With Summer right around the corner, it's time to "Pair With Parrano" by crafting your favorite recipes using Parrano® cheese. Incredibly versatile,
Parrano® can be served in a variety of ways including on a cheese platter, on a kabob with fruit for as an easy appetizer , and in ideas both on and off the grill. Not only can it be paired with favorite foods, it's also great with a cold summer time drink like a Lager, or Kolsch.
Sweet Onion Parrano® Dip With Food Should Taste Good Sweet Potato Chips
Prep Time: 10 Min Cook Time: 50 Min Total Time: 1 Hr
Serves 6
Ingredients
1 (8-oz) package cream cheese, softened
1 cup light mayonnaise
1 cup freshly grated Parrano® cheese
1 cup diced sweet onion
1 clove of garlic, minced
Sprigs of Fresh Thyme, chopped
Few pinches of freshly cracked black pepper
Serve with Food Should Taste Good's Sweet Potato Chips
Instructions
1 Preheat oven to 350 degrees.
2 In a large bowl, combine cream cheese, mayo, Parrano® cheese, onion, garlic, fresh thyme, and pepper. Mix until thoroughly combined.
3 Spread the mixture into a 6-inch baking dish or small oven-safe dish. Bake for 40 to 50 minutes until ingredients are melted together and crust is a dark golden brown.
4 Serve hot with Food Should Taste Good's Sweet Potato Chips.
What's one way to ruin a perfect cookout? Yep, food poisoning. Cases of food poisoning spike in the summer, with Campylobacter andSalmonella the most common and persistent germs that cause illness.
Home cooks can keep themselves and their families healthy by following a few important safe food handling practices at home.
"Doing these things consistently can mean the difference between good health and serious foodborne illness," said Shelley Feist, executive director of the non-profit Partnership for Food Safety Education. "The food safety basics of clean, separate, cook and chill do reduce the risk of illness from harmful germs like Campylobacter and Salmonella."
Families are reminded to follow these safe food preparation steps at home:
Not just the grill master, but everyone at the gathering should wash their hands with soap and water before and after handling food.
Always use a food thermometer to measure the internal temperature of grilled meat and poultry. Print this temperature chart for your refrigerator.
Keep your cooler filled with ice, so picnic perishable foods stay chilled to 40 °F.
Never place cooked food on a plate that previously held raw meat, poultry or seafood. Be sure to have plenty of clean utensils and platters on hand.
To Fight BAC!® (harmful bacteria) at your cookout, download this flyer on grilling safety and using a food thermometer. With July 4 just around the corner, it's the perfect time to share these tips to prevent food poisoning.

Health and food safety educators and consumers can download free food safety education information from the Partnership's website at www.fightbac.org. Follow the Partnership for Food Safety Education on Facebook at @FightBAC and on Twitter at @Fight_BAC. Visit FoodSafety.gov, the gateway to food safety information provided by the CDC, FDA and USDA.
Stars, Stripes and Old Hollywood Fun! Los Angeles' most historic hotel, Sportsmen's Lodge, 12825 Ventura Blvd., invites guests to celebrate the Fourth of July in style with their new "4X4" Package exclusively for the holiday weekend. The perfect spot to live like an A-lister, guests that book a four-night stay from Wednesday, July 3 – Sunday, July 7 will receive the ultimate star treatment, including four complimentary breakfast meals throughout the duration of their stay and a fun welcome basket for four. Known as Los Angeles' premier historic hotel, Sportsmen's Lodge offers the perfect getaway for some feel-good holiday fun.
Visitors booking the "4X4" package will be treated to four fun welcome "swag bags" including a Signature Sportsmen's Lodge tote bag, sunglasses, house-made kettle chips and a bottle of artisan water, as well as four complimentary breakfast meals at the nostalgic Patio Café. Open seven days a week from 7:00 a.m. – 2:00 p.m., Patio Café offers guests a 1950s diner-style experience and features delicious favorites including Huevos Rancheros, Eggs Benedict, The San Fernando Scramble, Breakfast Burritos and more.
"The fourth of July is such a great time for people to dive into summer and experience the magic of our city," said General Manager Stephen Chavez. "We're excited to offer the 4×4 package as the perfect welcome to what will be a very fun weekend of celebration."
Located in Los Angeles' bustling Studio City neighborhood, Sportsmen's Lodge is just a short drive to Universal Studios, Hollywood, Beverly Hills, Downtown Los Angeles, Santa Monica Beach and more. The property also offers complimentary shuttle service to Universal Studios and CityWalk to help guests explore everything the city has to offer.
Sportsmen's Lodge boasts 200 spacious guest rooms and studio suites, each with a private balcony and gorgeous views. Each space throughout the property is designed to celebrate its famed history while incorporating top-of-the-line amenities for all to enjoy. From their inviting seasonal bar to a lobby lounge and nostalgic, diner-style café, the hotel boasts nonstop fun and entertainment for guests of all ages.
The "4X4" Package is available beginning at $319 per night excluding taxes and fees. Guests must book for four nights during the month of July for four guests to take advantage of this offer. For more information on Sportsmen's Lodge, please visit https://res.windsurfercrs.com/ibe/details.aspx?propertyid=13211&rate=FOUR&nono=4 or call (818) 769-4700.