"We are such stuff as dreams are made on and our little life is rounded with a sleep."
Midsommer Flight is continuing it's 8th summer of free Shakespeare in Chicago's parks with a performance of Shakespeare's comedy The Tempest, a play about magic, betrayal, love and forgiveness. Live music is offered ½ hour prior to curtain time, and audiences are encouraged to come early, and bring a picnic as well as something to sit on!
Set on an island near Italy where Prospero, the one-time Duke of Milan, (here, a duchess) and his beautiful daughter, Miranda, live with a sprite called Ariel and a strange wildman called Caliban, the plot opens with Prospero in the role of a powerful magician who creates a terrible storm. This tempest sets the stage for  the events that follow, including a plot to murder the King of Naples, a drunken scheme to kill Prospero and a romance between Miranda and the King's son, Ferdinand. In the end, everyone is forgiven and they all set sail for home.
Directed by Beth Wolf, the play stars Stephanie Monday as Prospero;  Elana Weiner-Kaplow as Ariel; Julie Proudfoot as the King of Naples; Dylan S. Roberts as Antonio; Richard Eisoffel as Caliban;  and also features Jennifer Mohr as Miranda;  Kat Moranos as Trinculo; Scott Myers as Sebastian; Anthony Santiago as Ferdinand; Tom McGrath as Stephano; and Susan Fay as Gonzalo, among a full cast of shipmates, spirit-monsters and understudies.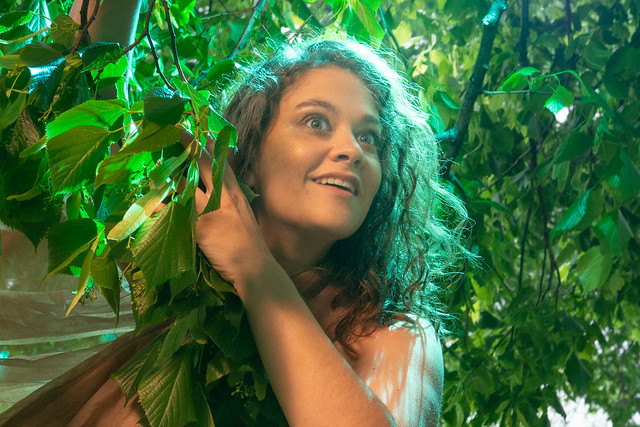 SYNOPSIS:
Twelve years ago, Prospero was Duke of Milan. A studious prince, he withdrew into his studies, abandoning the management of his duchy to his brother Antonio. Along with Prospero's enemies, Alonso King of Naples, and Alonso's brother Sebastian, Antonio usurped Milan.  Prospero and 3 year old Miranda were put to sea in a substandard boat. Ultimately, they  landed on a distant island (formerly ruled by the witch Sycorax but now inhabited only by her son Caliban) and Ariel, a spirit/sprite.
Ever since, Prospero has ruled this island and its two inhabitants by the use of magic he studied; Miranda has grown to innocent beauty without seeing or getting to know another human being.
One day, Prospero magically learns that revenge can be his! His enemies have drifted close to his own island so causes a storm to blow them into shipwrecks, reassuring Miranda by recounting their history and also confiding in her that no actual harm will come to the travelers.
Shipwreck! The travellers are separated. Prospero directs the marvelous Ariel to control their wanderings. Ariel brings Ferdinand, the Prince of Naples, to Prospero's dwelling; Ferdinand and Miranda fall head over heels. Prospero sets forth onerous tasks to test Ferdinand.
Alonso searches anxiously for Ferdinand, believing his son has drowned. Sebastian plots to kill Alonso and seize the crown. Meanwhile, the drunken butler Stephano, along with the jester Trinculo encounter wild Caliban who persuades them to kill Prospero and take over the island. Tricky Ariel makes much mischief between them, causing plenty of bickering.
Prospero, convinced that Ferdinand has overcome his challenges, treats the couple to a betrothal masque celebrating the blessings of marriage, although he cannot concentrate on the fun due to Caliban's plot. As the end of Prospero's extended scheme draws nigh, he vows to put aside/abandon magic. Ariel brings Alonso and his followers; Prospero, revealed to be Duke of Milan, forgives his enemies and in the engagement of Ferdinand and Miranda the breach between Naples and Milan is sewn up. Prospero gives Ariel his freedom and sets forth from the island for Milan and his restored Dukedom.
Midsommer Flight's Tempest, at approximately 105 minutes, rather than the standard 3 hours, nonetheless adequately captures the essence of this challengingly plotted/worded tale encompassing payback, compassion, empathy and exoneration.  Many fine actresses have portrayed the (writ manly) role of Prospero, yet sometimes the transposed gender forms were confusing for one familiar with the original text. However, Monday did a good deal to infuse the revenge she seeks with a sense of self-protection, not vengeance, and her desire for her daughter to inherit the duchy is out of a sense of love, not solely dynastic intent. Even her roughshod physical dealings with the thoroughly delightful Weiner-Kaplow as Ariel are tempered with true affection.
The minimal props/sound effects combined with the well-phrased language, the original antique/baroque sounding music and the wonderfully gleeful antics of Ariel and The Monsters to create a larger vista than that incorporated by the park. The sights and sounds of the waves hitting the vessel or threatening thunder were nicely timed with the performers movements; it is not at all difficult to "see" the shipwreck, the forest, the magical effects.
There are, in addition, some clever visually staged moments that complement the fantasy-infused action of the play; in particular, all the scenes with the nimble and totally engaging Moranos as Trinculo. This streamlined version of the famous play left viewers enchanted by Ariel's new freedom, filled with indulgent happiness at the lovers' fortune, and believing that Caliban might be redeemed. Midsommer Flight's cast members always have a first-rate grounding in Elizabethan English (here, thanks to text and vocal coach Amy Malcolm), and display an exuberant joy in the bawdy bard's character's antics, and great physical shenanigans.
Compliments to the entire production team including Jeremiah Barr, scenic design; Lily Walls, costume design; Chris Smithand Maureen Yasko, fight direction; and Elizabeth Renfro, composition and sound design.
The remaining performances will be presented on Saturdays at 6 pm (unless otherwise noted) and Sundays at 2 pm as follows:
– July 27-28 and August 17-18 at Touhy Park, 7348 N. Paulina
–  August 3-4 and 10-11 at Chicago Women's Park and Gardens, 1801 S. Indiana (Saturday, August 10 is at 11 am)
– August 24-25 at Lincoln Park, 2045 N. Lincoln Park West
ALL PERFORMANCES ARE FREE
For information, including directions and parking, go to www.midsommerflight.com
Unless otherwise noted, all photos by James Murphy/Trainman Photography