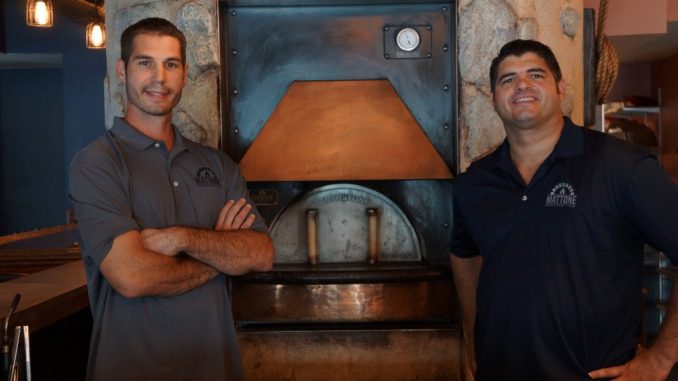 The highly anticipated restaurant, "Coarse Italian", officially opened in Glenview on June 17th, 2019 at Glenview Park Golf Club (800 Shermer Road, Glenview, Illinois, 60025). Prominent restaurant owner, Franco Francese, and co-owner, Vito Francese (Franco's brother) bring unbeatable Italian fare to diners in the Northshore Chicago suburb, promising an enjoyable dining experience for golfers and the general public, alike. The restaurant offers lunch and dinner – as well as breakfast selections during the golf season – and features a full bar. Fun, outdoor events are taking place this summer that feature food, drink, and live music. Franco and Vito Francese also own the acclaimed Mattone Restaurant and Bar in La Grange Park.

Franco has made a name for himself and Mattone by appearing on WGN's Midday News' 'Lunchbreak', WCIU's 'The Jam', and Patti Vasquez on WGN Radio to talk about his work and his cuisine, giving viewers and listeners insight into Mattone's homemade recipes. He has also been featured in Pizza Today, Reader's Digest, Restaurant Insider, American Express, and Chicago Food Magazine. While "Coarse Italian" features the same quality ingredients and attention to detail as Mattone, it has a brand new, never-before-seen menu. The name "coarse" is used to represent rustic in nature. "Coarse Italian" prides itself on its Italian-inspired dishes, and promises incredible cuisine. In addition, "Coarse Italian" has been featured in the Chicago Tribune, Chicago Now, and The Glenview Lantern. In addition to becoming a fresh Italian dining option for the Glenview community, "Coarse Italian" is also available for banquets, events, and luncheons.

Putting a rustic Italian restaurant in the heart of a golf club park was a smart choice. My guest and I enjoyed a wonderful dinner on a warm July evening at "Coarse Italian". We had the option to eat outside on the restaurant patio, and were able to take in the peaceful and serene, lush green landscape. The Glenview Golf Park Club is beautiful to look at and to enjoy a leisurely day of golf and dining. Everyone working at the restaurant was kind, welcoming and attentive. Our server and hostess were also very hospitable, which added to the overall dining experience at "Coarse Italian".

The contemporary, rustic dinner menu at "Coarse Italian" features made from scratch soups, salads, hearty pasta and lasagna, vegetable, steak, fish, and chicken dishes and ribs. Featured desserts are vanilla ice cream and a chocolate brownie sundae. I ordered the perfectly named "drunken gnocchi" (handmade ricotta gnocchi with vodka cream sauce), which consisted of luscious and delicate gnocchi dumplings. The vodka cream sauce was velvety and tasted of roasted tomatoes.

My guest had the lasagna (ground beef, whipped ricotta, bechamel and Bolognese sauce) and especially loved the melted mozzarella cheese and savory beef. Our entrees came with a side of delicious grilled, fresh vegetables. The crowning glory of our lovely meal was the dessert: a sinful-tasting yet light as air, warm chocolate brownie sundae complete with Chantilly cream and chocolate drizzle.

Our food was filling and satisfying, yet not super heavy. I was also a bit disappointed to have no additional room left to sample other incredible-looking items on the menu such as the fire roasted tomato bisque (handmade croutons with a balsamic swirl), the charred caesar salad (charred romaine lettuce, croutons and parmesan dust), or the eggplant parmigiana (layered eggplant, parmesan, mozzarella and tomato sauce).

The overall dining experience at "Coarse Italian" was wonderful, and I believe that it is a gem of a dining spot for everyone, even if you do not play golf. I highly recommend that the true foodie give this wonderful spot a chance if in the Glenview or Northshore area.

I also had the opportunity to interview Franco Francese himself about "Coarse Italian":
How did the idea get started for you and evolve into what is now Coarse Italian?
I have been a customer of the Glenview Park Golf course for five years. I always thought it would be a great location for a restaurant; something compelling that the entire community could get excited about. I was approached by the director of golf and, within a year, the idea became a reality.
What is your background in the culinary industry and your projects before you decided to open and co-own Coarse Italian with your brother?
I have owned Mattone Restaurant and Bar in La Grange Park for 10 years.
Bio: Franco Francese has been in the restaurant business since age 11, as his father, Domenico, was the owner of D's Little Italy in La Grange Park, Illinois. During these days, Francese began familiarizing himself in different areas of the kitchen, carryout room, bar, and on the main floor.
Franco and his brother, Vito, have since taken over the restaurant for their father, naming it Mattone Restaurant and Bar. The restaurant has become such a huge success that the Francese brothers decided to expand their reach and open Coarse Italian in Glenview, Illinois, at Glenview Park Golf Club. The restaurant opened in the summer of 2019 and offers incredible and authentic Italian cuisine.
What is your personal favorite dish on the restaurant menu as well as your own personal favorite dish or food you enjoy cooking at home?
I love our marinated skirt steak. We use: soy sauce, ginger, orange juice and a number of other spices in our marinade. The outside of the skirt steak is a very spongy piece of meat that takes marinades very well. I definitely encourage people to try it.
How did you and your brother decide on the dishes for the restaurant's menu?
Lots of trial and error. We taste everything, from the sauces to the vegetables to the pasta and proteins. Ingredients need to be great on a stand-alone basis to be excellent dishes when combined. However, technique is the difference between a good dish and a great dish. Technique is something that you practice over and over again.
Photos by Jennifer Lunz unless otherwise noted.

For more information on Coarse Italian, or to schedule a reservation, please call 847.657.3200 or visit the website.