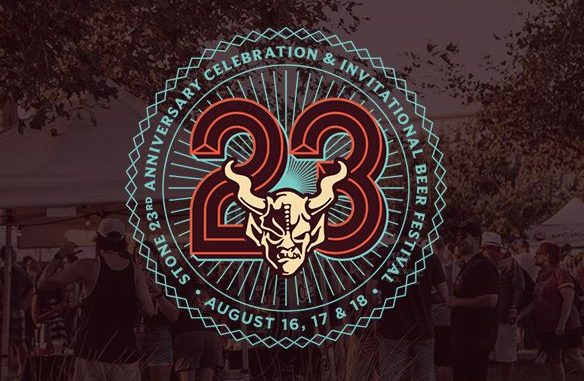 Stone Brewing is celebrating 23 years of not only creating beer, but helping to change the entire landscape and perspective of craft breweries. The Stone Brewing 23rd Anniversary Celebration & Invitational Beer Festival expands this year to include three days of festivities reaching across all its eight US locations. Tickets are currently on sale, with the goal to celebrate and appreciate die-hard fans over 23 years.
"Our anniversary celebration is for our fans, who beginning 23 years ago have supported our unconventional ways and joined us in challenging the industrial beer industry," said Greg Koch, Stone Brewing executive chairman & co-founder. Twenty-three years. That's a lot of bar-top preaching and going down our own path. It's a lot of come-along-and-see-for-yourself… and boy did you all come along. All along the way we have continued to celebrate new fans as we open newlocations and we have so many great beers to showcase. This years' extended festival format allows for more participation, in more locations and with the same dogged devotion to craft. I'll see you there, my brothers and sisters!"

The annual Stone Brewing Anniversary Celebration & Invitational Beer Festival celebrates Stone's rich history of bold and flavorful beers and commitment to craft beer camaraderie. This year, the team raises the stakes, saluting its remarkable venues and furthering commitment to its local communities. Unlike years past, Stone will open its doors to craft beer revolutionaries at all US locations. That means more beer in more places. Cheers to that!
Friday, August 16
Stone 23rd Anniversary Ultimate Tap Room Takeovers
All Day
Each of Stone's Tap Rooms will kick off 23 with special beers on tap, rare & vintage bottles, amazing food trucks and live music. No tickets are necessary, just come along with your gritty badass selves. Do note that seating and special release beers are first-come, first-served. For Day One we'll keep the pomp and circumstance casual but with nothing nonchalant about the beers.
Additional details available here.
Saturday, August 17
Stone 23rd Anniversary Rare Beer Festival
General Admission: 7 p.m. – 10 p.m.
VIP: 6 p.m. – 10 p.m.
1999 Citracado Parkway, Escondido, CA 92029

Thirsty beer drinkers will enjoy a summer evening in the sprawling gardens at Stone Brewing World Bistro & Gardens – Escondido for the 2019 Stone Rare Beer Festival, featuring the finest and most unique beers from Stone and our favorite guest breweries. We'll dig deep in our cellars – and the cellars of our closest friends – to deliver casks, bottles and special release beers deemed worthy only for the ultimate craft fans. For Day Two, we cut no corners. Be it Uber, Lyft, your mom or the bus, make sure you get home safe. There's still more fun to be had!

Tickets are $99 and include:
20 2oz pours of rare beers
Endless 2oz tasters of select Stone Brewing beers
Tasty bites form Stone's kitchen
Commemorative Stone 23rd Anniversary tasting glass
Live music
Cigar lounge with cigars for purchase
SOLD OUT:
VIP tickets are $129 and include:
All of the above plus 10 rare beers only available from 6 p.m. – 7 p.m. and a Meet the Brewer Experience
Designated Driver Tickets available for $25
All details and tickets available here.

Sunday, August 18
Stone 23rd Anniversary Grand Celebration
3 p.m. – 6 p.m.
2816 Historic Decatur Rd. San Diego, CA, 92106
The marquee event will take place in the gardens of Stone Brewing World Bistro & Gardens – Liberty Station and the grassy North Promenade. More than 50 breweries will join us for a day of craft beer camaraderie in the San Diego sunshine. Expect special releases from all of Stone's locations and everything from sessions to sours and stouts selectively curated from the very best in craft.
Tickets are $35 and include:
20 2oz pours of independent craft beers, with additional tasters available for purchase.
Food trucks, food for purchase from Stone's kitchen and complimentary samples from our favorite vendors
Commemorative Stone 23rd Anniversary tasting glass
Live music and DJ
Cigar Lounge with cigars for purchase
All details and tickets available here.

Stone Brewing has donated more than $3.75 million to charity since 1996 and continues to invest in its local communities through charitable beer donations and events like Stone's Throw Down in RVA and our annual anniversary celebration. After all, bringing people together – over beer – is what we're here for. CORRECTION: Bringing people together – over great, independent craft beer – is what we're here for. In honor of 23 years, Stone will again donate locally in San Diego with an anniversary check presentation to the following non-profit organizations: Surfrider Foundation, Boys & Girls Club of San Marcos, YMCA of San Diego County and Fight ALD.