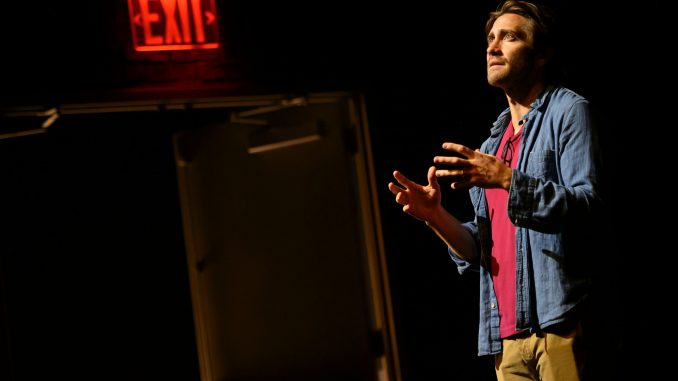 One of the sins of Broadway right now is that people come here from all over the world yearning to see electrifying theater, but given that the cost for a family of four will set you back about four hundred dollars, they want their bang for their buck. They want flying chandeliers, they want big choruses, lavish costumes and elaborate scenery, they want to know that they got their money's worth. That's a shame because Sea Wall/A Life has absolutely none of that and may be the best show on Broadway at the moment.
Sea Wall/A Life is an evening of two monologues. In the first, Sea Wall, Tom Sturridge plays Alex, a painter on holiday in France who is recounting the moment of a life changing event. The piece is written by Simon Stephens, best known on Broadway by his Tony Award winning play, The Curious Incident of the Dog in the Night-Time. With only a red brick wall behind him, a piano he never uses and a tall metal ladder leading to an elevated level, Sturridge moves about the stage in fits and starts; unraveling his tale slowly, patiently. It's as if the character Alex would rather be doing anything else but tell this story, yet he is compelled to. People need to understand. 'Just because we don't know….it doesn't mean we won't know.'
The play is funny and moving and eventually devastating as Alex vividly shares with us the story of his wife, Helen; his daughter Lucy and the holiday to their friend's house where life changed instantly and forever. Sturridge is a master at taking his time, knowing just how long to hold an emotional moment and the audience is spellbound by his performance. When the scene ends and he makes his way through the audience as opposed to leaving offstage, you almost want to stop him and ask him to go back and change the story. This can't be how it ends. But playwright Stevens gives us an uncompromising tale which accurately portrays the fragility of our existence and our need to cope with that fragility.
If Sea Wall is patient and deliberate, the second half of the evening A Life (written by Nick Payne and performed by Jake Gyllenhaal) is anything but. Gyllenhaal's character Abe is vibrant, exuberant, almost bursting to tell you his story, or stories, as the case may be.
Abe finds himself in the center of two equally confusing and important events; one being a father who is ill and the other the birth of a daughter. In his eyes he is not equipped to handle either of these developments and his vulnerability in the face of gigantic life decisions like this is something to which we can all relate. Gyllenhaal is charming and engaging in a boyish way that instantly makes you want to be on his side as he steps through the minefield which is life. His stories overlap each other, and it's fun to keep up with him as he moves from doctor to nurse to mother to wife to father and a dozen more characters, making us laugh out loud in one moment and almost immediately anxiously holding our breath in the next.
Both actors are engaging and generous. When a cellphone inexplicably went off during Sea Wall Sturridge grinned and told the offending party not to worry about it. Gyllenhaal takes time out during one scene in A Life to move through the audience, apologizing to those in the front row if he stepped on their feet.
The shows are brilliantly directed by Carrie Cracknell, the Artistic Director of the Gate Theatre in London until 2012. Cracknell has the intelligence and discipline not to impose 'theatricality' upon the evening, something which is tempting when you're faced with only two actors and a bare red brick wall. She lets the performers breathe and allows the scripts to flow in a natural, organic manner.
The evening is short, under two hours with an intermission. It's being shown at the Hudson Theatre, which had been dormant since 1968 before it was restored and opened again in 2017 with Sunday in the Park with George (featuring Jake Gyllenhaal) and followed by 1984 (featuring Tom Sturridge). In its heyday it was home to the talents of George M. Cohan, Helen Hayes, Alfred Lunt and Jason Robards, Jr. If it's true that the ghosts of actors stick around the theaters where they performed and inhabit them in the afterlife one could easily imagine them smiling at the end of Sea Wall/A Life and saying 'Well done, chaps. Well done indeed.'