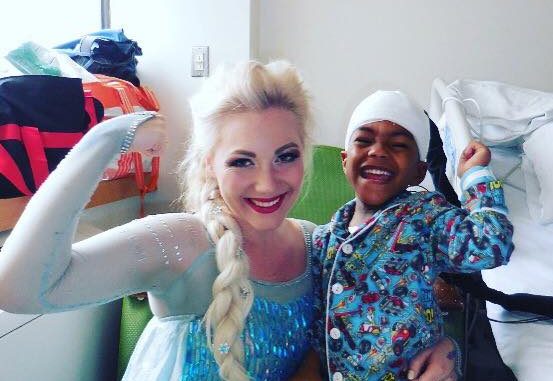 Imagine you are a child, barely able to comprehend or understand the world around you, lying in a hospital bed surrounded by doctors and nurses fighting valiantly to win a war against a disease you can't even pronounce. Your mind wondering what is happening, why it is happening and when will it stop. These are the times that you need a little hope. Support. Love. These are the times when you need a little….Magic.
A Moment of Magic is a not for profit foundation created in 2015 whose sole purpose is to provide children in hospitals the ability to play. Dressed as some of the world's most popular princesses, superheroes and celebrities, what started as a two person operation just a few years back has exploded to become a nationwide treasure, with 20 chapters covering 41 states and enlisting more than 800 volunteers.
The idea for the project came about almost by accident. Kylee McGrane was an English and Communications Major attending the College of Mount St. Vincent in the Bronx, sitting at home and scrolling through her Instagram account. She happened to come upon a video of Taylor Swift visiting children at Sloan Kettering and her heart melted. Kylee had always had a passion for working with children and wanted to put it into practice but, like most of us, she was not Taylor Swift. She and her mother happened to be watching a movie when her mom said to her, 'You know, you look a lot like that character.' The movie they were watching was Frozen, the character was Elsa, and an idea was formed. She approached her roommate Maggie McAndrew, who was just as excited about the idea as she was. They cold called around to various hospitals and explained how they felt there was a need for children with serious ailments to still be able to play. Two months later Cohen's Hospital in Long Island called them back and gave them a chance. They dressed in their Disney costumes and brought their arts and craft. The effect was tangible on both the children and the two college roommates and as others found out what they were doing they asked if they could help as well. Before they knew it there were more than forty girls at the College of Mt. St. Vincent volunteering.
While this was all developing, Kylee and Maggie immersed themselves in the world of pediatric cancer. They were shocked by the lack of funding being devoted to this cause and were determined to help in any way they could, creating tight bonds with the children and families. The press dubbed them The Cancer Fighting Princesses. They arranged so that college students from across the country could not only join A Moment of Magic but also head up a chapter in their own universities. When the word spread on what A Moment of Magic was doing, women all over the United States were eager to start up a chapter where they were attending school and soon there were chapters in areas as far reaching as The University of Wisconsin, The University of North Carolina, Temple University, Ohio State University, Gonzaga University, the University of Portland and more.
A Moment of Magic soon expanded beyond Disney princesses, enlisting men to portray heroes like Spider-Man. They even used some of the children to help create their own original characters, letting the children pick the hair, the outfit, the power, even the name.
A Moment of Magic thrives on the idea that no child should go through this ordeal alone. They are funded mainly by individual donations and on September 13th they hold a Night of Magic Gala in New Rochelle, New York. They estimate it costs only $5 to have one of their members visit a child. Their goal for the Gala is $50,000, which would cover visits for 10,000 children. They consider their work essential and explain it on their Facebook Page as such: When a child is hospitalized, treatments and diagnoses become a priority for parents and doctors. As a result, play is often disregarded, or considered of minor importance. However, the role and value of play increases when the child is hospitalized, as it decisively contributes to emotional, mental well-being, self- confidence and self-esteem. Allowing a kid to 'just-be- a-kid' is proven to assist the recovery of ill children.
I am not sure I believe in Snow White, Ariel, Belle or Peter Pan but A Moment of Magic is proof positive that superheroes do exist. And they are capable of extraordinary deeds. Learn more about A Moment of Magic.
Photos: Courtesy of A Moment of Magic