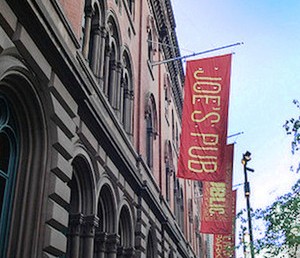 Joe's Pub opened in 1998, in New York City and since then its mainliners have included a wide variety of diverse acts, including Amy Winehouse, Bono, Adele, Huey Lewis, Dolly Parton, Sarah Silverman and Idina Menzel. Into this eclectic mix comes the highly successful debut of Jaime Lozano, a Mexican born singer/songwriter who blew the top off the venue this past Sunday night with his show Jaime Lozano: Songs by an Immigrant
The evening featured a variety of songs, composed by Lozano, including some from his musicals The Yellow Brick Road (music and lyrics with Tommy Newman, book by Mando Alvarado) and Children of Salt, (book and lyrics by Lauren Epsenhart) currently in development for production in New York.
The sold out crowd at Joe's Pub was wildly enthusiastic and thoroughly engaged throughout the evening. It's clear that Lozano's talents were already well known by the audience, who gave him a rousing ovation when he first stepped on stage. For all his prodigious talent and success, Lozano can be charming and self-effacing, and he questioned whether or not the applause was for him or a well known soccer player of the same name. A sizzling trio of Ahmed Alom Vega on piano, Rudyck Vidal Espinosa on bass, and Joel Mateo on drums were spectacular, backing up Lozano as he and the others led us through what it felt like to be an immigrant in America with heart, soul and red hot music. First up was Danny Bolero, who joked that he was from the Mexican country of 'Los Angeles'. His lively version of "The Generic Immigrant Welcome Song" set the tone for the evening, poking fun at the current attitude towards immigrants in the country while simultaneously vowing to fit in. Javier Ignacio followed with a lovely tribute to the country of Peru ("Mi Peru"), which was surprisingly both specific and universal.
The enchanting Gabriela García followed, announcing she was making her New York debut with "You Gotta Change Your Name" a funny and knowing song about being stereotyped. The sweet voiced Mauricio Martinez stepped up next, singing a song from Children of Salt, which he announced they were making into a movie.
In every concert of strong musical numbers you always have a favorite and mine came from the stunning eighteen-year-old Sabrina Peralta, who belted "Way Out There," from The Yellow Brick Road.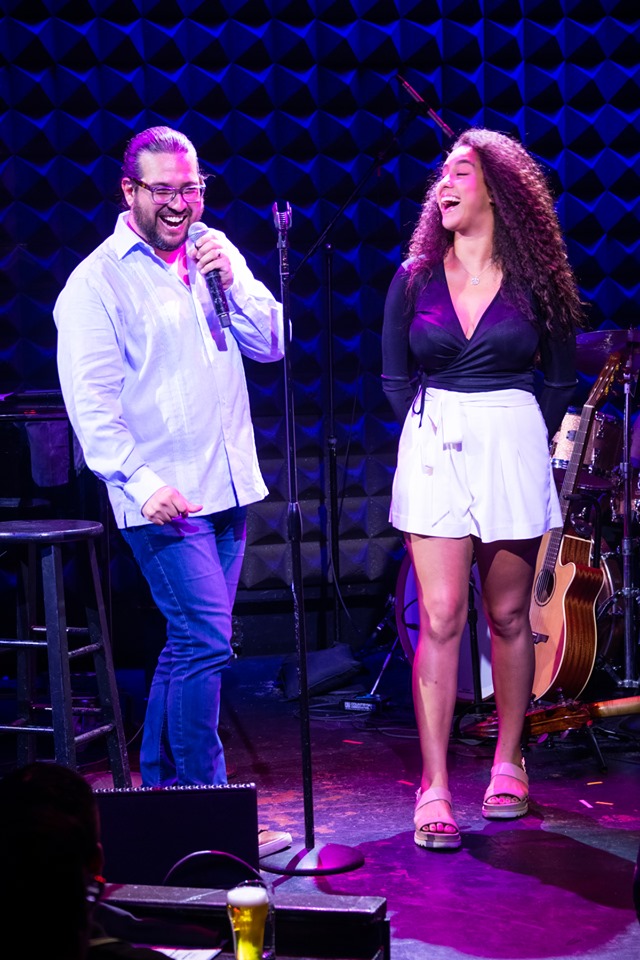 Henry Gainza, from Cuba, did a lovely rendition of "The Bicycle Song", which led into Martinez and Garcia teaming up for a heartfelt ballad from Children of Salt. Gainza later came back on stage with Javier Ignacio and Danny Bolero to perform "Rules are Meant to be Broken".
Other standout moments included April Ortiz' very funny and poignant "Hello Forty" as well as the singer/songwriter Marina Pires performing two songs she wrote with Lozano, "Mountain in the Sky" and "Getting Up Is Easier".
If there was a penultimate moment, however, it belonged to Florencia Cuenca (who also happens to be Lozano's wife), singing about the wisdom of building a wall and questioning why you would be so eager to keep people out as opposed to welcoming them in with the stirring and emotional "The Other Side". Neena Beber provided the powerful lyrics.
Jaime Lozano is a thrilling new talent on the musical theater scene and if 'Songs by an Immigrant' is any indication, his will be a name we'll be hearing from….in all languages….for many years to come.
More about Joe's Pub