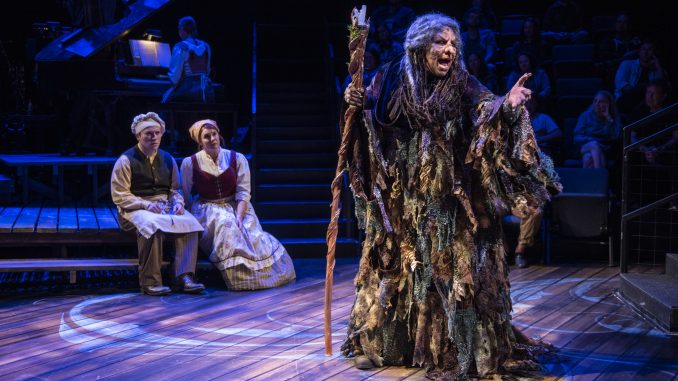 When Stephen Sondheim's and James Lapine's Into the Woods debuted in San Diego in 1986, a women's theater club gathered their things after the first half of the musical, ready to head home and apparently fully satisfied with what they thought was its happily-ever-after ending. They were ushered back to their seats just in time to catch the second part of the musical, with its "be careful what you wish for" take on human happiness and connection. According to Sondheim's recollection, they were glad they did.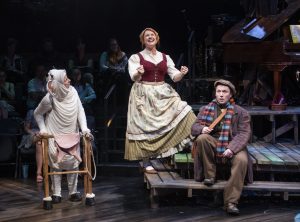 You will be too, especially if you go to Writers Theatre in Glencoe to see how director Gary Griffin has shaped Into the Woods. Pleasing and provocative, the production capitalizes on Sondheim's lush music and cheeky lyrics ("There's no possible way to describe what you feel when you're talking to your meal!" sings the Wolf) and Lapine's brilliantly bifurcated book.
The book builds on characters we think we already know from classic fairy tales: Rapunzel, Little Red Riding Hood, Cinderella, Jack of beanstalk fame, princes and giants, all of them intersecting through a familiar seeming Baker and Baker's Wife hoping for a baby. The first half of Into the Woods is all about desire, and when those desires are satisfied, everyone expects to live happily ever after.
But Lapine deduced that those characters had lied to attain their goals and that their lies could have consequences. Jack brought down a giant, but what if the giant left a widow? Act Two's "Your Fault" is a musical vortex of blame and guilt. Real life includes loss, and Into the Woods addresses grief and delivers life lessons in "No One is Alone" and "Children Will Listen." It's a little like eating a savory dinner after starting with dessert. No wonder the San Diego theater group was confused — and, at the actual end of the musical, enlightened.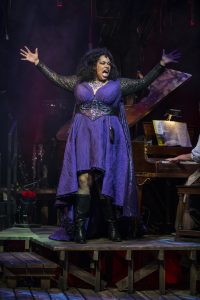 Everything about the Writers Theatre production works, starting with the choice to reconfigure the space to create a theater-in-the-round experience. Audience members are only feet away as the performers run down the aisles to enter the central space. Canopied over that space is a ropy tree — its trunk rooted in a piano — that envelops the audience.
Tree-trunk pianist/conductor Charlotte Rivard-Hoster conjures an entire orchestra from her keyboard plus one percussionist and one very versatile reed player. Scott Davis's set design is the essence of being in the woods, and costumes designed by Mara Blumenfeld seem to pop out of a storybook.
The entire cast of 18 excels, as adept at acting as they are at singing. Bethany Thomas makes for a powerful, mysterious Witch. Michael Mahler and Brianna Borger bring depth to the roles of Baker and Baker's Wife. Lucy Godinez shines as the sweet-toothed Little Red Riding Hood, and Ximone Rose makes an enchanted Cinderella. Duets by Princes Alex Benoit and Ryan McBride are showstoppers, and with eye movements alone, Mary Poole milks the part of a cow for all it's worth. Writers Theatre artistic director Michael Halberstam returns to the stage after a 17-year hiatus to weave it all together as the Narrator.
Don't miss this show. And don't think it's over at intermission.
Into the Woods
Through September 22, 2019
Running time: 2 hours, 40 minutes, including one intermission
Writers Theatre, 325 Tudor Court, Glencoe
Tickets $35 – $80 at (847) 242-6000 or Writers Theatre
Photos: Michael Brosilow