After a visit to Puerto Plata, Dominican Republic that was all too short, the day of departure arrived. Neither my travel companion, Juan Carlos Arvelo, nor I wanted to leave but it was time to go. For the final time, at least on this visit, we went to the dining area of the Casa Colonial Resort and basked in the warm glow of Maria's bright smile as we ordered, yet again, the Dominican breakfast with its mouth-watering Mangu.
When done, we headed back to our rooms and finished packing and then reluctantly returned to the main lobby area and checked out.  But we had plenty of time before our flight would depart the Puerto Plata Airport and there was one final place we simply HAD to visit before we left the Dominican Republic.  Luckily for us, what we very much wanted to visit before our departure was located very near the airport.  We placed our bags in the car and explained our wishes to our driver who was more than happy to take us to our final destination before delivering us to the airport.  That destination was the truly amazing Sosua Beach, Dominican Republic.  
The modern history of Sosua Beach begins in the early 20thcentury when it was a banana plantation owned and operated by the United Fruit Company. The bay was used as a port to load cargo ships with bananas. Eventually the plantation closed, but after a decade the land was granted to about 1000 Jews who were fleeing the horrors of Nazi Germany. At that point in time the Dominican Republic was the only place on earth to provide a safe harbor for the fleeing Jews.
From a banana plantation to a safe harbor for persecuted people fleeing Europe, by the 1980's Sosua Beach had become popular among tourists visiting Puerto Plata, Dominican Republic. Today Sosua Beach has become one of the finest destinations for both tourists and locals in all of the Dominican Republic. It is a vast expanse of golden sand beaches with an abundance of trees offering comforting shade for relaxing and enjoying a meal. It is backed by beautiful mountains with streams and trees. Walking along Sosua Beach we encountered literally hundreds of small shops offering everything from a wide variety of food and beverages to clothes, hats and various gizmos and gadgets. One place in particular stuck out with a powerful hypnotic fragrance of freshly barbecued ribs. Oh, what a gourmet delight!
Sosua Beach is generally thought of as being a place for the local population and, on the weekends especially, you will find many locals enjoying this beautiful beach. But it is actually also very much enjoyed by visitors from all over the world. To me, seeing this truly global mix was one of my greatest pleasures.
On or very near Sosua Beach, we noted ATV's. sport fishing, diving, snorkeling, horseback riding, golfing, surfing, kite surfing, laser sailing and many other treats including unending food choices and a what appeared to be a fantastic night life. But alas our time on Sosua Beach and in the Dominican Republic had run out, at least for this trip. And sadly, off to the airport we did go. We had been blessed with many wonderful experiences and we had met scores of genuinely pleasant people but there is so much more. Following is a brief list of some the best of the Dominican Republic that we were not able to experience, not on this visit anyhow, but you may want to include them in your itinerary when you plan your visit.
Northwestern Dominican Republic. This is where the Dominican Republic meets with its island neighbor Haiti. Consequently, it offers a unique cultural blend as well as arid desert mountains and emerald green beaches. Monte Cristi is the most northwestern province in the Dominican Republic. It is a mostly virginal area with historic ties to Cuba.
Southwestern Dominica Republic. Similar to the north west the southwestern Dominican Republic is likewise arid, sunny and full of surprises that one might not typically expect on a tropical Caribbean island It is a true tropical gem with tall sand dunes and many other visual delights. There is so much to see and do that one should plan on no less than two days and even more is better.
Other sites to see include:
The Barahona Beaches with a vivid blue water unlike any other on earth.
The La Plaza Hike. Through several crystal clear blue pools surrounded by limestone rock. This is a totally off the beaten track adventure not for the faint of heart. But you can enlist the aid of locals who can safely guide you along the way..
About one hour away from the La Plaza Hike you will find another stunning attraction, the Cueva de la Virgen an open cave.
Los Patos Beach is yet another great place to visit with some of the world's best fried fish and an opportunity to kayak.
Yet another adventure can be found at the Larimar Mines that offer a once in a lifetime experience for the true adventurer..
And actually, the vast number of experiences both plush and rugged are nearly endless making the Dominican Republic one of our world's favorite tourist destinations. For even more information please check out the following links.
For even more information about the truly amazing Dominican Republic check out these social media options: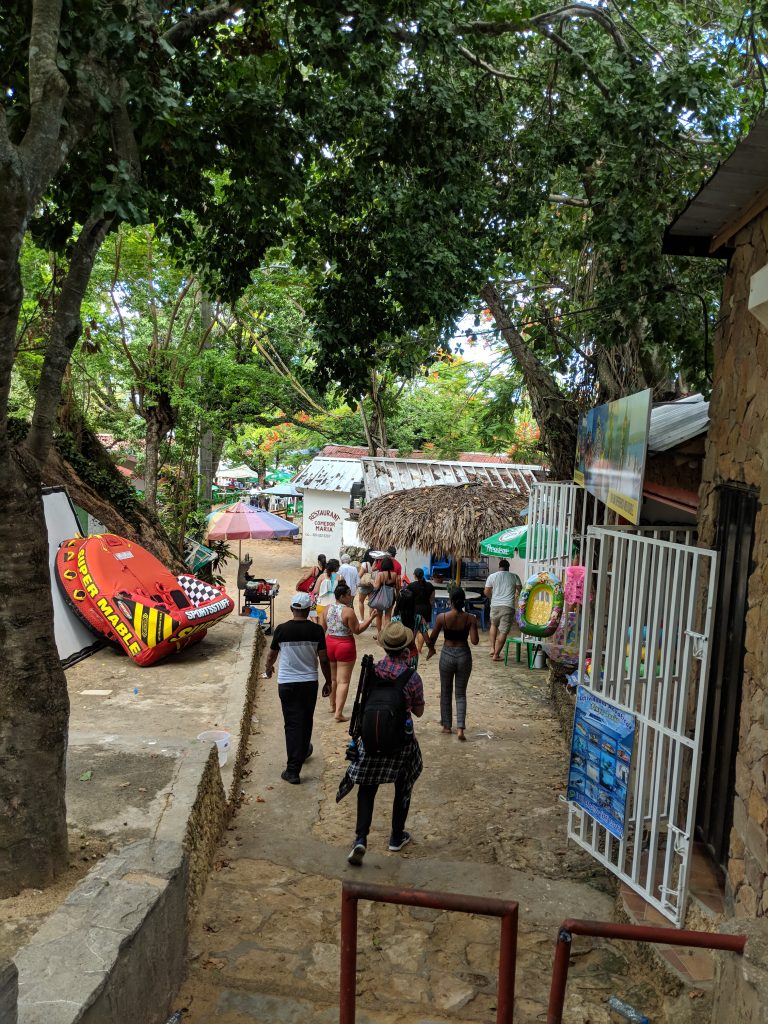 Facebook: @DominicanRepublicTourism.
Instagram and Twitter: @GoDomRep.
Hashtags: GoDomRep.