A visit to the Venetian Room at the Fairmont San Francisco atop Nob Hill is always special and memorable. Whether one is visiting from far away or from across the bay or other nearby places, the experience is unforgettable. Tony Bennett singing "I left my heart in San Francisco…" achieved fame for himself and this venue at a performance in 1961. For the next 20 years, Bennett reprised his love song to the city whenever he was in town and made a stop at "San Francisco's premier supper club. The room holds memories of wonderful performances by music legends that have graced the stage at this ornate and magnificent venue during its heyday, and include Ella Fitzgerald, Peggy Lee, Nat King Cole, Marlene Dietrich, Joel Grey, Vic Damone, The Mills Brothers, and moving forward -Tina Turner, Diana Ross, Manhattan Transfer, Sergio Mendes and other headliners.
The historic "grand dame" Fairmont San Francisco (950 Mason Street) is not merely a shrine to illustrious and celebrated performers of the past, but it has re-invented itself. Visitors can do more than peek inside the room to marvel at the lavish Beaux Arts design.
The Venetian Room-Bay Area Cabaret is now in its 16 th season of offering world-renowned popular musical performers presenting their take on "The Great American Songbook". The Venetian Room was present as the premiere San Francisco cabaret club in 2010.
Maurice Hines opens the 2019 season. He was kind enough to share his thoughts about his experiences at the Fairmont as follows:
" I've been performing for over 70 years! I can't believe it, but Gregory and I started dancing when we were 3 and 5 years old. At this time in my career I only choose performances that I know will bring me great joy. Opening the season for Bay Area Cabaret and returning to the world-famous Venetian Room is definitely one of those times. Although I won't be with my Brother and Father this time ( Hines, Hines & Dad played the Venetian Room Aug 10 – 30, 1972,) my show Tappin' Thru Life captures their spirit and pays tribute to all the greats who inspired my career in show business. I can't wait to get back on that stage with the Manzari Brothers and The DIVA Jazz Orchestra in one of the greatest cities in the world…San Francisco…Here we come!"
The Venetian Room Story
A fifth generation San Francisco native, Marilyn Levinson began her career in highschool, working for Beach Blanket Babylon producer Steve Silver at A.C.T. In New York, she worked for Barbara Cook's producer Arthur Cantor, the legendary Joseph Papp, and for actor Yul Brynner on his final tour of The King and I. A graduate of Stanford Law School, Ms. Levinson served as Director of Business Affairs for Charles Duggan at the Marines Memorial Theatre and the City Cabaret, then worked for 20 years as an intellectual property lawyer in Silicon Valley, at Sun Microsystems and Silicon Graphics.
Eager to fulfill a lifelong dream of presenting popular and Great American Songbook concerts by extraordinary vocalists in intimate, elegant San Francisco venues, Ms. Levinson founded Bay Area Cabaret in 2004. Since its inception, the organization has presented concerts by Barbara Cook, Marvin Hamlisch, Chita Rivera, Sutton Foster, Christine Ebersole, John Pizzarelli, Ramsey Lewis, Melissa Manchester, Judy Collins, Ann Hampton Callaway, Elaine Paige, film actor Peter Gallagher and the renowned soprano Patricia Racette. In 2010, the Fairmont invited Bay Area Cabaret to reopen its famous showroom, the Venetian Room, which had been "dark" as a musical venue for over two decades. Since then, Bay Area Cabaret has presented over forty concerts at the Venetian Room, as the Fairmont's exclusive presenter of musical events in the venue.
Running the gamut from Broadway to jazz to singer/songwriter concerts, Bay Area Cabaret most often presents shows on Sunday evenings. Here is the beginning of the current line up.
Ms. Levinson's mother was the late Marie Louise Rosenberg, Executive Coordinator for Best of Broadway predecessor the San Francisco Civic Light Opera; her uncle was the tenor and impresario James Schwabacher, whose work as President and co-founder of the Merola Opera Program and founder of the San Francisco Opera Schwabacher Debut Recital Series, continues to be instrumental in launching the careers of many young artists.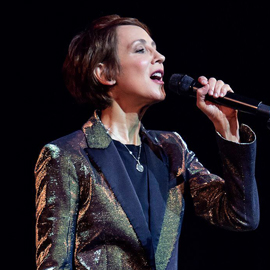 Running the gamut from Marvin Hamlisch, Chita Rivera, John Pizzarelli, Peter Gallagher, Elaine Paige, Megan Hilty, Ann Hampton Callaway and Liz Callaway, Bay Area Cabaret presents shows on select Sunday evenings throughout the year. Current line-up and ticket information is always available at Bay Area Cabaret or by calling (415) 392-4400.
On the evenings of all Bay Area Cabaret performances, the Fairmont offers cabaret patrons dining in the Laurel Court up to two hours of validated parking. Dining reservations may be made at (415) 772-5260.

Like the Golden Gate Bridge, or a ride on a Cable Car, experiencing Bay Area Cabaret at the Venetian Room in the Fairmont San Francisco atop Nob Hill is quintessential San Francisco. Bay Area Cabaret, Fairmont San Francisco. Warning- you might just leave your "heart in San Francisco".
Photos: Courtesy of Bay Area Cabaret, Fairmont San Francisco unless otherwise noted.