Billy Joel's famous ballad "Piano Man," was written while he was still very young, still waiting to make his big break. Joel's final studio album to date, Fantasies & Delusions, is a recording of classical-styled piano compositions played by Hyung-ki Joo. In between is a long and storied career and a very human story of an artist who frequently struggled, both personally professionally. In many ways, Billy Joel and "Piano Man" are apt inclusions in Ted Dykstra and Richard Greenblatt's 2 Pianos 4 Hands, a two-person show equal parts bittersweet reflection on childhood ambitions and the adults that shape (or mercilessly hammer) them, comedic showpiece for two immensely talented performers to shapeshift into dozens of characters, and hummable mosaic of classical piano favorites and crowd-pleasers (including Genoa City's own "Nadia's Theme," an inclusion that went sadly unrecognized by a front-row member at the performance I attended).
While not a perfect show by any means–Dykstra and Greenblatt's arrival in the disappointing present results in a show that runs out of gas while simultaneously requiring its performers to power through an entire movement of a Bach concerto–2 Pianos 4 Hands is a perfect show for the Stackner Cabaret space and is largely successful due to the efforts of Joe Kinosian (pulling double duty as performer and music director) and Ben Moss. Over the course of two hours, Kinosian and Moss portray young and restless talents Ted and Richard, taskmaster parents, elderly teachers, exhausted emcees, and a host of other characters, reveling in silliness (broad European accents, Looney Tunes-styled physical comedy) and adeptly navigating the frustrations and disappointments facing growing artists, all while playing 88 keys nearly nonstop–that's right, the performers do double duty acting as well as expertly playing piano.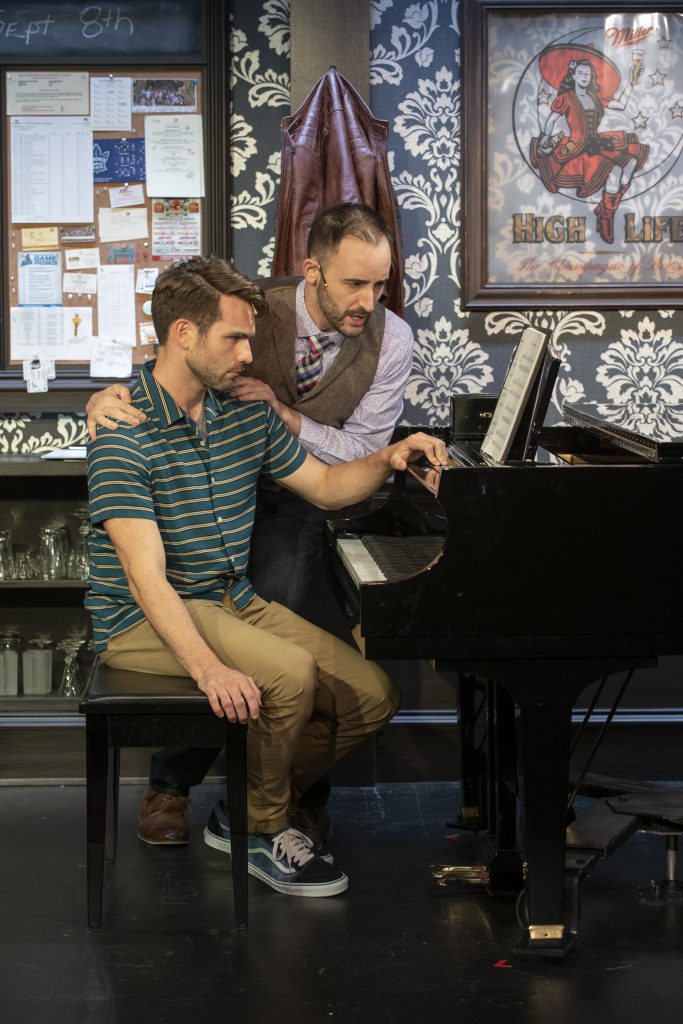 The narrow Stackner stage is filled with two baby grand pianos, which one would expect to mean a fairly static show, but the performers move themselves, benches, and heck, even the pianos themselves to keep the staging dynamic. Scenic designer Michelle Lilly's ability to bring music venues to life continues after success with Milwaukee Rep's Ring of Fire, setting Richard and Ted's journey in what appears to be its end result, a tavern/lounge right out of Joel's "Piano Man," including a little fourth-wall breaking chalkboard tap list that echoes Stackner's own offerings.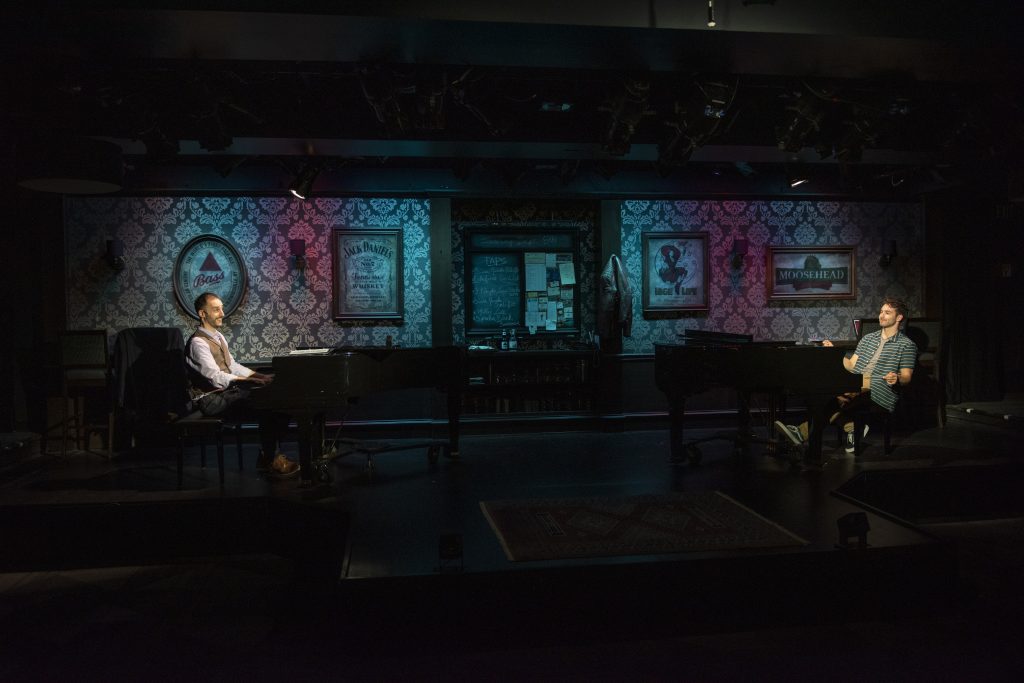 For anyone who spent time in piano lessons, several of the numbers stir muscle memory ("Heart and Soul" and "Chopsticks," not to mention countless scale variations, make appearances) and my own memories of the often joyless task of practicing a beautiful piece of music over and over and over again were definitely stirred. Much like Richard and Ted, I longed for the "fun stuff." The show rewards that pining with an Act Two fireworks display featuring colorful bursts of the joyful piano numbers I remember from recital time (Scott Joplin's "The Entertainer," of course, and Guraldi's iconic "Linus and Lucy"). But the performers also bring some of history's most famous composers to dynamic life as well. When I left the theater, though Billy Joel was initially stuck in my head, it was Mozart's Piano Sonata No. 16 in C that I revisited. In the show, Richard's dad says of the "Facile" (or "Easy") piece, "That doesn't mean that it is easy… it's supposed to sound easy. Ironically, that is a very difficult thing to do." No statement more perfectly captures not only Mozart's piece but also various parts of growing up, growing older, working hard to be good but maybe not the best. The Rep's 2 Pianos 4 Hands has the distinction of delivering both beautiful music and thoughts about artistry and growing older in a lovely sounding, thoroughly engaging manner… and though what they're doing looks exceptionally difficult, Kinosian and Moss certainly seem to have a blast doing it.
2 Pianos 4 Hands runs through November 3 in the Stackner Cabaret. Tickets can be purchased online at www.MilwaukeeRep.com or by calling the Ticket Office at 414-224-9490.