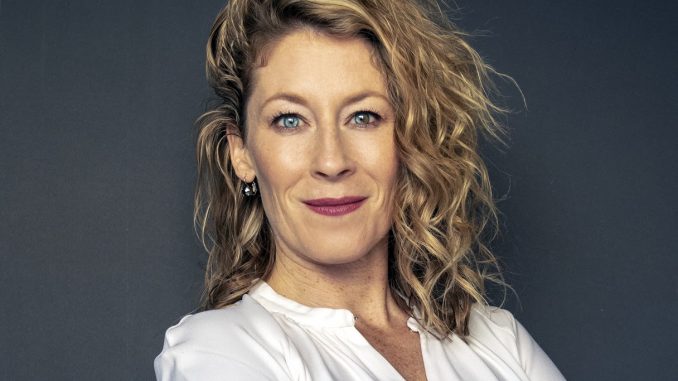 Serial entrepreneur, Laura Frecon, has a passion for beauty, fashion, life and all things green. She has made her mark in the industry as a Costume Designer and is currently the Wardrobe Director for the hit TV show American Beauty Star on Lifetime. Frecon is also the Co-Founder of the tech platform Source Digital and is the CEO of Verte Luxe, where you can find resources and eco-luxury products for living a more sustainable life.
As a Costume Designer, Frecon was part of the Emmy nominated team of designers for Mad Men. She has created costumes for legendary characters on shows and films such as True Blood, How to Get Away with Murder, Men in Black 3, Nostalgia, Kong Skull Island, The Brink, Dinner for Schmucks and more. Her love of fashion, beauty, and design is what prompted Frecon to create Verte Luxe. Take a closer look at this one on one and learn about her journey and why her brand is gaining significant momentum.
What was the turning point in your life that caused you to not only want to live an eco-friendly lifestyle but also inspired you to bring it to the sector of weddings?
I grew up on a farm and orchard in Pennsylvania, so the love for our land and our planet was always a focus in my family. I carried this passion to care for our earth with me and in college became the head of the Environmental Committee at my University. Years later, while working on a movie in Australia, I got engaged. I was trying to plan an eco-friendly and sustainable wedding at our orchard in Pennsylvania while working in Australia. I would spend hours searching the internet for ethical wedding rings, eco-friendly wedding shoes, sustainable florals, food, wedding planners….it was nearly impossible. During this time, I had a lightbulb moment. Why not create one place for people to go who want to find luxurious goods, services, and products without sacrificing their love for the planet? That was how Verte Luxe was born.
Fashion brands are moving in the direction of becoming more sustainable. In a recent letter to the CFDA (The Council of Fashion Designers of America), Dana Lorenz announced her withdrawal from the fashion fund. At the end of the letter, Lorenz stated: "As a side note, the Fashion Fund is irrelevant unless it is entirely made up of sustainable designers." What are your thoughts on the current state of sustainability within the fashion industry and do you believe this new perspective is resonating with consumers in an impactful way?
Though I am very happy about the strides that we have made in regards to ethical, sustainable and fair trade fashion, we have a LONG way to go. There is still so much greenwashing in this industry. A fast-fashion brand can say that they are eco-friendly because they are using organic cotton, but then they are sending their work to sweatshops in India where people are making pennies a day. This is NOT ethical or sustainable. I do think we have made progress, but we need to look to smaller brands who are truly working with artisans, using natural and eco-friendly materials and are paying those workers a fair wage.
What are some misconceptions around sustainability that you find people are unclear about?
Marketing is a funny thing. Just because something says it is "sustainable" does not actually mean that it is. We as consumers need to do our research. We need to look into the brands who are producing our products: where are they coming from, how and where are they made, what materials are being used, how are their workers treated. I am proud to say that Verte Luxe personally vets each and every brand on our platform. We have talked extensively with each brand and are completely transparent in who they are and what they stand for.
Weddings are a very special and magical event to experience. If someone is looking for an upscale option, whether for decor or wardrobe, what are some of the best concepts you've seen executed that delivered on a high note, all while remaining environmentally conscious?
My best tip is to use the beauty of your surroundings to create the design and decor of your dreams.  If you are getting married outside, embrace the fauna that surrounds you. Design your florals and decor to make sense for your environment and can be found locally. Source local food vendors in the area to reduce your carbon footprint. Look at local farms and wineries for catering. For your gown, think about repurposing an existing gown and designing it to be your very own. If you are interested in buying a new gown, look to designers who are using hemp or bamboo silks, natural fibers, recycled tulle Vertelux Couture.  
My gown was a combo of repurposing my mother's wedding gown and giving it a modern flair with tulle made from recycled plastic bottles. For your wedding registry, think of registering for experiences over things. In planning your honeymoon, look towards conscious tourism and eco-excursions, such as Green Maya Tulum for a once in a lifetime experience.
What are some of your favorite products that you cannot live without that are environmentally friendly?
I am obsessed with the shampoo and conditioner from Sud Source.  Not only is this conditioner great for all hair types (especially my crazy curly mane), but they have their very own refill program!
I also love the body oils from Lau Botanicals.  Completely natural and organic, they are handmade on the island of Kauai and feel like a vacation every time you use them. 
The Global Trunk has these beautiful festive pillows that I add to my house for a little pop of fun and color.
I could go on and on…my favorite thing in the world is finding new and exciting eco-friendly products to fall in love with!
Photos: Courtesy of Laura Frecon