Ensemble Español Spanish Dance Theater (Ensemble Español) and Cerqua Rivera Dance Theatre (Cerqua Rivera) performed together in a remarkable one-night-only program of cultural exploration at the Auditorium Theatre, 50 E. Ida B. Wells Drive, Chicago, on Friday, October 4, 2019. This was a generous, ambitious and fully realized program that received numerous ovations throughout and at its conclusion.
Cerqua Rivera, now launching its 20th year, fuses dance movement, visual art and music "to explore the ideas and themes that shape our communities." The company presented the Chicago premiere of co-founder and artistic director Wilfredo Rivera's American Catracho, a thoughtful piece, 3 years in the making, supported by pertinent personal experience and heartbreaking intensive research.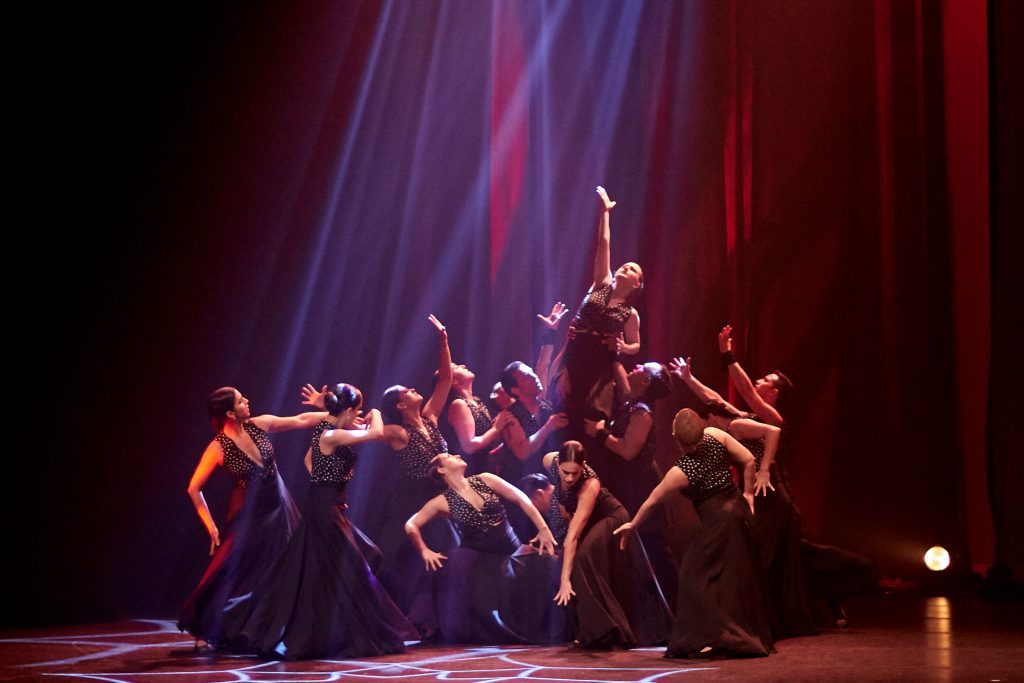 Catracho mines a deep well of empathy in its depiction of the trials of immigrants efforts to reach America. Co-choreographed by Noelle Kayser and Christian Denice, the 4-part suite is set to a shifting backdrop of projected images evocative of a journey across timeframes and landscapes- mountains, barren desert, roiling waters, falling leaves- as well as to original live music, highly percussive as well as colorfully embellished by flute and strings. 
The strong, individualistic and very human modern dance is touching in the extreme as it reveals the layers of human drama experienced by those seeking to escape, hoping for succor, and finding peril and frustration along the way. The audience internalizes the sense of persecution, of being pursued, all presented with the most graceful movements, often indicative of despair. To the chants of "My tongue is divided into two", we are taken inside the lives of those who must give up the language of their birth, must make love in the midst of flight, must abandon dignity and solace, yet a story that ends with the sun emerging and a trumpeting fanfare of freedom. 
The dancers of Ensemble Español, in residence at Northeastern Illinois University, are masters of the Spanish art form of Flamenco, which is comprised of guitar playing, song and dance. Although it originated in the southern Spanish regions, it's believed to be influenced by many world cultural traditions, and Latin American, Cuban and even Jewish traditional arts are apparent when you view this wonderfully exciting music and dance combination. The dance form itself is romantic, sentimental, deeply stirring and emotional. The dancers express their feelings in body movements and facial expressions, as well as by kicking their feet and clapping; many snap castanets. The costumes run the gamut from black to vivid colors, ruffled and formal, tight and dramatic.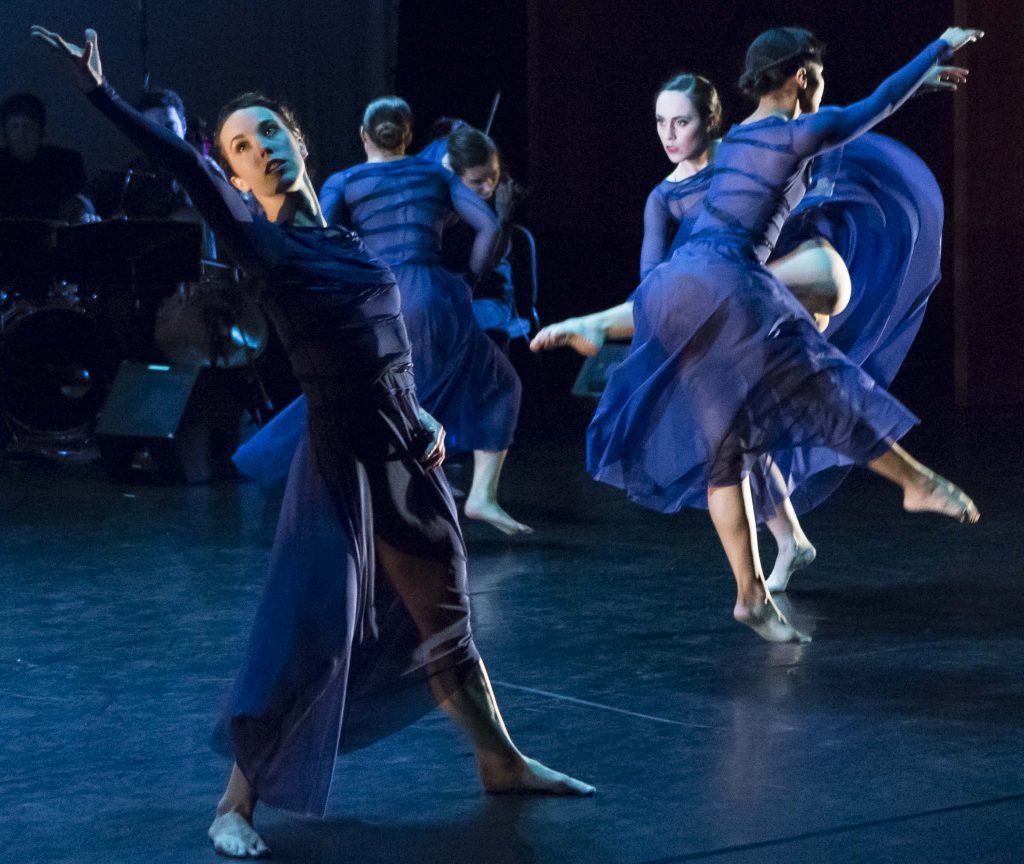 However, Flamenco is by no means the only form of Spanish dancing; that art boasts a wide variety of styles, and Ensemble Espanol has further adapted these into contemporary and classical pieces in a wide range of repertory. This night's program was comprised of 8 pieces, including the world premiere of Azabache (2019), with Claudia Pizarro, solo choreographer, dancer, and costume designer, appearing as First Dancer. in a  showy and individualized demonstration of Alegrias de Cádiz, a festive flamenco style, the piece is meant to signify transformation and inspiration through art and compassion. 
Mid- program, the company performed Carlos Rodriguez's flamenco piece Mar de Fuego, a wonderful modern ballet, dedicated to company founder Dame Libby Komaiko. This unique fable features grey, black and white costumes and a character in a nylon bank-robbers mask who was a combination of Svengali and the Devil's muse.
Consisting of 9 movements, performed to the music of 9 musicians, dressed by 7 costume designers, the piece was comprised of terrific solos, duets and group efforts. It came together in a scene centered upon a zigzag pyramid of light, around which the dancers grasped a shining red thread; the symbolism here reflects "the belief that we are destined to connect with one another via a magical red cord from the lunar gods regardless of place, time, or circumstances".
For information and tickets to all the great programming at the Auditorium Theatre, go to www.auditoriumthetre.org