By Kathy Carpenter
Lambs Players present Ring Round the Moon. Deliciously Wicked fun. I loved watching these little jewels I have never seen before.
"The brilliant French playwright Jean Anouilh wrote L'lnvitation au Chateau in 1947. In 1950 the equally brilliant playwright Christopher Fry at the request of director Peter Brook, transformed the piece into RING ROUND THE MOON."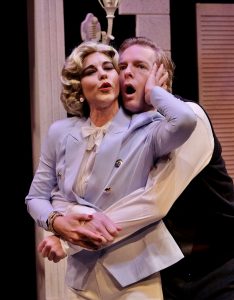 "In meteorological lore a ring around the moon , or lunar halo, signals a change is coming."
The play is a period piece and takes place Midsummer in a Grand Manor home in the country. the story of male twins. One lovesick puppy, the other the devilish one with a plan. He hires a beautiful woman to lure his twin away from the woman he thinks he loves. The plan unfolds in act one and culminates with a Midsummer ball in act two.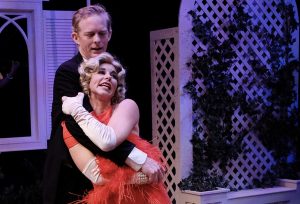 The set has a huge black and white Manor house backdrop. With a garden fountain and classy furniture as the main focus. What makes this show so great is the fabulous characters.
Robert and Deborah Gilmour Smyth direct another smash for Lambs Players. If you come to the Lambs playhouse you are going to see sensational entertainment. They know how to put out A list productions.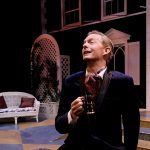 Brian Mackey, rocks the roles of Hugo and Frederick, the twins, not an easy role to pull off. Davis McBean plays the butler. I just love David he is always so funny. Deborah Gilmour Smyth plays The Dowager Countess. She is such a talent. Capulet is played by Cynthia Gerber, who exudes her own special charm. Messersehmann. is played by Manny Fernandes, another actor who knows his way around a stage. Donny Gersonde,played Patrice, a character who I loved who added to chaos. John Rosen, plays Romanville, the character who worries everything will go awry. Joy Yvonne Jones, the beauty, and Yolanda Marie, Franklin, her vivacious lovable mom, are both new to me. But I hope I can enjoy them again sometime soon. The cast rounds out with Diana,Rachel Vanwormer, Lady India, Siri Hafso, Angela Chatelain Avila, as Chanteuse, and Justin K. King, as the footman. Outstanding cast.
One thing to love in a period piece is the costumes, My favorite was actually not the one you would expect (the eye catching purple worn by the beauty to be the talk of the party), but a cream color flapper style dress worn by Lady India. The costumes were exquisite., thanks to Jeanne Reith, the costume designer.
Give yourself a autumn stay-cation escape to the 1920's countryside for a couple hours.
Ring Round The Moon
Thru November 17, 2019
Lamb's Players Theatre
1142 Orange Ave. Coronado
619.495.3066