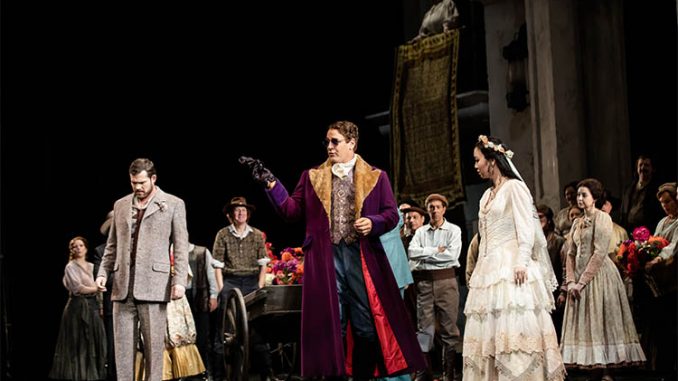 With incredible vocal pyrotechnics combined with solid acting performances, it's fortunate the Lyric's Don Giovanni is having a relatively long run.  You want to see this one.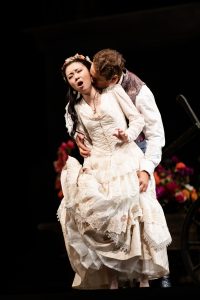 Every one of the principals is splendid in their role, making this a delight to watch from beginning to end, no matter how loathsome the titular character is.  And there's no redeeming him here.  The Lyric's Don Giovanni is presented as a horrific, remorseless rapist from beginning to end making the opera's lighter and winkier elements seem far more like a criminal's justifications of his actions rather than Don Juan's famous charm.  It's an interesting and sober take, and quite appropriate for the #MeToo era.
Lucas Meachem is both vocally splendid and physically imposing as Don Giovanni. He very much reminds you of any entitled rich man of your choosing, who believes his status insulates him no matter his wrongdoing.  After all, he's gotten away with it for this long.
Meachem plays him as an utter brute, completely and utterly given over to criminality. His goal is clearly conquest, and the lighter passages about how he loves women are played here as self-justifications by someone who doesn't want to examine his own actions at all.  He's utterly cynical and just wants to add more names to his lackey Leporello's book listing his conquests.
Matthew Rose as Leporello is amazing here.  He's clearly the heart of the show, or maybe him and Amanda Majeskit as Donna Elvira.  They're both morally compromised,  Leporello corrupted by money and Elvira by lust, but they're also the ones that actually express care for other people around them and altruistic impulses, while the rest of the characters are consumed by their individual interests. You can see Leporello wanting to be a better person, and you believe he does.  But he's just too weak to make the break with his gravy train, Giovanni.  And he's weary of everyone being unable to see through Giovanni's very, very superficial charm, so he plays along with Giovanni's seductions.  Rose is extremely charming here and plays Leporello's moral weariness, criminal complicity, and craven cowardice with zeal and the right light touch for a comedy sidekick.  He's the ray of light in this rather grim production.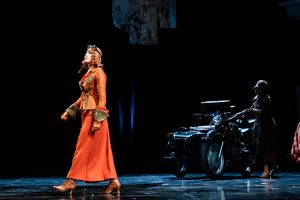 Majeskit as Dame Elvira is also a standout. Vocally splendid, commanding and noble she is fabulous when Elvira is in avenging angel mode, whisking other women to safety. You are sad when Elvira crumbles in the second act and succumbs to Giovanni and becomes the butt of a cruel joke as Leporello is substituted in his place. Her humiliation and rape by deception is the greater tragedy in this serious take on Giovanni as serial abuser.
The two sets of ingenue couples were equally strong.
Our noble couple, Rachel Willis-Sorensen as Donna Anna and Ben Bliss as her long-suffering boyfriend Don Ottavio absolutely crushed their singing parts and did some excellent acting work as they sought the Commendatore's murderer. You just have to roll with the idea that a flimsy half-mask is enough concealment for people to not be able to tell who Don Giovanni is throughout. Each of their arias was absolutely splendid.  I don't know what Willis-Sorensen did to annoy the costume designer, though, but her black lobster on crack mourning gown is possibly the ugliest costume I have ever seen on any stage.  It was hideously unflattering and she sang so beautifully it was distracting to have to look at her in it.
Our working-class couple, Zerlina sung charmingly by Ying Fang, and Brandon Cedel, who was also quite a brutish Masetto, also proved absolutely up to the heavy vocal demands of their parts. The aria where she implores him to beat her from his jealousy over Don Giovanni's licentious attentions are cringe-inducing in this production, and the fact that he also seems truly brutish makes it seem very dangerous. You're waiting for him to take a swing at her. They seem headed straight for a trailer park showdown that winds up on reality TV.
By the time the Commendatore's statue arrives for dinner, sung by the splendid and commanding Mika Kares in the abrupt final scene, you're very, very ready to see this violent and unrepentant Don Giovanni go, though you wish the music would last forever. His final exit is as dramatic, fabulous and satisfying as you could wish, and Matthew Rose's cowardly Leporello nearly steals the scene from him with his great reactions to the whole thing.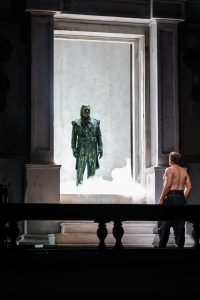 This production is truly wonderful, and shifting it to the 1920s allows for some absolutely gorgeous costumes, a set that is timeless and grand, a fun motorcycle and sidecar on stage and lots of handguns. Seeing next year will be 2020, this seems a fun way to close out the last of 2019.
Don Giovanni has a nice long run and will be playing through December 8th, though they are switching out singers for Giovanni halfway through with Davide Luciano joining the cast for the December performances. Tickets are available here.
All photography by Kyle Flubacker.