Comedy screenwriter Steve Mazur – who has authored lines for film luminaries like Jim Carrey, Sigourney Weaver, and Gene Hackman – takes the audience on a gentle journey back into their elementary school days in his latest play, BAD HABITS. The proud product of a parochial school education himself, Mazur enters the lives of a group of teaching nuns struggling to keep their convent and elementary school going while making sure that their little charges toe the Catholic line. Directed by Mike Reilly, BAD HABITS is delightful holiday entertainment which pokes fun at "Nunnish" ways while offering some very talented comics a chance to shine.
Things are looking bleak for the future of St. Cyril's convent and school. Debts keep piling up, and there simply isn't enough cash flow to cover expenses. Yet Mother Superior (Alley Mills) has not given up on her little flock, Sister Maggie (Lee Garlington), Sister Helga (Mouchette van Helsdinger), Sister Anthea (Jacqueline Lorraine Schofield), and Sister Claire (Jacquelynne Fontaine). So it's off to see the Bishop (Orson Bean) to beg, plead, and cajole him into co-signing for a loan. However, the Bishop may have other plans for Mother Superior's little plot of land and be less than eager to help them out of their economic hole.
It seems like only a miracle will save the good Sisters, but perhaps God is listening after all. When a shivering, wet-to-the-bone, and very hungry Maria (Kelsey Griswold) stumbles into their midst during a cataclysmic storm, the Sisters cannot turn her away. But who is Maria, and why has she come? These are mysteries which confound the Sisters as they plan their annual Christmas pageant. And fund raiser, of course.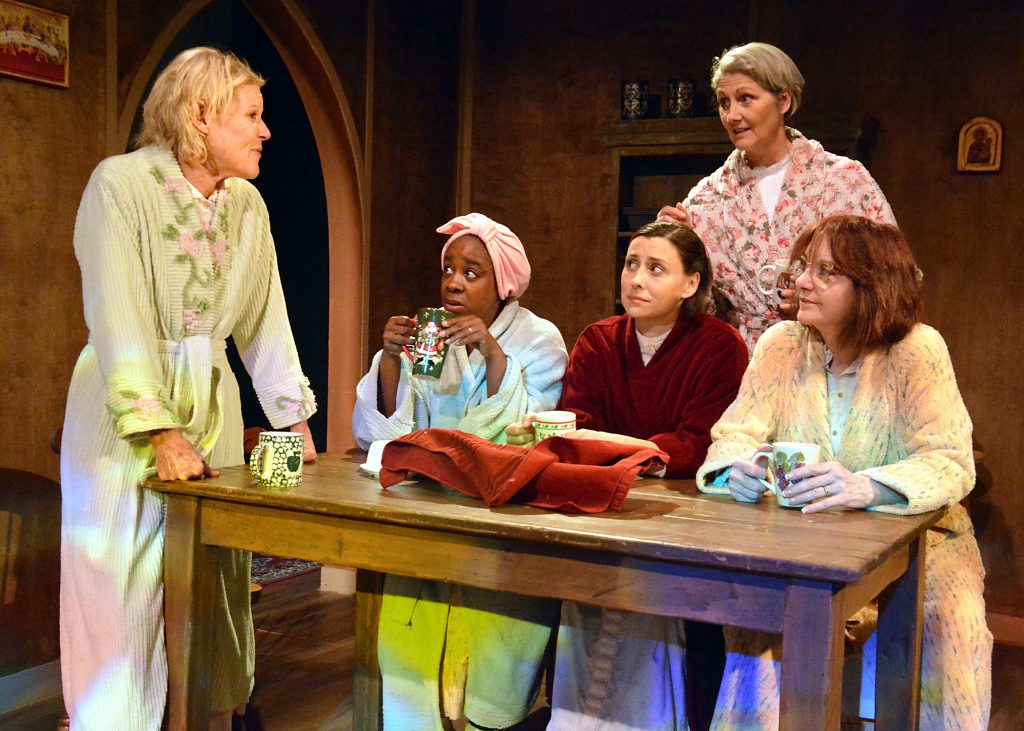 BAD HABITS sparkles with fun as these oh-so-human women of God decide to fight City Hall with a vengeance. The very funny Orson Bean leads the way as a comic who keeps the audience laughing at his good-natured jibes at the religious life – and the small sins that all of us commit with impunity. The Sisters keep up with him with a chuckle – sometimes even involving the audience in their shenanigans. Some of the convent inhabitants have powerful and also very sweet voices as they sing their way through a bunch of Christmas favorites. All in all, BAD HABITS is a charming introduction to the holiday season – clever, cute, and harmless fun with an endearing cast. Only Scrooge will be able to keep a smile from his face.
BAD HABITS runs through January 26, 2020, with performances at 8 p.m. on Fridays and Saturdays and at 2 p.m. on Sundays. No performances on 11/29/19 and 11/30/19, 12/27/19 to 12/29/19, and 1/3/20 to 1/5/20. The Ruskin Group Theatre is located at 3000 Airport Avenue, Santa Monica, CA 90405. Tickets range from $25 to $35. For information and reservations, call 310-397-3244 or go online.