Just in time for the holidays, everyone's favorite Disney Nanny flies to the Drury Lane Theatre in Oakbrook, IL in a production that is practically perfect in every way. And it's going to enjoy a good, long run from now until January 19th, though you should go at once. This delightful Mary Poppins is not exactly the movie you remember, but an expanded and adapted story with a sharp, clever book by Julian Fellowes, creator of Downton Abbey, and additional songs by George Stiles and Anthony Drewe.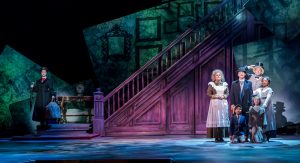 While it is the original story of the Banks family of Cherry Tree Lane from the beloved Disney film, as it is confined to live theatre with no animation, the cartoon Penguins have been left in the dust and replaced with scenes taken from P. L. Travers' original books.  So the story has many of the beloved elements you remember from the film, but also surprises and new scenes and side characters to keep you interested.
The weakest bit was the incorporation of kite flying, which was so key to the film and here feels like a tacked-on afterthought despite the retention of the song.  The other part that was a disappointment was the loss of the wonderful lullaby "Stay Awake" from the film. I don't know why it was cut, but I know I missed it.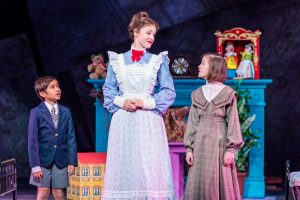 In hiring Emilie Lynn as Mary Poppins, Drury Lane has secured a spectacular lead.  Her accent is flawless and her line reading is very close to that of Julie Andrews in the original. When she deviates from familiar lines this perfection persists and it's a wonderfully consistent, but with Fellowes' wittier script, a sharper take on the original.  She also has a lovely voice, but it's there that you may miss Andrews a bit.  Lynn has all the notes, but not the richness of tone, especially in her lower register.  Her voice is lighter and her upper notes soar. She uses them to glittering effect.
James T. Lane as Bert is as much of a mess as Dick Van Dyke in the original. He has spunk and spirit and dance moves galore, but his Cockney accent is abysmal.  Which is remarkably consistent with the source as well. He sings well, and is charming, but is the weakest among the very, very strong cast. You will not mind and will most likely find him delightful.  I know I did.
It's in the Banks family that we find the other real standout performances. Matt Crowle plays the pivotal role of Mr. Banks, upon whom the entire family depends.  He is far, far more neurotic in the play than in the film and Crowle leans in.  He also gets to show us Banks' good sense and humanity long before the character was allowed to in the film. He sings amazingly well. He's clearly wound too tight and trying to hold himself together with discipline, and when things start going wrong, he goes to pieces convincingly, and yet still keeping with the spirit of lighthearted family fare.
Mrs. Banks has been entirely revamped for the play.  No longer the frothy, silly Suffergette, here she is a former actress who is being shunned by the society to which Banks wishes to belong. This more serious Mrs. Banks is inhabited to perfection by Alexis J. Roston.  She's got some lovely new songs she sings beautifully and some terrific scenes of being overwhelmed but coming to terms with her need to lean into her role as mistress of the household.  She also becomes enchanted by the magic Mary Poppins brings into the household and follows as enthusiastically as the children.
Catherine Smitko absolutely brings her A-game as the Banks' Irish housekeeper Mrs. Brill and doubling as the Bird Woman. She is hilarious and has some of the best lines in the show delivered to perfection.  She is a delight every second she's on stage.
She's paired with Sawyer Smith as Robertson Ay, who's part I didn't really understand. He seems to exist merely to perform slapstick stunts, which Smith executes very well.  But the part is really a mess.  Not Smith's fault. I just wish he'd had better things to do.
I saw Grier Burke as Jane and Sebastian Merlo as Michael, and they were as cute as could be. They sang well, they acted well, they were believably bratty when necessary, and Merlo has a true flair for comedy. I expect to see a lot more of him in those types of roles.
The other showstopper in the cast was Holly Stauder as Miss Andrew, the evil nanny. She chewed up every bit of scenery on that stage in the most glorious fashion imaginable and was absolutely hilarious.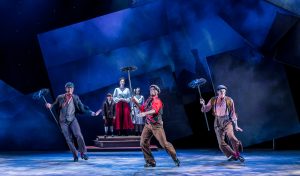 The show is filled with wonderful songs, exciting dancing that doesn't go on too long and some real magic when you see Mary Poppins fly. The entire cast does a bang-up job with it all.
I'd also like to praise Kevin Depinet's scenic design, that I was not in love with at first, but as it was paired with Kevan Loney's projections, you could see how brilliant it was. It let the Drury Lane stage become all sorts of magical places with ease, not to mention the Banks' home, the park, the rooftops of London, the Bank, and the steps of St. Paul's Cathedral.
Marcia Milgrom Dodge had a lovely vision of a very magical Mary Poppins and brought it to life with style.
Tickets are available at the Drury Lane Box Office.
Photos by Brett Beiner Photography