Technology is awesome. One of my favorite uses for technology is when it helps me save time. It is a happy bonus when the time saving is doing household chores. The yeedi vac system is perfect for saving me time and giving me one less chore to worry about.
I was interested to see how the yeddi vac system would compare to some of the other robot vacs my family and I had tried out previously. Shipping was fast and the complete system can in one big thick box filled with four smaller boxes inside to keep it safe and sound. While I am a fan of green packaging and using the least possible packaging, in this case I was glad it was packed so securely, as nothing was damaged when it arrived on my doorstep. It was also quite simple to assemble vac station, as not only was the instruction pamphlet easy to follow, but there were only a few things which needed to be put together.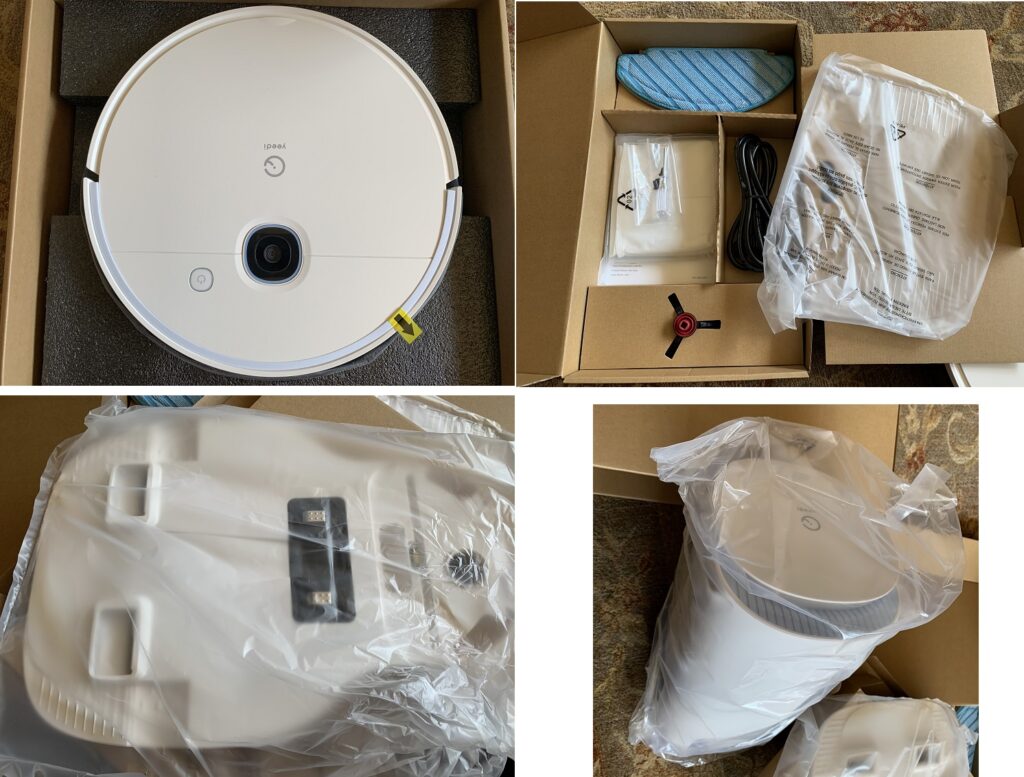 Once put together, I let it charge for a bit and then was ready to try it out. Among the basics of vacuuming, mopping, and emptying the dust bin when it is finished there are some other, somewhat simple but enjoyable aspects to the yeedi vac system. My practical joker side enjoys when the vacuum speaks because it throws off my dad, and guests when they suddenly hear a random voice say "starting charge now" when the vac gets bumped or is finished with the rounds. To top it off I can change the language and get real fancy with my jokes or learn some basic phrases in many different languages. Similar to other robot vacuums you can also customize the name of the unit, and just because I named mine "Yukidama"- Japanese for snowball- because it reminds me a snowball and it's fun to say. Though if you have more than one story to your home you can purchase an upstairs unit and a downstairs unit and control them from the same app, so names would be useful in that situation.
Another big step up with the yeedi, compared to other units I have tried, is the self-emptying station. Once Yukidama is finished with the work, it seamlessly returns to the home station and empties its bucket into the tower. Sometimes, if there is a lot of pet hair Yukidama picks up I do have to help it in the emptying process, as pet hair, or even my long human hair, can stick all the debris together making it hard to flow out when the air tries to pull it up to the tower's bag. The bag where all the dust and particles resides takes at least a month or more to fill up, if you don't have a lot of work for the yeedi to do. The yeedi vac system comes two dust bags and additional bags and accessories can be purchased on the yeedi site or on Amazon.

This version of the yeedi also has a mop function. It wipes down the non-carpeted floors with water and a detachable, washable cloth. Sadly, they advise against adding anything but water into its tank for the mopping feature, so my floors just get a rinse when Yukidama goes around. It would add to the awesome functions of this robot vacuum if they were able to make it so it can mop non-carpeted floors with more than just water. Perhaps in the future they will have a vacuum that will also be a carpet cleaner. For now, I will let Yukidama vacuum and rinse floors like my kitchen and then follow with a quick Swiffer.
Once the yeedi has mapped your house (usually after 3 or so jobs), there are various customizations you can add to your system. A couple features I enjoy are, setting an auto schedule to clean, and choosing which area of your house you want it to clean. It is nice to set it and forget about it, sort of like setting up auto pay for bills, at least with the yeedi you don't need to worry about having low funds in an account.
Overall, I am incredibly pleased with the yeedi and would highly recommend it to anyone looking for a little extra help keeping things clean.  Check out the yeedi site today to purchase or learn more about the yeedi vac system today!
The yeedi vac station (and other awesome products) is featured in our 2021 Fall Gift Guide.
*All images taken by Maria Densley, with the exception of the feature image which was sent to us for yeedi promotion.