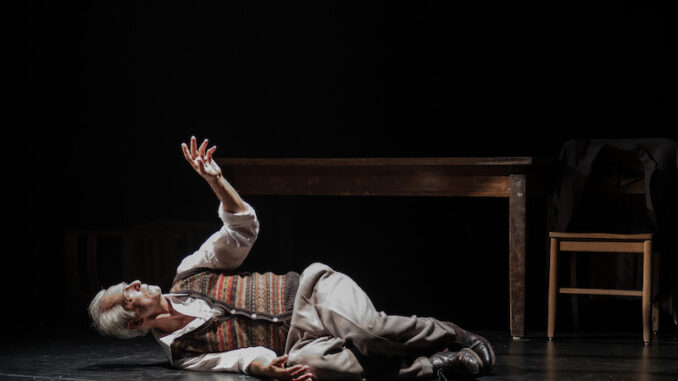 By David Lawrence Hamilton
Chicago Shakespeare Theater presents Emmy Award-winner and Academy Award-nominee David Strathairn in a tour-de-force performance in Remember This: The Lesson of Jan Karski, in a limited engagement in The Yard at Chicago Shakespeare, November 3-14, 2021. Written by Clark Young and Derek Goldman and directed by Derek Goldman, Remember This was originally created by The Laboratory for Global Performance and Politics at Georgetown University.
Joining Goldman on the creative team are Scenic Designer Misha Kachman, Costume Designer Ivania Stack, Lighting Designer Zach Blane, Assistant Lighting Designer Peter Leibold, Original Music and Sound Design by Roc Lee, Movement by Emma Jaster, and Production Stage Manager Andrew Neal.
"Remember this". This simple phrase, as a question or a statement, holds incredible power. It is the closet thing to time travel that we have. Hearing those words can take us back in time where we may expierence eIt is also the name of an extraordinary play at Chicago Shakespeare Theatre. "Remember This…The Lesson of Jan Karski".
Jan Karski is played by Oscar nominated actor David Strathairn, who gives a riveting performance in this solo show. Seamlessly transitioning from one character and accent to the next Strathairn paints a picture of a man who has experienced incredible tragedy, loss, inconceivable inhumanity and still was able to find a deep reserve of compassion for his fellow man. Stratharin shines in this role but what you will come away with is the impressive moral character and integrity of Jan Karski.
I could rave about David Strtharin's performance, but what you need to know is who was Jan Karski? Born in the Poland in 1914, Karski categorizes himself as an "insignificant little man". His contribution to society was anything but. Karski grew up poor, a devout Catholic, attended military school, became a solider and completed diplomat training all by his early twenties. Then the Nazis invaded. Karski along with thousands of others was forced to flee to the countryside of Poland, spending weeks just walking… hungry, scared, exhausted. Rounded up and placed in a worker camp he narrowly escaped death alongside the other prisoners and was recruited by The Polish Resistance as a courier due to this diplomatic training. He was captured and tortured. Even attempted suicide, but was so malnourished that his veins would not bleed out. In advance of a meeting with leaders of the Allied Forces he was asked to spend time in Jewish ghetto and a Death Camp and report the conditions and atrocities seen there. What he saw there so horrified and disturbed him that washed himself even washing his shoes. When reporting what he saw to Allied leaders he found their responses dismaying. The leaders either denied or dismissed what Jan was reporting. Karski went on to become a professor at Georgetown, always making sure his students understood their responsibility to care for one another and humanity.
I had no knowledge of who this man was going into the show. Coming out of it I was incredibly appreciative of this production. It is a show about incredible perseverance, integrity and moral character. It is a reminder to us all of the humanity and respect we owe to one another. This is an important story that needed to be told. A movie will be released in 2022. Don't wait for that. Go see this impactful true story that will remind you that history remembers. No matter its denial or attempts to rewrite it.
Chicago Shakespeare strives to make its facility and performances accessible to all patrons through its Access Shakespeare programs. Accessible performances for Remember This include:
Open-captioned Performances – Thursday, November 11, 2021, at 7:45 p.m.
A text display of the words and sounds heard during a play, synced live with the action onstage.
ASL Interpreted Performance – Friday, November 12, 2021, at 7:45 p.m.
All dialogue and lyrics are translated into American Sign Language by a certified interpreter.
Audio-described Performance – Sunday, November 14, 2021, at 3:00 p.m.
A program that enables patrons who are blind or have low vision to more fully experience live performances by providing spoken narration of a play's key visual elements.
More information on the production at chicagoshakes.com/rememberthis or on social media at #cstRemember
PHOTOS David Strathairn as real-life World War II hero Jan Karski in Remember This: The Lesson of Jan Karski, written by Clark Young and Derek Goldman, directed by Derek Goldman, and originally created by The Laboratory for Global Performance and Politics at Georgetown University. Chicago Shakespeare Theater presents Remember This in The Yard, November 3-14, 2021. Photo by Teresa Castracane Photography.