It's a pleasant spring day in the bucolic farming community of Winninnewah, a small Heartland town. But in minutes the blue sky gives way to gray, and the warm and gentle breezes turn menacing. Suddenly tornado alarms begin to scream out their terrible message – and the townspeople have just 13 minutes to prepare for a catastrophic tornado almost on their doorstep. Written and directed by Lindsay Gossling, 13 MINUTES follows the ominous events moment-by-moment as they unfold. The town's residents frantically search for safety and shelter as they face the impending once-in-a-century monster storm.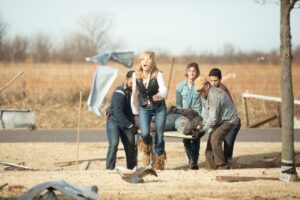 13 MINUTES focuses on four families as they prepare to face two storms, the first sent by Mother Nature and the second bubbling up from unresolved conflicts the family members can't seem to resolve. As the whirlwind draws closer, tensions continue to rise on all fronts. What of the pregnant teen who must wrestle with abortion issues as daddy-to-be decides he might be ready for a walkabout? Or the hardworking immigrant housekeeper who has finally saved enough to buy a small house right in the path of the tempest? While the whereabouts of her fiancé are unknown and hope is shrinking? What of the closeted gay son of a homophobe pop, a man he has never been able to please? How about the cute little deaf girl who can't hear all the tornado warning sounds around her? As 13 MINUTES wrestles with the small and large problems faced by so many people, the potential victims must also fight to survive as the twister inexorably comes closer and closer. These are events which are guaranteed to produce panic – but also heroism.
13 MINUTES has a sterling cast, including Thora Birch, Amy Smart, Anne Heche, Paz Vega, Peter Facinelli, James Austin Kerr, and Will Peltz. And, of course, Nature, who is certainly a major player in the movie. Director Gossling knows his way around the tale – and well he should, since he wrote the script. Filmed in Oklahoma, the setting has a genuine feel which keeps the story believable and authentic. The film is studded with mini-vignettes defining the characters before, during, and after the life-shattering cyclone and the shambles left in its wake. Cinematography by skilled Steve Mason brings home the aftereffects of the mega-storm as he tracks its frenzied path. Produced by Travis Farncombe (who also contributed to the original concept), Lindsay Gossling, and Karen Harnisch, 13 MINUTES is a welcome addition to the disaster film library.
13 MINUTES had a limited release on October 29, 2021. On November 19, 2021, the VOD/digital version will be released. For purchase of the film, visit Amazon.com.