By Fran Zell
On a chilly November night when I'm inclined to stay home, as I have done for so many nights since Covid, I instead find myself in a cozy, living room of a theater space in Wicker Park and meet the Bengsons.
"Being alive means being in grief," Abigail Bengson (Emilie Modaff) says at the top of the show and asks for a show of hands.
Hands go up on all three sides of the thrust stage, a sign of the times, perhaps, and it doesn't even seem incongruent that so many of the raised hands belong to young people.
Kokandy Productions luminous Chicago Premiere of Hundred Days at the Chopin Theater, is indeed a show for our times. Opening line notwithstanding, it does not sink into sadness or self pity, nor become didactic. Abigail introduces their husband Shaun Bengson (Alec Phan, alternating on weekends with Royen Kent) and the rest of the Bengsons —a five member ensemble of extremely talented and exuberant musicians. 
Abigail confesses that their life, since the age of 15, has been dogged with disaster and grief, with family members who sicken, die or go crazy and that they have always anticipated more of the same. And with that the fourth wall closes, giving way to a both exhilarating and heartrending 75 minute show, rooted in anthemic folk-punk music. It's a show about embracing uncertainty, taking a leap, and loving as if you only had 100 days to live, or as producing artistic director Derek Van Barham puts it, " a celebration of life."
For those, maybe like myself, who are just beginning to venture out again into so-called "normality," the show feels like a kind of radiant drawbridge across a treacherous moat, not necessarily leading to a fairy tale castle, but at least towards a different, more positive and mindful way of navigating life and facing fear.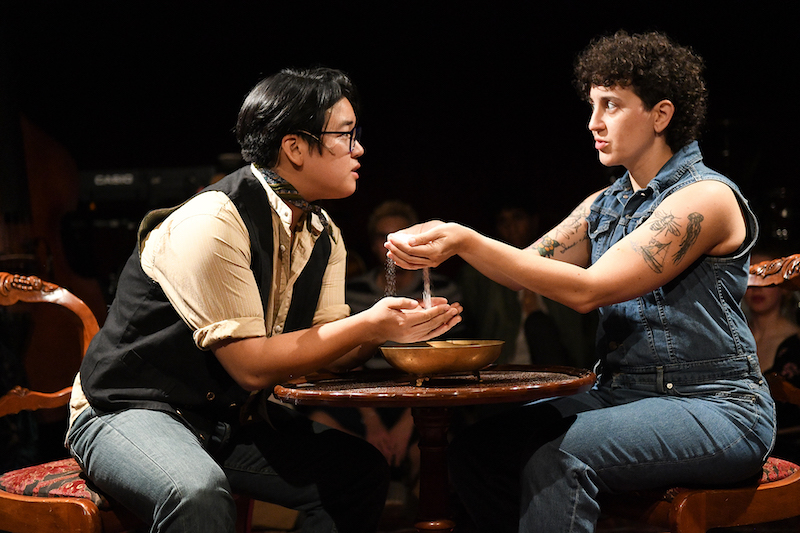 Hundred Days, described as not so much play or musical as a "theatrical concert," had its New York premiere in January 2017 at the Public Theater's Under the Radar Festival, performed by the real-life Abigail and Shaun Bengson, and went on to successful runs at La Jolla Playhouse and New York Theatre Workshop. The Bengsons wrote the music and lyrics and collaborated on the book with Sarah Gancher, whose work has been seen on stages around the world, including Steppenwolf in Chicago and London's National Theatre.
The story, set in Astoria New York, is based on the Bengsons' own intoxicating relationship, which included a wildly successful first date, after which Abigail broke up with her fiancé, and a second date in which they moved in together. They were married three weeks later, but along the way Abigail loses herself to her old fears of loss and death.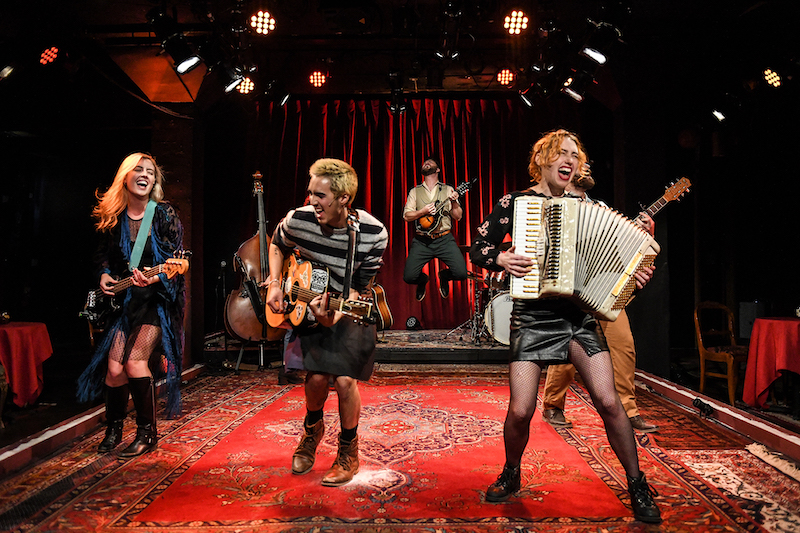 The premise is somewhat reminiscent of Erich Segal's runaway bestselling book, Love Story, from the 1970s, but in this case no one is saying "Love means never having to say you're sorry." Instead they're recognizing and even honoring each other's falibilities and promising nothing except to live the time they have together to the fullest and to stretch it even further by focusing fiercely on the moment.
And then of course there is the music. a wonderful, eclectic score, with titles that speak for themselves, such as "Marching in the Wrong Parade," "Lie Next to Me," "The Years Go By," and "What Else Can We Do?"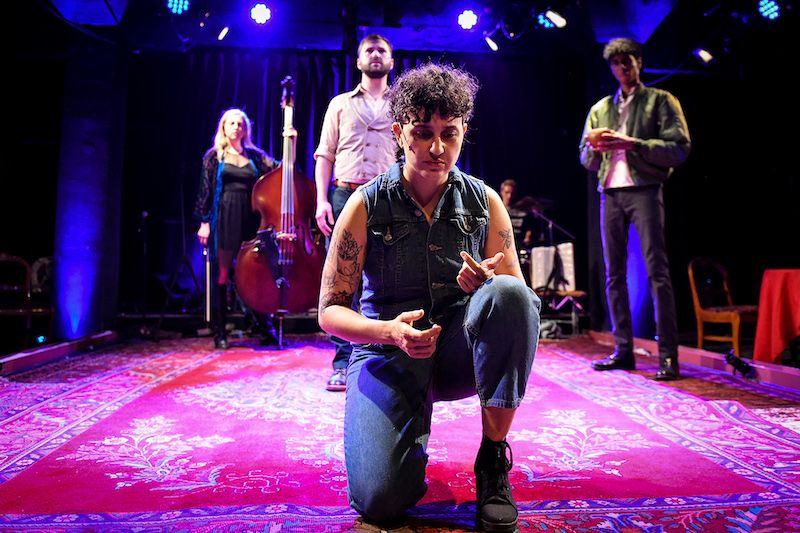 Kokandy's original plans to stage Hundred Days in March 2020, had to be scrapped on opening night because of the pandemic. Buts it's now magnificently up and running and well worth getting out of the "safe at home" mode for a mesmerizing evening with the Bengsons.
Hundred Days runs through January 9, 2022 at The Chopin Theatre, 1543 W. Division St, Chicago. Directed by Lucky Stiff; Music Direction by Matthew Muniz; Choreography by Collin Quinn Rice. The Bengson musical ensemble includes Grace Bobber, David Gordon-Johnson, Lucas Looch Johnson, Brennan Urbl and Melanie Vitaterna.
Curtain Times: Wednesdays, Thursdays, Fridays & Saturdays at 8 pm; Sundays at 5 pm. Tickets: Regular run $38. Students/senior $30. There will be a limited number of $15 tickets available for students and artists for each performance. Tickets are currently available at Kokandy Productions or in person at the Chopin Theatre box office.