From the moment you pull into the parking lot at the corner of 22nd Street and Spring Road, you realize that your experience at Fogo de Chao is going to be one of curated refinement. Its suburban location allows a relaxed and ample parking experience and as you walk to the door of the handsome, modern building, you are greeted by outdoor fire pits and fireplaces, hinting at the cooking methods inside. There is even a patio where outdoor heaters and fireplaces allow guests to gather, even in chilly weather.
Upon entry, you're greeted by the engaging and enthusiastic staff. This is one of the most interesting aspects of the Fogo de Chao experience. Not only is everyone from the hostesses to the wait staff to the expert chefs preparing your meal genuinely excited about their jobs, but they are able to exhibit far more of their own personalities than is usual in a fine dining experience. It's not just expertise, it's the extra sparkle of ownership of your position and the obvious desire to overdeliver. I realize this review was created during their gala ribbon-cutting and VIP Grand Opening, but the energy of the entire place and staff is undeniable and I'm certain will continue beyond the gala.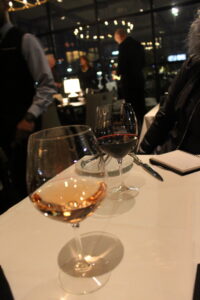 When we arrived, we were invited for cocktails, but we took our seats instead in the capacity restaurant and were immediately served their surprisingly excellent house wines. My companion, Jood, had the house red, which is a blend of Argentinian vintages, and was astonishingly good. They described it as having "a warm, plummy nose with a flavor surprisingly rich but light with notes of berries and plum, low to moderate acidity, low tannins and a long, perfectly balanced finish." I ordered the rose because it's a popular style these days and I wanted to see what it was. It had an almost unpleasantly harsh nose, and it was extremely dry for a rose, not very fruity, slightly acidic, and not sweet. I liked it, though it isn't the best rose ever. My companion did not like it at all, but they hate dry wine. So, I think it depends on your tolerance for dry, slightly tannic wines. Eventually, we also sampled the house white, which was a surprisingly light sauvignon blanc with lovely fruity notes but was absolutely not boring in any way. Whoever the sommelier is for Fogo, they are not afraid to have an opinion, and while these wines are lovely and accessible, they each have a unique and distinctive character, like everything else on the menu.
Appetizers began to arrive including the restaurant's signature Brazilian empanadas stuffed with pichana, onions and served with chimichurri aioli. These were delightful and spicy, so if you have low spice tolerance, look elsewhere for an appetizer. There was also deliciously candied bacon and very spicy deviled eggs, which I don't see elsewhere on the menu. Perhaps they were just for this event.
We moved to the center of the restaurant for speeches from Fogo de Chao's corporate management, a representative of Ronald McDonald House Charities, and the Oak Brook Chamber of Commerce. Then, in keeping with the tradition of the establishment, the ribbon was cut by the new manager (the youngest in company history) using a special churrasco serving knife presented to him to symbolize his ownership of the new restaurant.
By the time we reached our table, we were already brought their standard delicious side dishes: the warm Pao de Queijo, cheese bread, which was actually tiny, soft little muffins with a mild but complete cheesy flavor similar to a mild cheddar. They are very nice but not spectacular like the rest of the side dishes. Next were some of the most creamy, buttery, and garlicky mashed potatoes I've ever had. You will be tempted to eat every morsel of this, do not, or you won't be able to eat meat and there's a LOT of that coming. The crispy yuca and caramelized banana arrive together with a splendid little mayonnaise cayenne dipping sauce that pairs perfectly with both.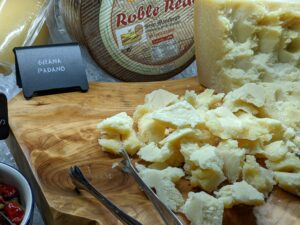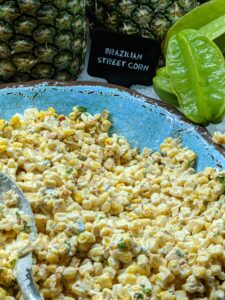 We didn't have a menu at this point, so we weren't entirely sure the yuca was yuca. But we went up and hit the Market Table & Feijoada Bar. My companion and I mostly selected entirely different things. And I have to say this was the least inspiring thing on the menu, though I think vegetarians would consider themselves very well served there. If they can bear to see people eating meat in quantity, this bar has glorious selections far beyond what most restaurants have for vegetarians. For me, the standouts were the Brazilian Street Corn salad, the apple salad, feta cheese, and the incredibly creamy and delicious Caesar dressing. The three-garbanzo salad, citrus chicken, and roasted eggplant were bland. The roasted artichoke on the other hand was delicious with good roasted flavor and nicely seasoned. The potato salad was mild and herby, but very nice. My companion, Jood, agreed the Brazilian Street Corn was "a delight, with crunchy sweet corn in a creamy cheesy dressing with strong hits of cumin and fresh herbs." They found the cucumbers under seasoned and the smoked salmon and tinny hearts of palm, "wasted opportunities." They highly approved of the prosciutto, standout Grana Padano, and salami, finding them to be high quality and mildly flavored to appeal to the broadest number of people. I was rather shocked at the lack of green salad dressing options and how pedestrian they were. Your choices were ranch, Italian, and basil. The Caesar was the only one there with a point of view and was superb.
Just as we'd asked our adorable waiter Nicholas (and learn the name of your waiter, they are all very nice and will get you whatever you want, even if that is information) more about the yuca, the meat began circulating.
If you haven't been to a churrasco restaurant before, it's worth a visit just to enjoy the experience. At this style of restaurant, the Gauchos who prepare the meat also serve it to you, on a large, sword-like skewer, right at your table. They cut it into portions with the same style of knife used in the ribbon-cutting ceremony. Just flip your coaster to green, and Gauchos will stop at your table and offer you a fresh cut of what they have prepared. They also have it in various states of doneness so whether you like your meat rare or well-done, you will get what you've ordered. Each diner has a pair of tongs used to hold onto the cut as it's sliced off the skewer, and to place it onto their own plate.
I'll note that from here it will be an absolute cavalcade of meat and a lot of different flavors. Get yourself some water to cleanse your palate or you're just not going to be able to get the full effect, plus that's a lot of meat in one sitting. Do your stomach a favor.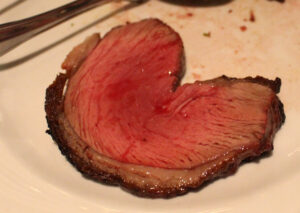 And honestly, the very first chef that stopped by was the one bearing what is generally an upgrade at Fogo, but if you have a group of 4 or more, I strongly suggest you get it, the Wagyu Ancho (Ribeye). It is difficult to describe the perfection of this meat. When people say things melt in your mouth, it's ordinarily an exaggeration, but this actually does that. Ours arrived in delicate slices, with the perfect corona of fat, that you also absolutely want to eat every bit of. It came with a "herby, acidic, garlicky chimichurri sauce" per Jood, but that it absolutely didn't need. It was perfectly rare and so buttery and flavorful that it nearly spoiled us for everything else. I say nearly because much of what we had was utter perfection as well.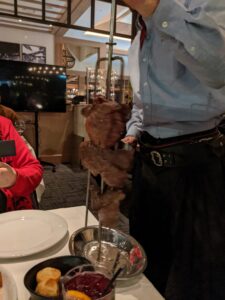 Jood and I agreed that standouts included the top sirloin, prepared by the Gaucho the staff call Maestro, which Jood described as "juicy, meltingly tender, full of rich, beefy flavor and with a luscious caramelized fat cap worth not trimming away." The bottom sirloin was equally good, though it presented a "more brisket-like texture" and had more marbled fat. We were then presented with a crispy pork rib which Jood found exceptional, "lightly seasoned and slow-cooked to soften much of the connective tissue and render out the excess fat." I was not impressed because I've eaten pork like this my entire life at home. It was my grandfather's favorite way to cook it and it's literally just like Nana used to make. (Note here, though, my Nana was a professional cook). I'll have to take Jood's word that it was a rare treat because I didn't bother. We also had Linguica – a pork sausage reminiscent of a spicy breakfast sausage that was, as Jood put it, "juicy and full of flavor, with plenty of herbs and more than a touch of heat, and had a terrific snap." I'll add in here the surprisingly excellent chicken wrapped in bacon. I know it sounds unexciting, but the meat was wonderfully juicy and flavorful (which you seldom find in chicken anymore) and the bacon added just the salty, caramelized perfection to elevate it. You will be sad if you miss this, even with all the steak around.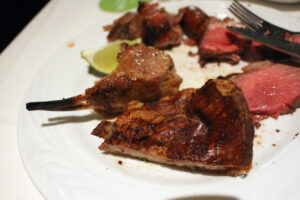 The lamb chops, however, should be avoided. They were beautifully cooked, with a lovely pink center, and looked fantastic. And then you tasted them to find them not very lamby, tough, and so salty that you needed blood pressure medication. I found them inedible and Jood found them "tough and gristly". And this over saltiness was a total aberration as well. The rest of the meat is of such high quality that it's allowed to stand on its own and is not doused in flavors or salt. You taste the essence of each cut and each type of meat, not sauces or flavorings to cover it up. The bacon-wrapped chicken was excellent, but the steak version was boring and a bit on the dry side. The plain cuts of steak were superior, so you can also give this a miss.
If the perfect meat were not enough, we were then treated to dessert, which is an add-on ordinarily. And as Jood put it, the desserts were "some of the best bites of the night." We ordered the Passion Fruit Mousse, which wasn't really mousse at all but more "a vanilla custard with a smooth, tart passion fruit coulis." But after all that meat, the tartness of the fruit combined with the smooth custard was a perfect way to end the evening. But it was topped by, and I know you're likely to disbelieve this as most often this dish is so substandard the flan.
Jood and I discussed this and for both of us, flan is almost always disappointing or plain too awful to be worth the calories. It's too often like someone dumped gelatin in vanilla custard and created a rubbery, bland mess with maybe some decent caramelized sugar on top, but more often than not, it's burned caramel sauce. This was absolutely not that. Even if you are a flan hater, try this flan. If it doesn't change your opinion, nothing can.
Jood describes it thus, "a master class in creamy texture, well-balanced flavor without that strong sulfuric eggy quality, and caramel that rides right to the edge of sweet and deliciously complex bitterness without toppling over into burnt, acrid unpleasantness."
They have separate menus for Lunch, Dinner, Brunch, and Bar service, but we think they might want to consider a separate drinks and dessert menu for the bar area. Nothing would cap off an afternoon of shopping at Oakbrook Center better than a glass of their house white or red and a serving of their indulgent flan.
The Oakbrook Location is opening to the public on Tuesday, November 23. You can make reservations here at their website and we strongly suggest you do.
Article and all photos by Suzanne Magnuson and Jood Singer