By Kathy Carpenter
Point Loma Playhouse Presents, " She's at the Library." A fresh spin on a Christmas Classic. Local playwright Dori Salois, brings us George and Mary Bailey in an alternate universe. Not so much of how women were when the movie was written but the perspective from a modern day woman. The play is directed by Jerry Pilato.
Playwright Salois is also the author of the novel "Mrs. Bennet's Sentiments" which received People Magazine's top new pick November of 2018.
What was Mary's Life without George and what happens when he showed up?
Mary, after studying to become a lawyer, returns to town to live with and help a childhood friend. Potter is trying to take over her friends' house of ill repute and Ma Baily's boarding house. Mary is looking for a way to stop him. George appears in her life and she fears he is working for Potter and stalking her. Everyone thinks George is nuts but allows his help to go after Potter. Will Mary choose her old life or a new one?
The set presents a nice colorful red couch, pink curtains and a Christmas tree in the corner, a working girl's establishment, with the feel of a gone by era.
The nine person cast rocks. Carly Salway, bringing fresh talent to San Diego playing Mary. Pete Zanko. It workedfor me, I loved him as George. Jody Catlin, takes on Ma Bailey who is sweet, but tough. Kirra Adams, plays Vi, Mary's friend. Emmanuella Love brings in the vivaciousness of someone a bit younger. Taylor Spencer plays Maggie, and Janet Taylor plays Trixie.Brian Evans does an impressive Potter, while Susan Hoekenga is captivating in her minor role of Miss Pearson, the librarian.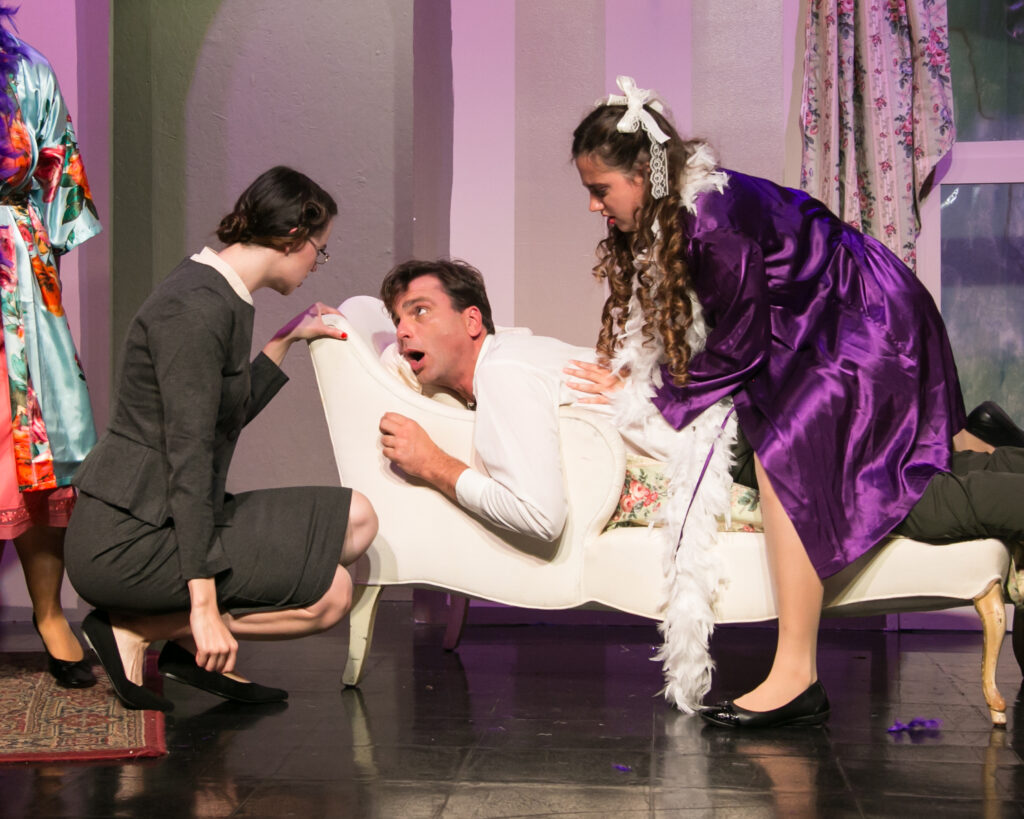 I loved the transitions in the show. While furniture and props were moved about the girls and Ma Bailey would sing different Christmas Carols. They had fabulous voices and gave the play more of a festive vibe. Even though the play is based on the Christmas classic "It's a Wonderful Life", with recognizable characters, and even with handing out presents in the beginning, the plot didn't focus on a Christmas theme. The carols brought a needed Christmas texture.
This intimate venue brought a comforting sense of community togetherness which is something we've been missing. It's perfectly safe to return to the theatre since all Covid precaution are being observed.
She's At The Library
November 19th – December 5th, 2021
Point Loma Playhouse
at the Historic Point Loma Assembly
3035 Talbot Street
San Diego, Ca 92106
http://www.pointlomaplayhouse.com
Coming Attraction
The Artificial Jungle
By Charles Ludlam
Feb. 18 – Mar13, 2022