American Blues Theater marks its return to live, in-person theater with its 20th Annual Production of It's a Wonderful Life: Live in Chicago! from Frank Capra's film and directed by Artistic Director Gwendolyn Whiteside with musical direction by Ensemble Member Michael Mahler.
A holiday favorite in my top 5 that I always watch starting on Thanksgiving, I was looking forward to watching it as a radio play. If you are unfamiliar with the story, it is about George Bailey, the Everyman from small town Bedford Falls whose dreams of escape and adventure were stopped by family obligation and civic duty, and has fallen into desperate times. Only a miracle can save him from despair.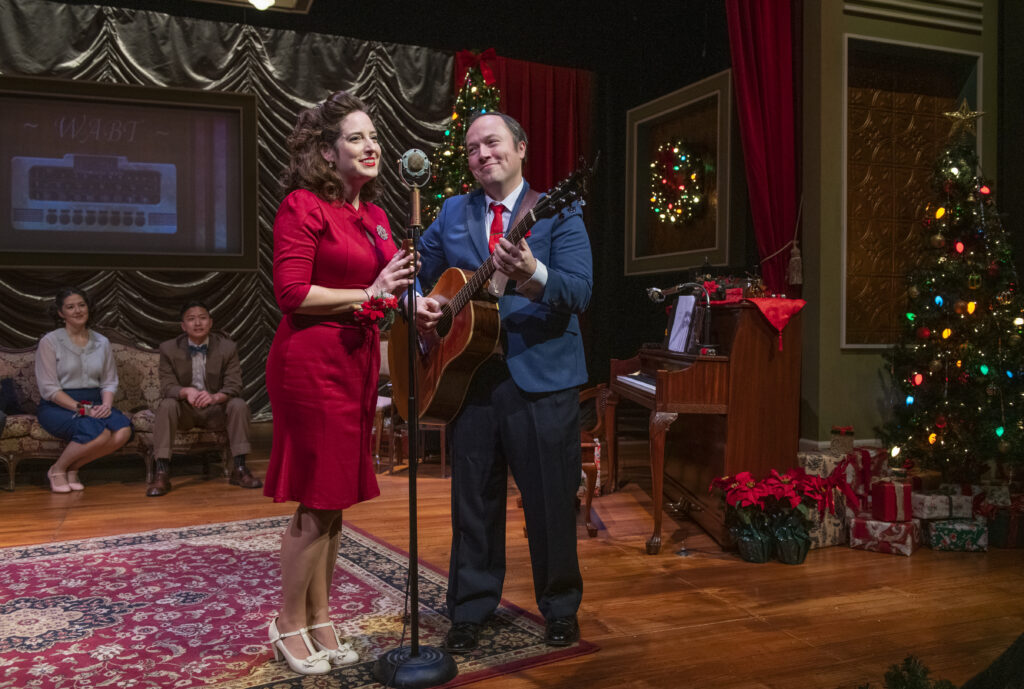 The second longest-running holiday play in Chicago, American Blues has treated audiences to a live retelling of the Frank Capra classic in a 1940s radio broadcast tradition, and to date has done 524 performances of It's a Wonderful Life: Live in Chicago!  A stage set up as a radio station, with bright and merry holiday decor and actors also dressed in 40s attire; they start the show by warmly welcoming the audience, singing classic carols, and walking the audience through how the radio production will go. Within the "live radio show" you even had commercials and tunes reminiscent of the 1940s. 
The cast including Audrey Billings* (Mary Bailey), Manny Buckley* (Joseph), Dara Cameron* (Violet), Yuchi Chiu (Harry), Brandon Dalquist (George Bailey), Shawn J. Goudie* (Foley), Michael Mahler* (Announcer / Pianist), and John Mohrlein* (Clarence/Mr.Potter), Joe Dempsey* (U/S Clarence/Mr. Potter), and Gwendolyn Whiteside* (Mary Bailey, 12/29 & 12/31) was very talented and I marveled at their ability to switch characters with just their voice. You could imagine the scene and feel what the characters were going through. The emotion presented was enough for me to get misty eyed as the story moved along.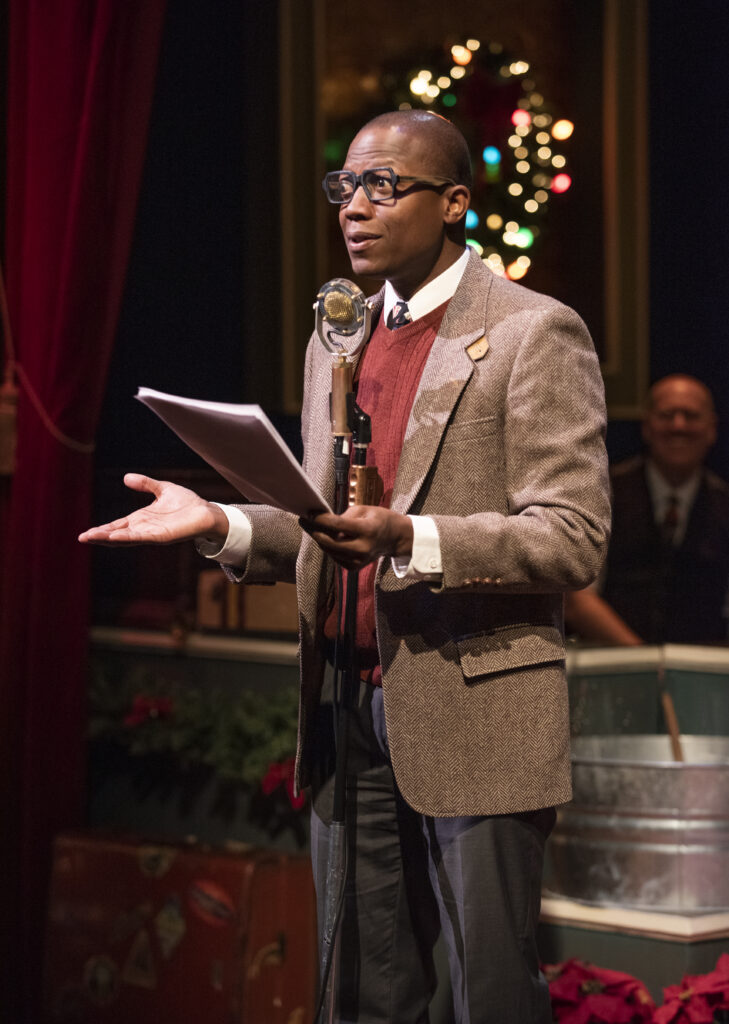 Artistic Director Gwendolyn Whiteside comments, "… It feels so fitting that the first show we welcome audiences back to experience is one that means so much to the entire American Blues Theater family. We can't wait to see everyone!" This is a wonderful production that is not just uplifting but full of holiday spirit with a touch of glamour from the golden age of radio shows. My guest and I enjoyed it and think you should add it to your holiday watch list.
It's a Wonderful Life: Live in Chicago! will run November 26 – December 31, 2021 at Victory Gardens Theater, 2433 N Lincoln Avenue. Single tickets go on sale October 26 and are available at (773) 871-3000 and online at www.americanbluestheater.com.
Photos by Michael Brosilow
About American Blues
Winner of the American Theatre Wing's prestigious National Theatre Company Award, American Blues Theater is a premier arts organization with an intimate environment that patrons, artists, and all Chicagoans call home. American Blues Theater explores the American identity through the plays it produces and communities it serves.
The diverse and multi-generational artists have established the second-oldest professional Equity Ensemble theater in Chicago. As of 2021, the theater and artists received 221 Joseph Jefferson Awards and nominations that celebrate excellence in Chicago theater and 40 Black Theatre Alliance Awards. The artists are honored with Pulitzer Prize nominations, Academy Awards, Golden Globe Awards, Emmy Awards and numerous other accolades.