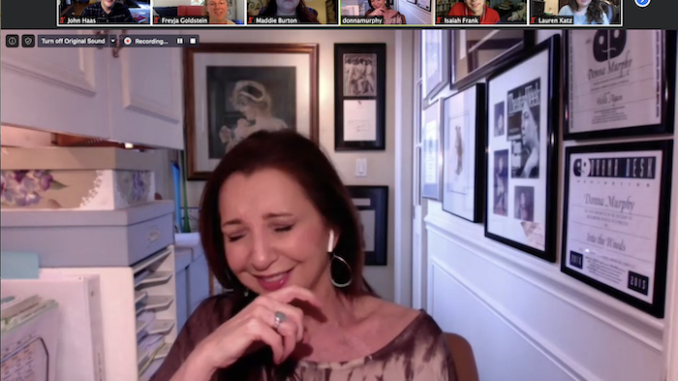 When it comes to Stephen Sondheim, I have a lot to say'
He will make you a better performer, John Haas tells his musical theatre students
Northwestern University has generously shared this story by John Haas with Splash Magazines Worldwide
December 08, 2021 | By John Haas
John Haas, an assistant professor of instruction in Northwestern's School of Communication, reflects on the monumental impact of the late Stephen Sondheim.
When it comes to Stephen Sondheim, I have a lot to say. But, at the same time, I'm at a loss to sum it up because everything seems so very important to note.
I was raised in Mason City, Iowa, which has a rich history of musical theatre, being the birthplace of Meredith Wilson, who based his musical "The Music Man" on his hometown.
From an early age, I listened to many musicals. But I got hooked when I heard "West Side Story" and the intricate way Sondheim's lyrics shaped Leonard Bernstein's score and gave depth and nuance to the characters. Then I dove headfirst into the original cast recordings of "Company," "Follies," "A Little Night Music," "Sweeney Todd," "Sunday in the Park with George" and "Into the Woods." My love affair began nearly 30 years ago, and it hasn't faded.
Sondheim's impact on music theatre is immeasurable — and not just because of his brilliant lyrics or richly sophisticated, virtuosic scores, but because of his love for the art form itself. How he, like his mentor Oscar Hammerstein II, pushed the boundaries of conventional musicals. He, along with his collaborators, would craft musicals around the stories of very flawed people and take the time to expose how those flaws came to be part of that person's character — finding humanity in all of it.
"Teaching students to perform Sondheim is not for the faint of heart." Says Haas
There are many great examples, but one most folks have seen is "Into the Woods." He and his collaborator, James Lapine, who wrote the book, spend the entire first act weaving together many well-known fairytales. The stories converge in the iconic "happily ever after" only to have the second act uncover the consequences of those actions and ask hard questions about real moral quandaries.
The Witch: Since when are you so squeamish? How many wolves have you killed?
Little Red: A wolf isn't the same!
The Witch: Ask a wolf's mother.
Sondheim loved musicals. He would go to the theatre often and give support and guidance to so many composers, lyrists and performers he would see there. So often, a letter would come in the mail. In fact, The New York Times just published a beautiful piece about his mentorship and letter writing.
When I first developed my class "Music Theatre Repertoire: Singing Sondheim" in 2015, I wrote Sondheim a letter to let him know it was happening and how excited I was. He was kind and thoughtful enough to reply. I have his reply framed in my office, of course. I have since taught the class several times. And each time I find something new in the scores or a character's lyric that makes me pause and say, "Wow!"
The most recent class — in Spring 2020 — had to be transitioned to Zoom due to the pandemic. It made me panic, just thinking of ways to have a performance course function successfully in the online space. But, as I told my students then, "Sondheim will make you a better performer because the complexity in which he writes will put a magnifying glass to your work. He holds you to a higher standard of musical and emotional sophistication, and I will as well."
Teaching students to perform Sondheim is not for the faint of heart.
It's not just the mastery of the complex rhythms or tongue-twisting lyrics. You can stand in front of a mirror trying to master the phrase "It's a very short road from the pinch and the punch to the paunch and the pouch and the pension…" as anyone performing "The Miller's Son" from "A Little Night Music" must do. Or you can tap your toes at breakneck speed to keep the beat of "I'm Not Getting Married Today" from "Company" and sing "I telephoned my analyst about it, and he said to see him Monday, but by Monday I'll be floating in the Hudson with the other garbage…" all without running out of breath. It's also the "why." Why is this character singing this song? Why is it important? In a Sondheim show, the answers may be 10 layers down. When a performer reaches that understanding, the performance shines.
During last year's Zoom class, I was fortunate to welcome two of Sondheim's greatest stars — Mandy Patinkin and Donna Murphy — to meet with students. To hear them speak so eloquently about working with Sondheim and developing their iconic roles, it was evident to all of us the specificity, intention and care that Sondheim put into everything he wrote.
We should all take his lead.
About John Haas
John Haas is an assistant professor of instruction in the department of theatre in Northwestern's School of Communication where he teaches in the music theatre and MFA in acting programs. His research and performance work focus on vocal music technique and pedagogy, the history of music theatre and music theatre repertoire. He also created a series of courses focused on various composers, including Stephen Sondheim and the team of Richard Rodgers and Oscar Hammerstein II.
——————————————————————————————————————-
From New York, here are two additional remembrances by acting coach, Charles E. Gerber:
During the first Broadway run of " INTO THE WOODS" my wife, Carol and I attended the then MARTIN BECK THEATRE down the block from us on 45th St to see our dear friend Greg Zerkle North, who'd played Bolingbroke to my Richard II years earlier go into the major duo role of Wolf/Prince just as Dick Cavett was replacing The the narrator that night as well….hence the composer's attendance that evening.
The show went very well….Greg was fabulous, Cavett was a bit shaky but passable and I rushed backstage to congratulate our dear friend. Carol stayed out front for some reason. So, I'm climbing down some stairs in the back and LO, who do I find climbing up? Sondheim himself! So with a quick intake of – breath I instinctively called out from ten feet away:" MAESTRO!" And he responded instantly with a wince and ", Ach, my LEAST favorite word!" To which I gulped and responded "SORRY!" .And we continued on our ways.
A far more gracious and I believe characteristic family anecdote is that he responded to Carol's letters , several times, by hand on his stationary . One involved her questioning the use of the word 'CAREER" multiple times in the lyric of " I'M STILL HERE in.." FOLLIES" She inquired as to how he used the word from noun to verb and back? He responded with a terse…" Look it up!'
Such were our experiences,
Charles E. Gerber