Up and down the coast of California, wine is plentiful and the wineries and tasting rooms are just as numerous. While there are many locations that just speak wine when you say their name, Burbank is likely not going to roll off your tongue when speaking of wine. Urban Press Winery & Restaurant not only has made Burbank a must visit for any wine connoisseur, they have also created a setting that goes far beyond simply wine.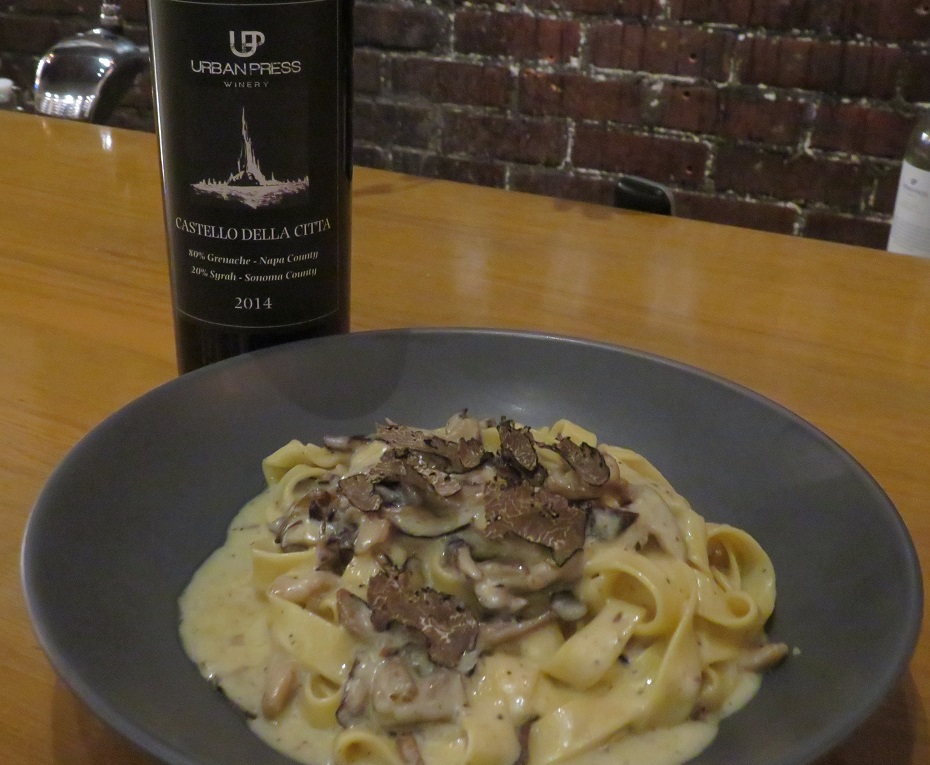 Urban Press was created by winemaker Giovanni D'Andrea as a space to not only share his Sonoma grown wine, but also give guests a venue with incredible food and live music. There are so many wonderful layers to Urban Press, but it all begins with the wine. With his own wine label, Giovanni is able to serve up a long list of wines from his white, rose and red collections. The wine by the glass list is perfect for tastings and then his bottle list is seemingly endless. 
If you are looking for a red wine to give you a glimpse into Urban Press, the 2016 Vigne Red Blend does just that. The aroma gives you an idea of all the flavors that go into this and then the first sip that hits your tongue gives you a spicy and robust flavor followed by just a hint of sweetness from plums, a wine that was made to be paired with a red meat dish. If you are looking for a subtle and easy to drink white wine, that will appease even the person who rarely drinks wine, the 2017 Grenache Blanc is exactly that type of wine. This a beautiful white wine that is very light with a crispness to it that is complimented with winter pear and honeysuckle to provide a pleasant sweetness.
While Urban Press is definitely about the wine, Executive Chef Emidio Tidu brings home Rome background to create a menu that not only pairs perfect with wine, but is so good you will be happy regardless of whether you want to pair your dinner with a glass of wine or not. The pizza is a must whether you want to share with friends as an appetizer or make it your main course. The wild mushroom truffle is simply iconic, starting with the thin, crispy and airy crust that is then topped with fresh mozzarella, wild mushrooms, arugula and truffle oil. In terms of freshness, everything is made in-house and daily and nothing shows that more than the incredible pasta. Authentic and handmade pasta presents itself on your first bite and combining that with truffles and wild mushrooms makes the fresh black truffle fettuccine one of the richest and tastiest pasta dishes you will ever experience. The menu really has something for everyone, but if you are looking for the memorable dish out of many memorable dishes, the braised lamb shank that takes two days to bring to your plate, is fall apart tender served in a beautiful Urban Press Merlot wine sauce and a flawlessly prepared parmesan risotto.
Urban Press was created with everyone in mind and Giovanni unearthed the heart and soul of this beautiful spot with the high ceilings and brick walls. Walking through the front doors, you have no idea what you are in store for. Initially it looks like a small dining and tasting room, then the further you go you find another tasting spot, a bigger dining room with a cache of wine and live music spot. Another experience is still in store for you, as upstairs is the open air dining garden that is perfect to enjoy the beautiful Southern California weather as you partake in some wonderful Urban Press wine.
If you are looking for a wine experience without having to make a trip to wine country, Urban Press Winery & Restaurant offers up a wine experience and more. This is one of those rare spots that gives you a little bit of everything, allowing you to enjoy wine, great food, live music and so much more in a setting that will never disappoint.
Urban Press Winery and Restaurant is located at 316 N San Fernando Blvd, Burbank, CA 91502, United States.
For more information, visit: Urban Press
Telephone: (818) 561-4858