By Gerry Barker

Few cruise lines have had a more highly-anticipated debut than Virgin Voyages. Launched under Richard Branson's Virgin brand, you knew, like his other global businesses — this cruise line would be different. And different it is.

For starters, it's adults only; You have to be 18 to get onboard. Once onboard, it just feels different — cool and hip, laidback and chill, party or relax — you decide. The giant red "Virgin" logo emblazoned at the top of their ships, and visible from two miles away, says you'll be cruising the Branson way.

They currently operate two ships — Scarlet Lady (launched after a COVID delay in late 2020) and a sister ship, Valiant Lady, in 2022. Coming this year is a third ship, Resilient Lady, with a fourth on order, Brillant Lady. Classified as "midship" size, they can host almost 2,800 guests at capacity.

We have sailed on both Scarlet Lady and Valiant Lady, embarking from Virgin's shiny new, $150 million Terminal V at Port Miami. And if you doubt the marketing genius of Branson, just look at how the terminal is built, facing the Miami skyline — in effect a giant Virgin billboard. The ships themselves are beautiful and sleek, and heavy on health and fitness. In fact, fitness freaks will have a hard time finding something with more to offer than Virgin. Another first: Virgin has the first tattoo parlor at sea, called Squid Ink.

Our cruises have not only been different, but also a lot of fun and good times. Here are 10 things we love about cruising on Virgin, and why we"ll be repeat customers:
Adults Only.
As already mentioned, to cruise on Virgin you have to be 18 or older. While they target the young, professional crowd, they also welcome the "young at heart," which is evident by the sizeable number of Boomers and seniors who enjoy a good time. It's not we don't like kids — we do (and have one of our own). But there's something to be said for the adult-only vibe when you vacation, which is why most ships — even Disney — have designated adult-only areas. Plus it opens up more space that doesn't have to be devoted to youth activities.
The Staterooms.
Ours was a Sea Terrace balcony, and while the space was a little squeezed in spots, it registered "10" on the cool scale. Using a touchscreen tablet, you can control the lights or select something that fits your mood, like "Zen," that activates a blue glow around the mirrors and closes the curtains. Outside on the balcony, you can relax in your own personal hammock — red in color, of course. If you want to elevate the experience, spring for one of the "Rock Star" suites, some of which have their own electric guitar on a stand. We also liked how stateroom locations are designed by "A" or "Z" instead of "odd or even." It made it easier to find.
Richard's Rooftop.
If you do get one of the suites, you'll have exclusive access to "Richard's Rooftop," a private area on Deck 16 featuring plush seating, hot tubs, cabanas and wait-staff ready to grant your every wish. But best of all, every afternoon they're serving up free champagne at the bar. There's nothing like a glass of bubbly while watching the waves go by and listening to the ship's fabulous background music (I think we maxed out Shazam capturing the songs). Cheers, Sir Richard!
Scarlet Night.
How to describe "Scarlet Night?" Let's just say there's nothing else like it at sea. On every voyage, one night is designated Scarlet Night. It's essentially a ship-wide, highly choreographed party where you can expect the unexpected. As hallways and public spaces glow red, select crew don costumes to dance, juggle and entertain amid blow-up tentacles and hanging, inflatable fish. Guests are encouraged to wear red (most do) and join in. It all culminates in a party by the pool, under the watchful eyes of a huge, inflatable octopus. By night's end, many guests have joined the crew in the water, clothes and all. The next morning, "Do Not Disturb" rules the day.
All the Food Choices.
Virgin knows people cruise for the food as much as the fun. On Virgin ships, there are no extra-charge restaurants. Every venue is included in your fare. There's lots to choose from, including Pink Agave (upscale Mexican), The Wake (steak and seafood in five-star elegance), Extra Virgin (Italian), Test Kitchen (fixed menu, multiple-course meal), Gunbae (Korean BBQ in the tradition of Benihana) and Razzle Dazzle (eclectic). On Deck 15 you'll find The Galley, a collection of different cuisines that's open for breakfast, lunch and dinner. But wait, there's more. The Pizza Place was our go-to for late night snacking, and I could never pass by Lick Me Till I Ice Cream without sampling one of the flavors. Word of advice: Reserve the restaurants early to get the dining time of your choice.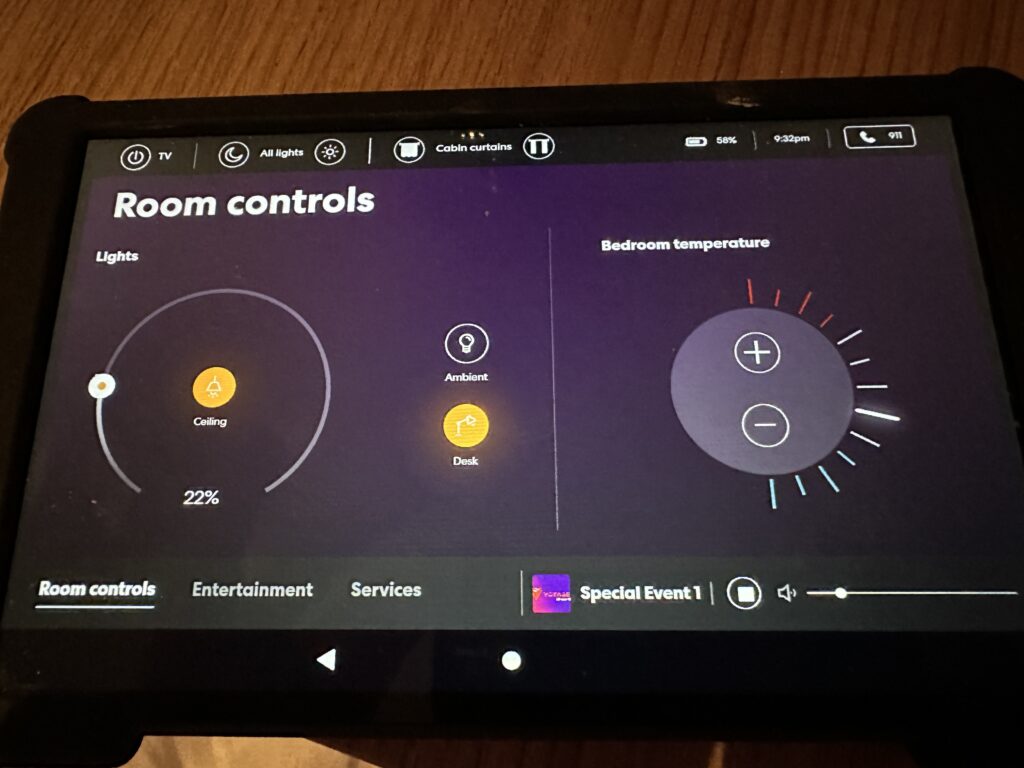 High Tech, High Touch.
When you check in for your cruise, you're issued a wristband with a sensor. You can choose what saying will be on your sensor (we chose "Seas the Day"). Onboard, you'll use it to get on and off the ship, open your stateroom, pay for purchases and check in at the restaurants. It also was useful at our port stop in Key West, where security could "buzz" us in thanks to Virgin sharing the scanners with port authorities. Kudos as well to the ship's WIFi (basic WiFi is included with your fare). It was consistently one of the best connections we've had at sea. Be sure and get their app as well. It is invaluable for pre-check-in and reserving dining and entertainment onboard. And check out the elevators: Inside they glow blue and red, and it's like you're inside an aquarium.
The Crew.
What we liked best about the Virgin crew is they are always there when you need them, and when you don't, you may not know they're there. On many ships, there are ship-wide announcements by the cruise director or captain all day. Not-so on Virgin, where pretty much the only time we heard from the captain was when he stopped the ship to check on a small boat reported in distress (turns out it wasn't). You can stay abreast of the daily activities via the app, a printout from Sailor Services or messages in the elevators.
The Entertainment.
Like everything else about Virgin, the entertainment is different as well. As you might expect, with adult-only guests, the shows can have a little more — how to say it — raunch. Along with the mature themes, some of which involve audience participation, shows like "Dual Reality" focus on acrobatics and the beauty of the human form. You'll definitely want to book these shows early. Show venues include The Red Room and The Manor, a two-story speakeasy that you enter through a hall of mirrors and lights.
The Beach Club in Bimini.
One of the port stops on Caribbean cruises is Bimini, where Virgin maintains a private beach club. You reach it via a tram ride from the dock. Guests can play in the pool with inflatables, relax in a lounger by the crystal-clear water, participate in activities or just enjoy a day at the beach. There's also a private area for those staying in the suites with its own beach and restaurant. Late in the afternoon, the day culminates with a beach "bonfire" and music. Just another day in paradise.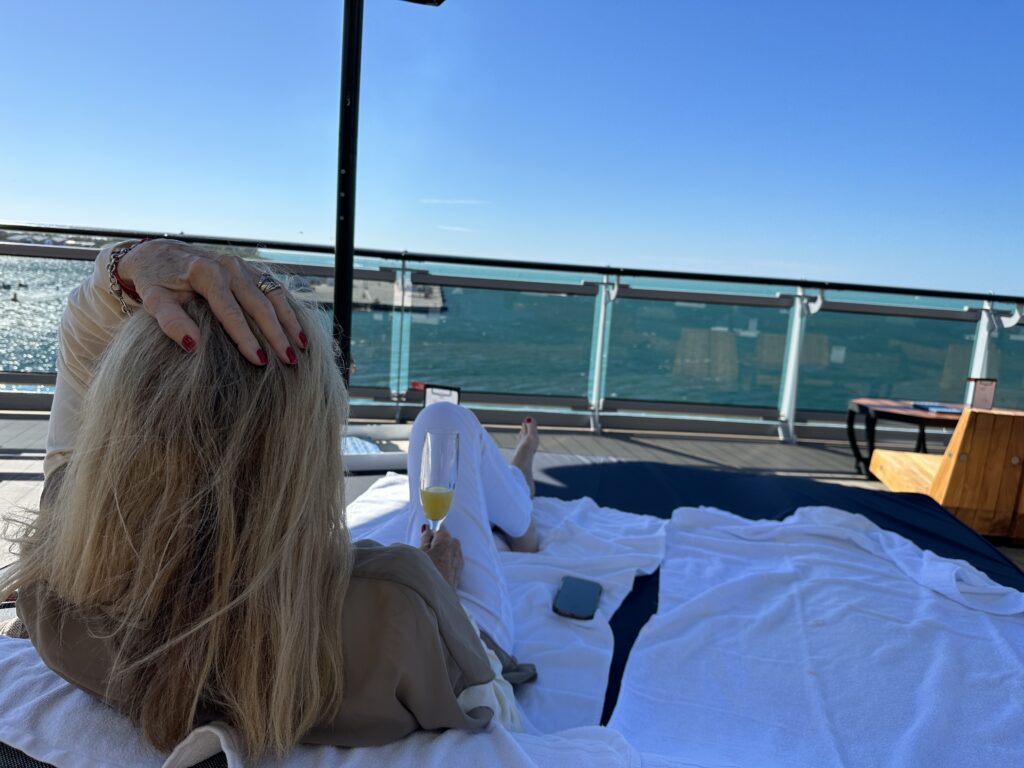 The Intimate Spaces.
One thing we look for on a ship are places ready-made for a quiet drink, lively conversation or just chilling. The Virgin ships have more than most. Two of our favorites include The Dock, with its array of inviting chairs, sofas and beds, and the Sip Lounge, where both champagne and romance is on the menu. It's also the place where they have Afternoon Tea service. Outside The Dock in the open air is Dockside, where we found nirvana on a mattress under an umbrella. It was the perfect place to rest up for Scarlet Night.