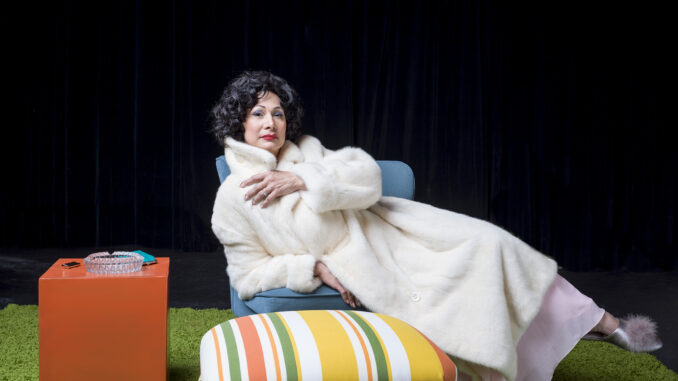 One of Hollywood's shining stars of yesteryear, Ava Gardner was a woman ahead of her times, a woman who fought against racism, believed in the right to choose, and enjoyed her sexuality. Married four times – with short-term spouses including Mickey Rooney, Artie Shaw, and Frank Sinatra – and a studio star of the 40s and 50s, Ava's life was filled in equal parts with spectacle and scandal. "The World's Most Beautiful Animal" certainly drew attention and wagging tongues in her heyday. The contradictions and complexities of this fiery silver screen icon lured playwrights Alessandra Assaf and Michael Lorre into her web – resulting in TWELVE O'CLOCK TALES WITH AVA GARDNER. Directed by Michael A. Shepperd and presented at the Whitefire Theatre, this intimate expose of Ava's life and times cannot fail to grip the viewer.
The time is 1974 and the place is Hollywood, California. Ava's whopping big hits have run aground as she moves into her 50s and begins to age past the film industry's high water mark. After nearly ten years of fallow ground, Ava has landed the starring role in the disaster film "Earthquake" with co-star Charlton Heston. Playing second fiddle to Mother Nature's tremors may seem like a comedown, given her cinematic history – but, after all, Ava must pay her bills. What will her future bring?
In a carefully researched and fascinating odyssey through Ava Gardner's life, TWELVE O'CLOCK TALES WITH AVA GARDNER stars co-author Alessandra Assaf in a solo show which dissects the paths and tangents that the star's life took. Woven between snippets of her early history and larger segments of her scandalous liaisons, Assaf skillfully portrays this untouchable but also heavy-drinking and earthy woman who isn't afraid to utter four letter words and have one more cigarette while offering her frank opinions about her world and the people in it. Assaf's lively and enthusiastic approach to the Hollywood film star keeps the show humming along with nary a dull moment. Clearly, she and director Shepperd have reached a clear understanding of what made the woman tick. To quote Assaf, "No matter how evolved we think we've become, eye candy remains a powerful force."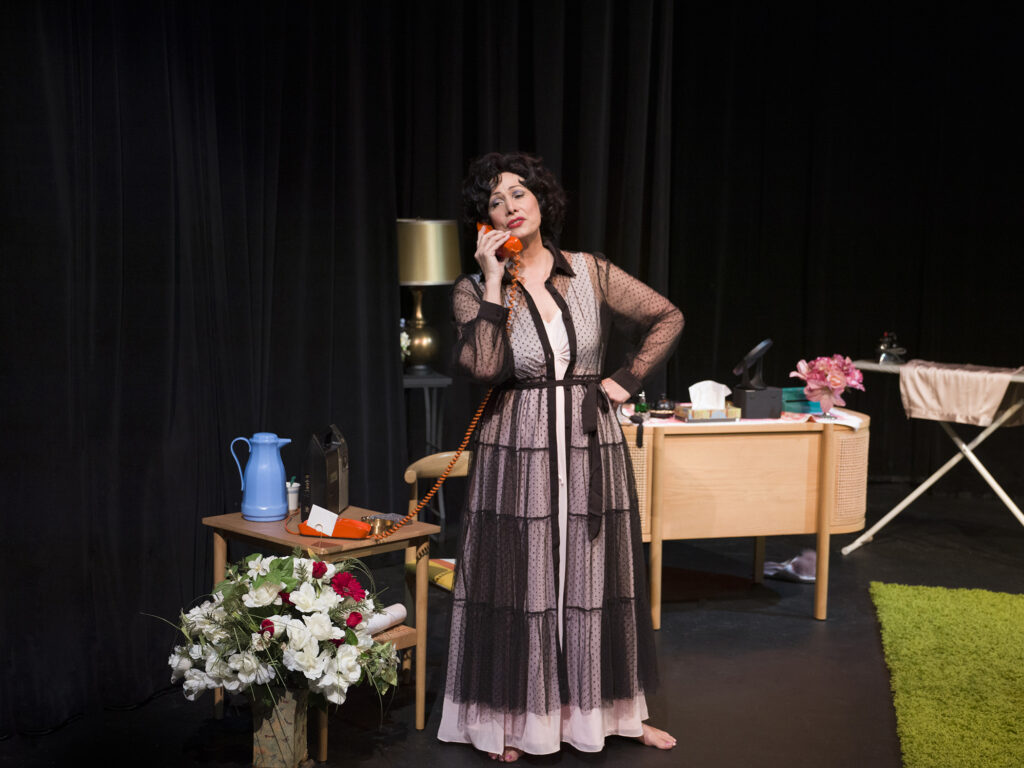 Kudos to Irmgard Quint for the set, props, and costumes which light up the show and place it squarely in the 1970s, as well as to Derrick McDaniel lighting and Tor Jin Brown's sound. And let's not forget the songs that pop up here and there reminding us of the era – and Ava Gardner's life-long desire to be a singer. Happily, Alessandra Assaf has the voice and style to pull it off.
TWELVE O'CLOCK TALES WITH AVA GARDNER will prove absorbing for the film buff as it explores the history and dynamics of the Hollywood culture of the time and also the dynamics of the people – and especially the women – who survived within that culture. But the show offers more than just Hollywood history. It digs into what formed and psychologically shaped Ava Gardner, the perfect example of what we now term Star of the Silver Screen. This is an entertaining and intriguing play which will delight both film and theater fans.
TWELVE O'CLOCK TALES WITH AVA GARDNER runs through March 5, 2023, with performances at 2 p.m. on Sundays. The Whitefire Theatre is located at 13500 Venture Blvd., Sherman Oaks, CA 91423. Tickets are $25. For information and reservations, call 818-687-8559 or go online.