Wine Experience Brand and Marketplace Fetes Filmmakers at Old Town Cellars and Zooz Cinema Center at Mustang Restaurant;
Celebs from Will Forte to Rain Phoenix Visited Sommsation Lounge
Sommsation, a nationwide wine experience brand and direct-to-consumer online wine shop, brought their brand to Festival week in Park City, hosting a Wine Experience Lounge at the beloved local wine bar Old Town Cellars, and partnering with the Zooz Cinema Center as its official wine sponsor at the Mustang Restaurant. Sommsation connected with numerous independent films and filmmakers, showcasing their curated premium wine programs to guests and hosting events for Festival films Fairyland, The Starling Girl, Fair Play, Aliens Abducted My Parents and Now I Feel Kinda Left Out, and Blueback; the Black-owned film company Confluential Films; the luxury fashion quarterly BASIC Magazine; the international Mammoth Film Festival; and the media property The Ankler.

At the Sommsation Lounge, stars Will Forte (SNL) and Elizabeth Mitchell (Lost) joined their castmates and the production team from Jake Van Wagoner's Sundance selection Aliens Abducted My Parents and Now I Feel Kinda Left Out for a charcuterie and cheese reception, with Forte joking that the film festival party he enjoyed most was his own.
Phoebe Dynevor (Bridgerton), first-time feature director Chloe Domont, and Alden Ehrenreich (Solo: A Star Wars Story) showed up for the post-premiere reception of the erotic thriller Sundance selection Fair Play.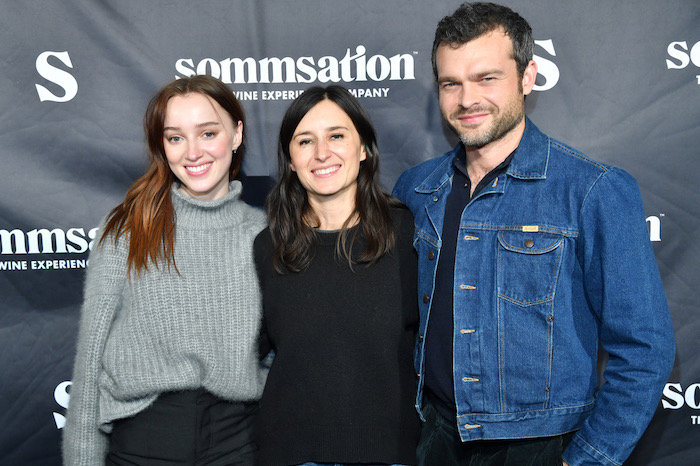 Lauren Selig (Hacksaw Ridge, Lone Survivor), Caylee Cowan (Sundance selection Divinity, Sunrise in Heaven), Ella Balinska (Charlie's Angels, Run Sweetheart Run), Lily Krug (Plane, Zero Contact), and Tyler-Marie Evans (Here or There) comprised the blue-ribbon panel of female film experts in the lounge, which was moderated by Dawn Borchardt (Faux Reel Podcast, Cinema Femme Magazine).
The lounge also hosted the press junket for the Sundance selection Blueback, starring Radha Mitchell.

Radha Mitchell enjoys wine education during a break at the BLUEBACK press junket at Sommsation Lounge. Photo by Jim Dobson
The Sommsation Lounge closed out the week's programming with a reception honoring the upcoming Mammoth Film Festival, hosted by Mammoth founders Tomik Mansoori and Tanner Beard and the non-profit artist organization The Art of Elysium, featuring a performance by Rain Phoenix.
(l.-r.) Tomik Mansoori, Rain Phoenix, The Art of Elysium's Jennifer Howell, Sommsation's Danielle Diliberti, and Tanner Beard at Sommsation Lounge. Photo by Stephen Lovekin.

Rain Phoenix performing at the Mammoth Film Festival party with The Art of Elysium at Sommsation Lounge. Photo by Stephen Lovekin
At the foot of Main Street was the Zooz Cinema Center at Mustang Restaurant, which included Sommsation-supported events.

A reception honoring Confluential Films, the award-winning, Black-owned and Black-founded, film, television, and documentary production company and financier. Creator-driven, hyper-collaborative, and grounded in authenticity, Confluential guests included Algee Smith (Euphoria, Sundance selection Young. Wild. Free.) and Amin Joseph (Snowfall, Sundance selections We Were Meant To and To Live and Die and Live), among others.