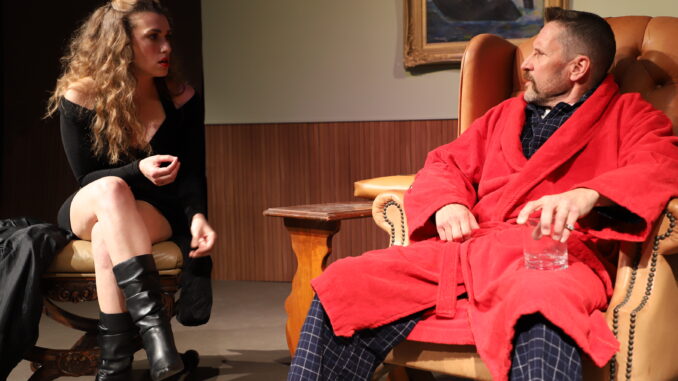 Penned by renowned playwright John Patrick Shanley, THE DREAMER EXAMINES HIS PILLOW is one of Shanley's early plays and ran off-Broadway in 1985. Shanley has authored 23 plays, with over 80 productions in the U.S. His best known was "Doubt: A Parable," which ran on Broadway for over a year and won four Tony Awards (including Best Play), as well as winning the Pulitzer Prize for drama in 2005. And let's not forget about "Moonstruck," which garnered him the 1988 Academy Award for best screenplay. THE DREAMER EXAMINES HIS PILLOW is a visiting production currently performing at the Odyssey Theatre.
The time is 1986, and the place is New York City. Tommy (James Liddell) is a gruff, lost soul who lives in a sparsely furnished hovel of an apartment which further proclaims his loser status by showcasing a surreal self-portrait nailed to the wall. Enter Donna (Pamela Portnoy), his gorgeous, very sexy ex who has come to confront Tommy about his dating her 16-year-old kid sister after their break-up. Which is all the more confusing, since it quickly becomes obvious that the two remain attracted and psychologically involved despite going their separate ways.
What to do? Donna shows up at her artist father's place even though the two rarely see each other and are, for all purposes, estranged. It seems that her widowed dad was abusive and unfaithful to her mother – and doesn't appear to regret a moment of it. Finally, Donna asks Dad (Eric Larson) for advice about her doomed love affair with Tommy. His counsel proves odd and even bizarre – but very amusing – as he tries to help her out against his better judgment. What will happen to these three very earthy misfits in the days to come? Thereby hangs the tale.
Skillfully directed by Anne Kathryn Parma, THE DREAMER EXAMINES HIS PILLOW is a rough-and-tumble story about three people who can't seem to follow society's rules about how to succeed. Their approach to life strongly suggests that they are always swimming upstream – and will continue to do so. Kudos to Portnoy and Larson for really diving into their roles with extraordinary gusto. Congratulations are also in order for stage manager and lighting designer Landon Stephen Popadic, who has fashioned a very fluid – and pretty grimy and depressing – nest for the principals to inhabit.
THE DREAMER EXAMINES HIS PILLOW is a fascinating study of an author's evolution from this early play to his later highly successful pieces. Despite Shanley's obvious growth as his talents developed with time and maturity, his wry humor shines even in this early play, as does his ability to study people who dance to a different drummer – especially in a raw and involving way. Get ready to laugh at the foibles of these three unusual people. AUDIENCE ALERT: This play contains adult themes.
THE DREAMER EXAMINES HIS PILLOW runs through February 26, 2023, with performances at 8 p.m. on Fridays and Saturdays and at 1 p.m. on Sundays. The Odyssey Theatre is located at 2055 S. Sepulveda Blvd., Los Angeles, CA 90024. Tickets are $35 on Fridays and Saturdays and $25 on Sundays. For information and reservations, go online.