Theatre of NOTE presents the world premiere of NIMROD. Penned by Phinneas Kiyomura and directed by Alina Phelan, Starring Kirsten Vangsness (of Criminal Minds" fame), NIMROD does a funny take on the modern political age, a time marked by fake news, alternate facts, and – always – lies, lies, and more lies. By the way, if you think that the characters might reflect some recent political heavies, you might be right.
Nimrod is an intriguing word with allusions all the way from the Bible (mighty ruler, tyrant, skilled hunter, builder of the Tower of Babel) all the way to the Marvels X Men (artificial intelligence created to hunt and exterminate mutants) and even Loony Tunes Cartoons (Elmer Fudd's nickname, courtesy of Bugs Bunny). But the most common current idiomatic use is probably as a dimwitted or stupid person – and the latter certainly seems to fit the main character of NIMROD to a tee.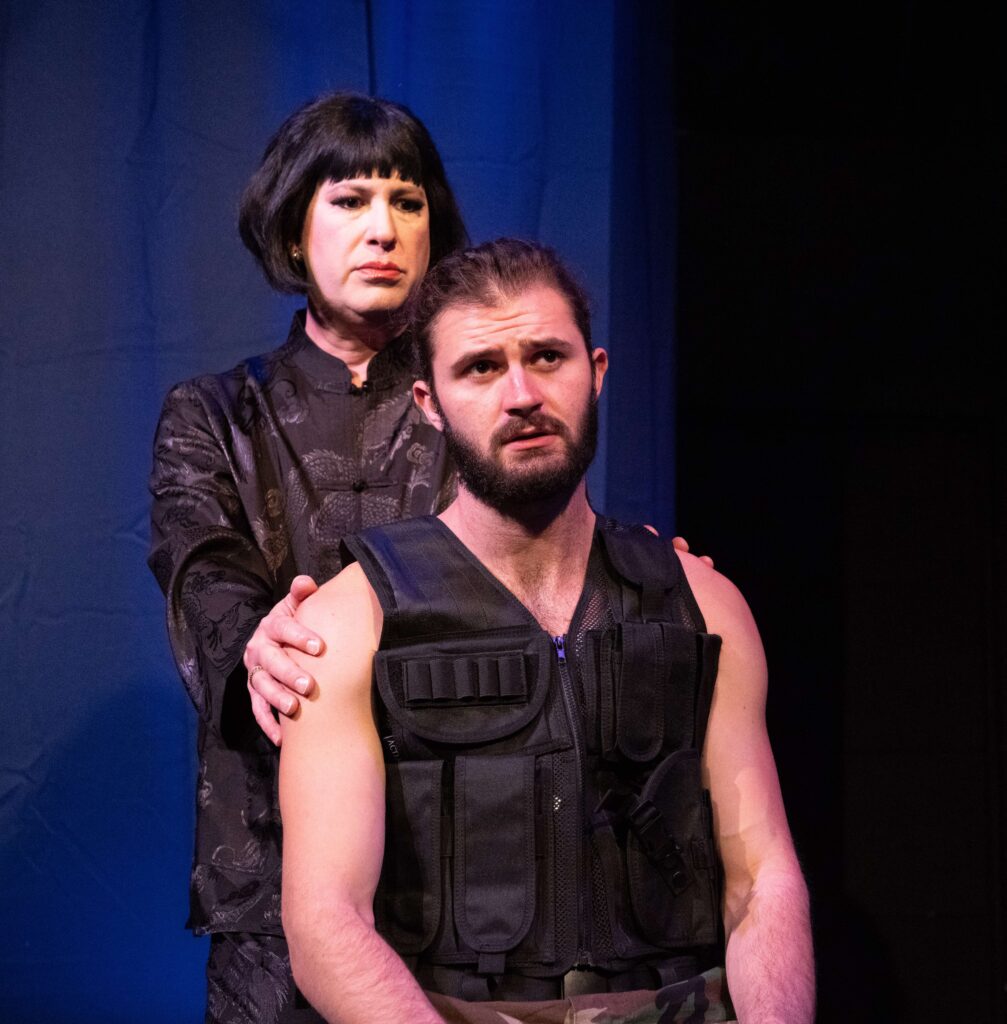 NIMROD is a farce written in verse which follows the fictional last year of an uncouth, orange-hued president named Nimrod (Kirsten Vangsness) and his beleaguered First Lady (Hiwa Chow Elms). The couple had a deal sealed in a pre-nuptial agreement: she would remain married to Nimrod through his four-year presidential term for a respectable sum of money – and he would not seek re-election. Well, the end of the term is coming up; and Nimrod has decided to run again. Encouraged, of course, by his three grown kids from an earlier marriage. Will the missus remain docile and supportive – even though she's in lust with Carver (Edward Moravcsik)? Or will she take her beloved son Dukie (Asha Noel Lyer) and run for the hills? Political intrigue abounds with betrayals, violence, and lots of sex and humor thrown in.
With limited resources, the production team – including scenic and properties design by Bill Voorhees, costume design by Kimberly Freed, and special character construction by Emory Royston – does a noble job of developing multiple scenes. And let's not forget fight choreography Celina Surniak and music and sound design by Matt Richter and Jason T. Lamoreaux. NIMROD is clearly a team effort.
NIMROD proves to be heavy-handed as it traces the evolution of its egotistical but idiotic president who has few skills and even fewer sincere interpersonal relationships. When developing the character of Nimrod's wife, the play exhibits an uneven and often conflicted quality between her baser instincts and her apparently more noble behaviors under stress. Playwright Phinneas Kiyomura may have had some difficulty taking on the point of view of a long-suffering but equally spoiled and treacherous spouse while trying to make her worthy of audience compassion. Clearly, the audience is meant to laugh at Nimrod and feel for his wife – but this goal does not seem to follow the personality trajectories involved.
NIMROD is chock full of conflicts which will keep the audience on its toes. It is also a somewhat puzzling play with intertwining verse punctuated by a few "thees" and "thows." In any case, NIMROD should prove funny, involving, and entertaining for audience members, especially those with an interest in politics and political machinations. AUDIENCE ALERT; Situations and language may offend some gentler viewers.
NIMROD runs through March 19, 2023, with performances at 8 p.m. on Thursdays, Fridays, and Saturdays and at 2 p.m. on Sundays. Theatre of NOTE is located at 1517 N. Cahuenga Blvd., Hollywood, CA 90028. Tickets are $25 (students/seniors $20). For information and reservations, go online.