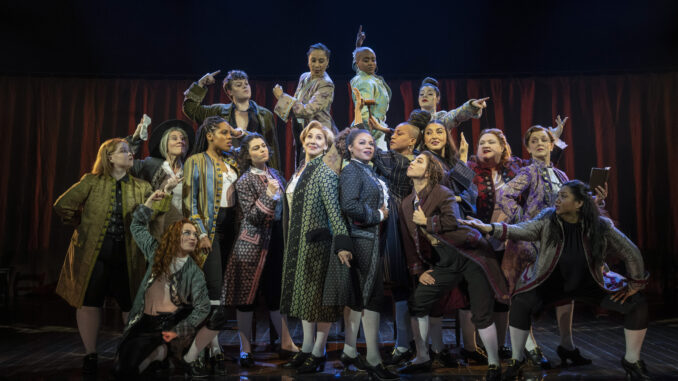 Fresh off Broadway and currently on stage at the CIBC Theatre in Chicago, this gender-bent, color-blind cast version of 1776 from the Roundabout Theatre Company is a must-see.  The engagement here is short, only until March 12, but it will continue on tour to major cities around the country through this summer including San Diego, Seattle, Des Moines, Durham, N.C., and many more.
What makes it so thrilling is not only the incredible ensemble singing, and new arrangements of familiar songs, but the way that the changing of the gender and the integration of the cast members allows new context to be brought to this very familiar show.  I don't want to spoil the incredible impact these moments have on you, but listening to the arguments about why the South won't join the new country unless they get to keep their "property" hits a lot different when it's being said in a room that includes black and brown folks.  And this show gives you many, many moments like that.  And there are a few deliberate new additions and changes, added with the blessings of the estates of the original creators, that also bring new context to this story of our nation's founding.
From the moment the actors walk onto the stage and don their frock coats and buckled shoes in full view of the audience, taking on the mantle of the Founders, you get to see it all again through modern eyes. And that doesn't diminish what these men tried to do, what they were fighting for and the ideals that they truly believed in even as they fell short of living them. It invites you to understand that flawed human beings gathered together in Philadelphia to do something great and to try to be better than they were.
When I went, I remembered how much I adored this show when I first saw it as a kid, but I had forgotten just how very funny it is. And the actors on the stage make sure every joke hits along with every serious moment as well.
And the singing is just incredible. New arrangements, new contexts, the entire thing sounds fresh and truly wonderful while not losing the moments from the original that you expect and look forward to.
Standouts among the cast include Liz Mikel as Benjamin Franklin. This is a huge personality to embody and you never doubted her for even a second. She was a grumpy old dude full of common sense and practicality while running after the ladies. She also appears strategically in the chorus at certain moments making incredible contributions. Many of the actors do this, shucking off their frock coats and opening up the world a bit more from time to time even while we're stuck in Independence Hall in the middle of a hot summer.
Joanna Glushak absolutely rules the Tory opposition as John Dickinson, Franklin's Pennsylvania rival. Proud to be English and certain the colonies will fail, he's every conservative that's ever been in government since as he never met a new idea he liked. What he does at the end of the show shows you why he was there and Glushak absolutely slays every moment she has the floor.
See also Kassandra Haddock as Edward Rutledge of South Carolina who has probably the heaviest lift in the entire show with "Molasses to Rum." And she nails it impeccably, again with a complete reimagining of the song that is immensely powerful as staged.
Shawna Hamic as Richard Henry Lee who absolutely crushed her big song; Julie Cardia as lovable drunk, Stephen Hopkins; and Dawn Cantwell as Col. Thomas McKean, complete with thick Scottish accent, were fantastic comic relief throughout.
And it's not 1776 without a fabulous rendition of "Momma Look Sharp" wonderfully delivered here by Brooke Simpson with a lot of help from the rest of the cast. This number is so utterly reimagined and excellently done, it is worth the price of admission alone. There were audible sobs from the audience.
Honestly, this is so fresh and seems so new that I wish I could see it 10 times to pick up every nuance.  You need to rush right out and see it before it's gone. Tickets are available here.
Photos by Joan Marcus for the National Tour.