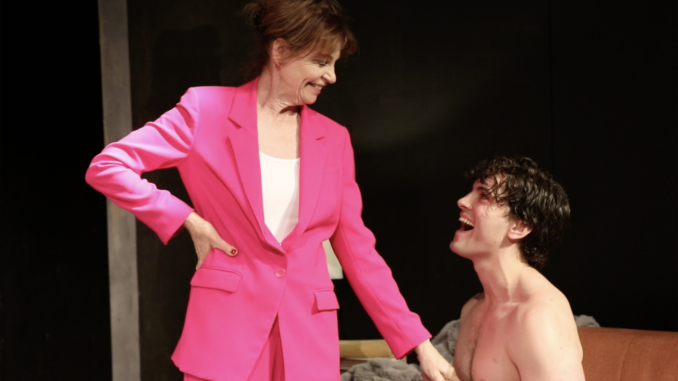 Center Stage With…
Lady Beverly Cohn
Editor-at-Large

Russian writer Anton Chekov (The Seagull, Uncle Vanya, Three Sisters and The
Cherry Orchard) is considered to be one of the greatest writers of all time. He,
along with Henrik Ibsen and August Strindberg, were the seminal figures in the
birth of early theatrical modernism. Their collective works, illuminating the human
condition, stands the passage of time. The reason I point this out is that subtle
references are made to some of Chekov's work in playwright Christopher Durang's
Tony award-winning play Vanya and Sonia and Masha and Spike, currently on
stage at the Pacific Resident Theatre. Durang's brilliance was to create
comedies out of existential anger which is reflected in the characters in this
most entertaining play and is perfectly aligned with Chekov.
Under Victoria Pearlman's immaculate, sharp direction, the play, performed
on William Wilday's set design, begins with Vanya, superbly characterized by
Brad Greenquist, having his morning coffee and reading the newspaper. His
adopted sister Sonia, well done by Tania Getty, has been part of the family
since she was seven years old. She appears with a cup of coffee and is angry
that Vanya poured his own coffee. A heated exchange begins and she throws
not one, but two coffee cups against the wall, smashing them to bits. She and
Vanya have been living in the family home for decades, with both of them
caring for their aging parents until they died. Their parents, who were college
professors and theatre aficionados, thought it would be fun to name their
children after Chekov's characters, hence the similarities. Both Vanya and
Sonia feel as though they have accomplished nothing in their lives and don't
know what they have to look forward to. Following the cup smashing, they sit
and pout until their fortune-teller housekeeper Cassandra, amazingly played
by Cyndy Fujikawa, gives one of her predictions of doom and gloom including
the smashed cups. Sonia with a "gotcha" says, "It's already happened." Not to
be thwarted, Cassandra continues, "Beware of Hootie Pie," who know one
knows, and in another outburst says they will lose the house. When she
finishes with all her prophecies, the almost always calm Vanya quips, "I have
asked you to just say good morning." The next character to emerge is Masha,
played by a splendid Martha Hackett who makes her entrance dressed in an
elegant pink suit by costume designer Paula Bonhomme. Masha is an aging
star of stage and screen and has been the breadwinner for the family, paying
all attendant bills. She is flamboyant and boastful about a career that was but
likes to believe she is still viable. Her boy toy for the last three months is
Spike, a splendid Zach Kanner, who is not just eye candy but has good acting
chops. He spends most of the play in his underwear which quite ok. After
observing them together, Sonia quips, "He looks ten." Spike defends their
relationship, "I like older women." Masha, annoyed at Sonia's comment,
instructs her, "You can't talk until 4:30." Later, on looking out of an unseen
window, the prima donna sees Spike talking to a young woman. After
informing her siblings that she is thinking of selling the family home, almost in
the same breath, says they are invited to a neighbor's costume party and she is
going as Snow White and wants the rest of the family to wear costumes that
coordinate with hers. She instructs Vanya to come as Grumpy and when Sonia
informs her that she wants to come as a beautiful witch, eventually decides to
go as Maggie Smith. Spike enters with beautiful Nina, an aspiring young
actress well played by Miranda Wynne. It's her birthday, which she refers to
as "name day." She is all gushy when she meets Masha but is greeted with
veiled hostility. Feeling uncomfortable, Nina says, "Maybe I should be going."
Realizing how foolish she looks, Masha, after demonstrating the difference
between stage and film acting, puts her jealousy aside and invites Nina to the
costume party, informing her that she should come as Dopey. Oh yes. When
asked the name of the unseen young woman sitting in the car, Masha answers,
that is Hootie Pie, my assistant. Off to the party they go. Sonia, adorned in a
stunning gold lame gown, topped with an extravagant head piece, is the hit of
the party upstaging Masha who everyone thought she came as Norma
Desmond, concluding Act 1.
Act II begins with Spike walking Nina home. Masha loses it when she thinks
he said "Don't wait up for me." There are comic confessionals from both Sonia
and Masha with both ending in what should be a sad crying jag, but it's
actually hilarious with Sonia declaring "I haven't lived" while Masha cries out
"My life is over." Adding to the comedy, is Vanya quietly sipping tea while the
two women are wailing. Durang's genius to create comedy out sadness
manifests in Vanya exquisite, almost heartbreaking monologue wherein
he mourns the loss of an easier 50's lifestyle. He becomes more and
more emotional as he remembers black & white television sets, along
with hit programs such as Howdy Doody, Kukla, Fran & Ollie, The Perry
Como Show, The Dinah Shore Show, Carol Burnett, Ed Sullivan, Your Show
of Shows, and fun games such as Scrabble, and Monopoly. Almost in
tears he adds, "And telephones where you had to put your finger into
little holes and dial your number." Surprises abound throughout the
play, dear readers, which you'll have to experience for yourselves.
Director Pearlman assembled a highly-professional, Broadway
caliber cast which she skillfully directed resulting in this
delightful theatrical production. As a sidebar, seeing this play in
a small house reminds me of just why I love theatre. It's always
an adventure.
"Vanya and Sonia and Masha and Spike"
Pacific Resident Theatre
Venice, CA 90291
(Street parking or small lot in back)
Playwright: Christopher Durang
Director:Victoria Pearlman
Run:
Thursday – Saturday: 8:00 pm
Sunday: 3:00pm
Closing: Sunday, June 11, 2023
Running Time: 2 hours and 20 minutes
(including one intermission)
Tickets: $35 Thursdays, $45 Saturday & Sunday
(Check box office for Senior and Student discounts)
Reservations online: https://pacificresidenttheatre.org/
Phone: (310) 822-8392