Throughout his career, William Shakespeare was notoriously fearful that his works would be stolen – and so he committed to paper only bits and pieces of his works for actors to study. As it turned out, Shakespeare was right. Within three years of his death, his stolen plays were being performed poorly and inaccurately – much to the chagrin of two of his aging actor friends and former colleagues who shudder with each plagiarized performance. Finally, they could take it no longer – and decide to end the rampant plagiarism and salvage Shakespeare's legacy. THE BOOK OF WILL details their herculean efforts to do just that as they work tirelessly to save the words of the man many term the world's greatest playwright, William Shakespeare. A Noise Within proudly presents THE BOOK OF WILL, a bizarre and often outlandish true story penned by award winning playwright Lauren Gunderson.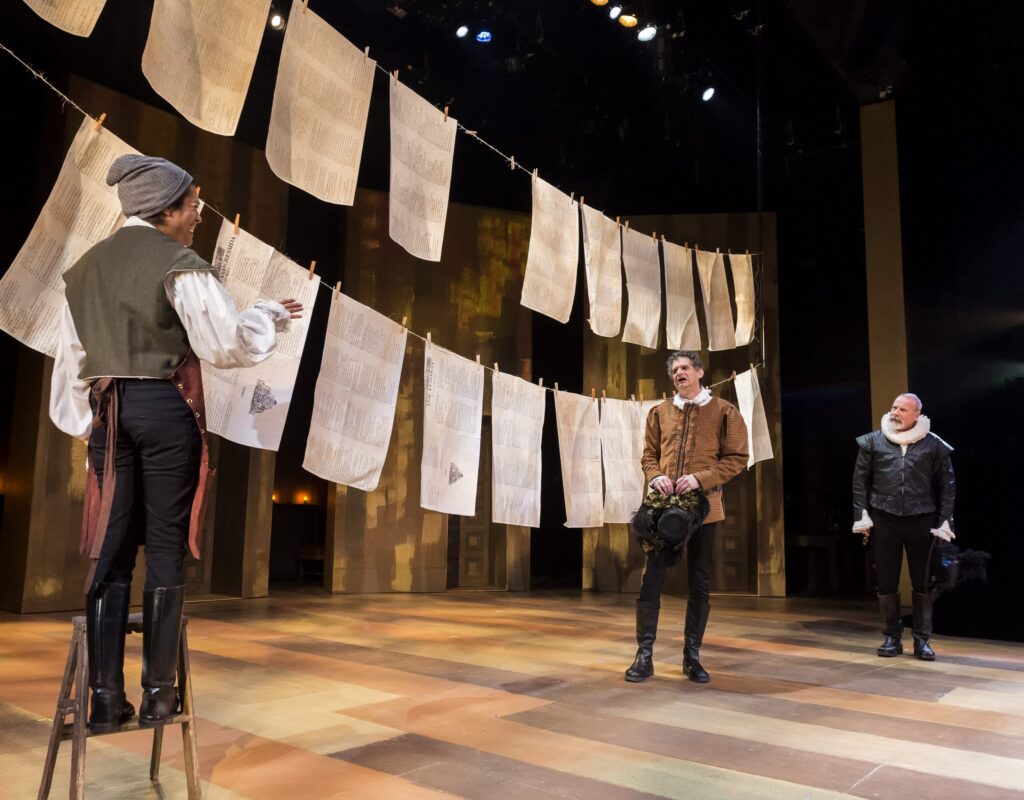 Kelvin Morales, Jeremy Rabb, and Geoff Elliott – Photo by Craig Schwartz
Jeremy Rabb) and John Heminges (Geoff Elliott) are men with a purpose. They have had enough of the failed efforts of young actors to steal Shakespeare's ideas and, in doing so, slowly ruin their brilliant friend's reputation in their inept efforts. Since Shakespeare is dead, Condell and Heminges appoint themselves Shakespeare's saviors and embark on an almost impossible task – saving the words of a genius. Why impossible? Following a raging fire, much of the writing which Shakespeare left behind was destroyed. The two men must recreate the bits and pieces which remain, often from faith and memory. Soon they have assembled a small group of like-minded lovers of theater to assist them, and the small group overcome each obstacle as it surfaces. As it turns out, one of their biggest obstacle is money. It soon becomes apparent that publishing the works they want to include is costly. Even when they manage to gain the support of the senior and junior Jaggard publishers (William – Frederick Stuart; Isaac – Stanley Andrew Jackson), they run out of finances. What to do? Will bombastic Ben Jonson (Chuma Gault/Alex Morris) sober up long enough to help? Or maybe one of Shakespeare's former girlfriends? Will the folio ever be completed?
Nicole Javier, Deborah Strang, and Trisha Miller – Photo by Craig Schwartz
Director Julia Rodriguez-Elliott does an excellent job of bringing the many elements of a complex tale together into a meaningful whole. Of course, she has Gunderson's superb script and an excellent cast to work with, a cast who are equally strong dealing with personal and environmental/ socioeconomic factors affecting the outcome. Kudos to Rabb and Elliott, as well as their respective and supportive spouses (Trisha Miller and Deborah Strang). THE BOOK OF WILL could easily have turned into a dry, intellectual foray into history. Instead, the people in the story quickly become living, breathing individuals with engrossing tales to tell. Frederica Nascimento's scenic design is fluid; actors move props about with skill. Angela Balogh Calin's costumes are a pleasure to see, and Shelia Dorn's wigs and makeup design recreate a very lively Elizabethan England. Ken Booth's lighting and Robert Oriol's compositions and sound enhance the setting and keep the audience attentive. A BOOK OF WILL is strongly recommended. You don't have to love Shakespeare to enjoy the story of two determined men who – against all odds – saved Shakespeare's legacy.
Deborah Strang and Geoff Elliott – Photo by Craig Schwartz
THE BOOK OF WILL runs through June 7, 2023, with performances at 7:30 p.m. on Thursdays, at 8 p.m. on Fridays, at 2 p.m. and 8 p.m. on Saturdays, and at 2 p.m. on Sundays (no performance on June 1; no 2 p.m. matinee on May 13). A Noise Within is located at 3352 E. Foothill Blvd., Pasadena, CA 91107. Tickets are $25 (students $18; 5/10 and 5/11 Pay-What-You-Choose starting at $5; discounts for groups of 10 or more). For information and reservations, call 626-356-3100 or go online.