Leonard Bernstein's Broadway musical masterpiece, West Side Story, has returned to the Lyric Opera of Chicago Stage, only June 2-25, 2023!
In this classic and timeless musical, Stephen Sondheim's lyrics, Arthur Laurents's book, and Jerome Robbins's bold and iconic dances transport the story of Romeo and Juliet to the streets of New York. West Side Story is an unforgettable musical theater experience on a scale only Lyric Opera of Chicago can offer.
Internationally distinguished theater and opera director Francesca Zambello returns to Lyric with the revival of her production of West Side Story, featuring the original choreography from the Broadway premiere recreated by Emmy Award-winning choreographer Joshua Bergasse. Set designs are by Peter J. Davison with costumes designed by Jessica Jahn and lighting designed by Mark McCullough.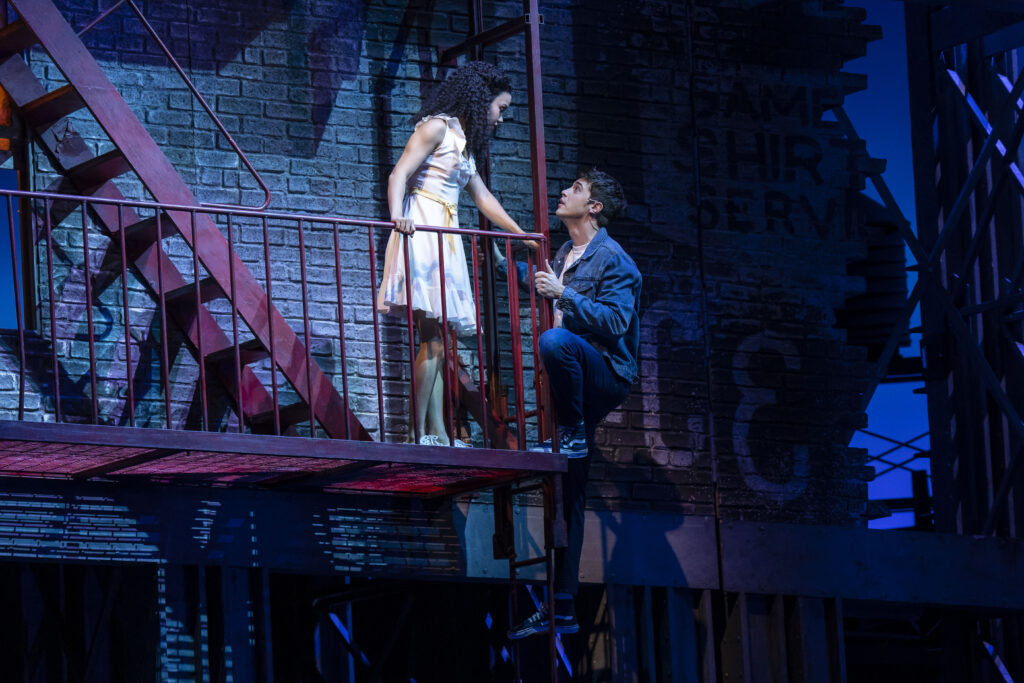 Standout Broadway performers breathe life into the beloved characters of this musical sensation. Making their Lyric debuts, Ryan McCartan and Kanisha Feliciano portray the star-crossed lovers Tony and Maria, with Yurel Echezarreta as Bernardo. Amanda Castro and Brett Thiele reprise the roles of Anita and Riff.
Lyric's production of West Side Story is an amazing production in every possible aspect. The musical boasts top notch performers (These include triple threats-must act, sing and dance, which is no easy feat!). The entire cast is phenomenal! McCartan is perfect and gives a new, fresh face to Tony, complete with a tenor voice that gives you goosebumps. Feliciano as Maria portrays Maria also with a new take on the role, while making it her own. Her lyrical soprano voice matches the character very nicely. The "star-crossed" lovers have perfect chemistry together, and their duets sung together I feel are some of the most beautiful parts of the show, such as "Tonight" and "One Hand, One Heart.". I also love the leads including Echezarreta as Bernardo, Maria's brother, and Castro as Anita, Bernardo's girlfriend. I can not think of a more perfectly cast of gifted performers that I have witnessed on stage recently.
The supporting cast is also exceptional and holds the entire, flawless production together (including the always marvelous Chicago Lyric Opera Orchestra). Joshua Bergasse also wows me with his creative choreography, while still staying faithful to the theme and character of the story. The dancing is itself a main character that draws you in, along with the beautiful musical score and songs, that you cannot help from singing along from beginning to end. (I also love that the character of Doc was played by a female, the talented Genevieve VenJohnson!) in
Let's also not forget to nod heads of approval towards the amazing set and stage design by McCullough, as well as costumes by Davison! While the show takes place during the late 1950s, it also feels like the costumes the cast wears are a mixture of colorful, mid-century and modern New York City street and local wear. The set design also boasts realistic lighting to show the raw, driven emotion of the story and the characters, as well as capturing the inner city streets, alleys and buildings of New York City.
I feel that West Side Story is and will always be a timeless and relevant story, as its various themes are still clearly prevalent in our society today, just as it was when it first opened in 1957, including racism, power, greed, love and hope. Be sure not to miss this amazing revival of an exceptional musical!
Photos: Todd Rosenberg
Performance dates for West Side Story are June 2-25. All performances take place at the Lyric Opera House, 20 North Wacker Drive, Chicago.
Running time is 2 hours and 30 minutes, including one intermission.
For tickets and information, call 312.827.5600 or go to the Lyric Opera website.