By Catherine Head
Never having seen the Ensemble Espanol before and only vaguely familiar with flamenco- I did not know exactly what to expect as I arrived Ensemble Espanol's performance of Flamenco Passion on June 16th, 2023 at the beautiful North Shore Center for the Performing Arts in Skokie. I arrived there with my 23 year old son in tow and when we left, a few hours later we were raving about the performances we had just had the pleasure to see!  Not only does Ensemble Espanol have an amazing ensemble of extremely talented dancers, but there were also a handful of special guests from Spain;  2 dancers from Spain: Irene "La Chiqui" Lozano and Isaac Tovar, and two singers and a very talented guitarist- also from Spain. The entire evening's show was dynamic and delightful. At one juncture during one of Ms. Lozano's solos, my son turned to me and whispered," I like this so much more than ballet". So, if you're looking to introduce someone to the varied world of dance, my suggestion would be to start them off with a performance by Ensemble Espanol.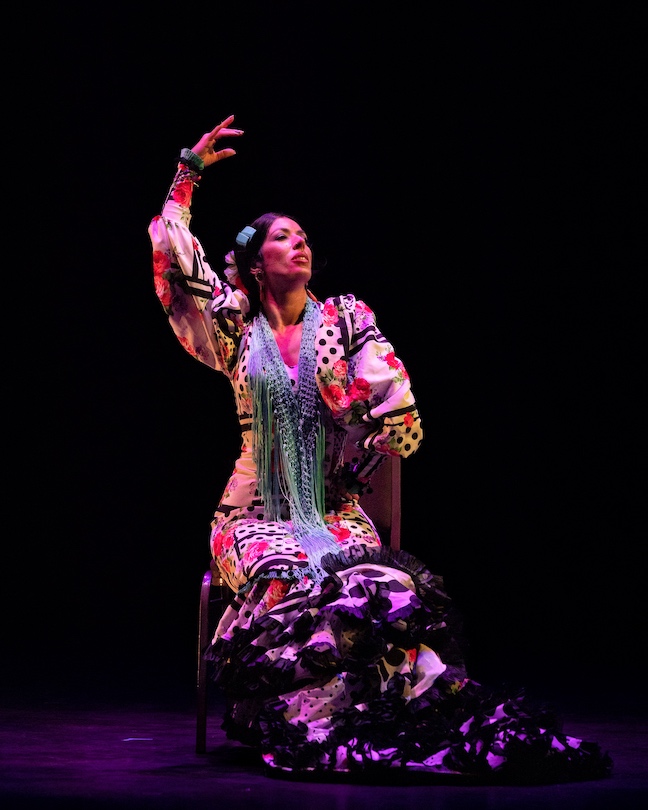 The program that evening was truly amazing. As I wasn't that familiar with flamenco, the first piece, Sur, had several of the components that make up flamenco: castanets, percussive footwork, hand and body clapping and lots of fire and energy.. It would be safe to say that flamenco is a very passionate dance form, and the ensemble in this first piece attacked the piece with dedication and vigor. The piece was choreographed in 2015 by the very talented, Raquel Gomez. The choreography reaches back to the 18th century's "Escuela Bolero " which is classical Spanish style and melds it with contemporary Flamenco music composed by David Pena Dorantes. As Gomez states "Sur proves… that something with so much tradition and such deep cultural roots..can be current and keep its deepest history." Through Sur, my son and I were introduced to Flamenco and were engaged and enthralled from the get go!
The most standout performances of the evening were solos performed by the incredibly talented guest artist Irene "La Chiqui" Lozano. The first solo she performed was a World Premiere titled "Mediterraneo (Alegrias)". Ms. Lozano's choreography and performance was, in a word : powerful. She performed "Mediterraneo" with a live guitarist and the entire piece was mesmerizing. Ms. Lozano appears intensely connected to the inner life of the choreography which she performs with intensity and commitment. When she taps and stomps (as is the fashion in flamenco) she does so with speed and precision. Every movement is deliberate, well executed and awe inspiring. The fluidity of all the varied movements is what is mesmerizing: the intricacy of every flick of her foot, as it kicks her dress up, the precise way she moves her hands up in the air, then claps her body, then twirls, then stomps then taps out an intricate rhythm, the totality of all of that is truly something to behold. She is a performer who completely gives herself to the dance and the audience are the very lucky recipients of her immense talent. Her second piece, "Donde Todo Comienza (Tarantos)" was equally mesmerizing and very emotionally laden. The entire auditorium was transfixed by this dance and her mastery. Her interplay with the singers and the guitarist and the incredible footwork at the end was awe inspiring. If you ever get the chance to see Ms. Lozano- do not pass it up. It is a life affirming experience.
The pieces by the company were diverse and engaging. Every dancer was at the top of their game in every piece. The company seems to work equally well as a whole, flowing effortlessly together as one organism, while flamenco gives them the opportunity to show us their personality and their personal flair. The last piece, "Amangue (Bulerias)" choreographed by the talented Isaac Tovar is life affirming. In Amangue, there were opportunities for many solos and stand out performances. The dancer, Nalanie Molina, merits special mention as she is not only a phenomenal dancer, but she imbues her performance with an emotional intensity and sensuality that often makes her the most compelling dancer on the stage. Brava to the dedication, passion and commitment Ms. Molina brings to the stage; it is a treat. The choreography of Amangue is joyous and it was performed with joy. The whole company was stamping, clapping and in sync with one another in this piece which also had a guitarist. The thing with flamenco is- you get A LOT, the passion, the varied movements that make up flamenco dance coupled with live singing and guitar- done well, as it is with Ensemble Espanol- you really can't help but to enjoy yourself. It is sexy, it is passionate and exciting and so very very entertaining. We are so very lucky to have Ensemble Espanol in Chicago. The Festival will continue with classes from June 19-24 at Ensemble Espanol's home studios at Northeastern University.