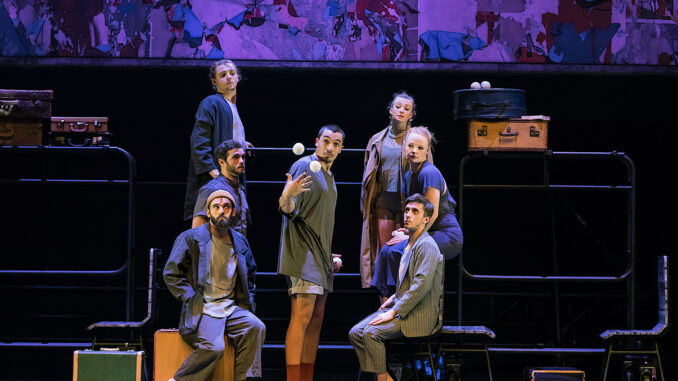 By Kathy Carpenter
Passengers is the ultimate ride through time. In conjunction with Montreal based collective The Seven Fingers, The Old Globe Theatre presents a new theatrical experience, "Passengers," is a wonder of its own dimension. Do I pretend to understand all nuances of the story told through this art form, no. But that's the beauty of art, you don't need to understand to appreciate the allure of its essence. PASSENGERS is a masterful artistic adventure taking us on a ride of a lifetime.
"The 7 Fingers is an art collective unlike any other. In 2002, the seven founders set out to redefine circus by stripping down the spectacle to its thrilling essence. The contemporary company tells stories using death-defying acrobatics with a life-affirming theatricality that's unique to the 7 Fingers."
PASSENGERS is a cinematic display of contemporary dance, acrobatics, tumbling, hula hoops, music, and more. Centralized within the Circus realm of artistry, the performers are exquisite, poetry in motion. They Captivate the audience as each of the main stunts becomes more breathtaking. Four of the nine performers are featured in solo acts of awe inspiring moments of wonder. While the others are no less important, they perform as a team, providing entertainment, with the strength, and mutual trust, the collective efforts that enable the featured artist to showcase their glorious feats with confidence.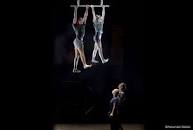 Shanna Carroll, wears multiple hats as writer, director, and choreographer, as she directs this phenomenon. The performers, Eduardo De Azebo, who attended the national circus school, Kaisha D-W, from England, Beto Freitas, born in the south of Brazil, Marco Ingaramo, born in Buenos Aires, Argentina, Nella Nive, has a passion for acrobatics. Then there are Mandi Orozco, who grew up in Orlando Florida. Santiago Rivera Laugerud, born in Guatemala, Andrew Sumner, born in the UK,and MelieJade Biouchard, born in Quebec City. This is an international troop of talent dazzling us in an epic production of wonder.
From Bouchard's expertise as a hula hoop aficionado to Marco's amazing climatic pole work.we follow along on a journey not soon forgotten.
The stage is basically bare. The backdrop is a train ride on a screen up behind the performers, which gives the audience the sensation on being a passenger on the train. The cast provides chairs from time to time, reminding us they are passengers on a train, and the adventures and connections you can make with strangers with whom you are sharing space, even in a short time.
In the mesmerizing realm of the circus, where imagination knows no bounds, the 7 Fingers stands as a beacon of innovation and artistic brilliance. With their daring acrobatics, enchanting storytelling, and boundless creativity, they have breathed new life into the age-old tradition. Why not run away for the evening and join the re-imagined circus, as you travel through the barriers of time?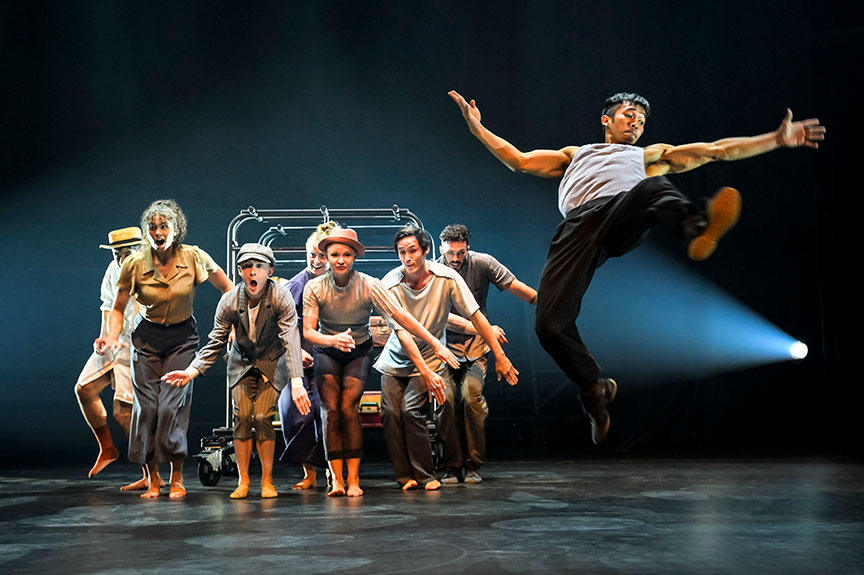 PASSENGERS
Thru July 30, 2023\
The Old Globe Theatre
BalBoa Park
619.234.5623