When I received the much-anticipated press release outlining this summer's Jacob's Pillow Dance Festival, the program that most jumped out at me as a "must-see, don't miss" was Gauthier Dance // Dance Company Theaterhaus Stuttgart. I had never seen this company, which was founded by Montreal native and former Stuttgart Ballet soloist Eric Gauthier; I missed their Pillow debut in 2015 on the Doris Duke stage, which was so well received that then-executive director Ella Baff invited Gauthier back to perform on the mainstage Ted Shawn Theatre in 2016, by which time Pamela Tatge had taken the Pillow reins. She, in turn, could hardly wait to invite Gauthier back, and the return engagement was booked for 2020… and we all know what happened to those plans. As Tatge puts it, they were "Covided."
My attraction to this company came from a misperception. Having watched the video on the Pillow website, I assumed Gauthier was in the tradition of Pina Bausch/Tanztheater Wuppertal: dark, expressionistic, melancholy, and challenging. In fact, Gauthier's mien is sunny, overtly funny, yet the dances still reward close viewing. The company combines smart, clever choreography with exquisite dancing by skilled, young, personable dancers. The humor comes through in all five works Gauthier brought to the Pillow—four of them by other choreographers (who happened to be among my favorites), and three of those by notable Israeli dancemakers.
Right off the bat, we're in for giggles with the first piece of the evening: Violoncello, by Nacho Duato, a top Spanish choreographer whose work is frequently performed at the Pillow. A male dancer, Lucca Pannacci, strides on stage, garbed in a Baroque-era costume, complete with powdered wig. He sits on a box as Bruna Azeredo de Andrade strides in from the opposite wing, in a short black tank top unitard, holding a bow. She sits on his lap, and he proceeds to bow her like a cello, all over her body, to the strains of Bach's "Cello Suite No. 1 in G Major, Prélude." Both musician and instrument remain in constant motion; she moves like quicksilver, even sliding head first onto the floor, and he follows her every move, bowing her waist, her neck, her thighs, rising from his seat to bring her back to his lap as she tries to slip away from him. If you've ever had the pleasure of watching the great cellist Yo-Yo Ma play this work, this dance might bring to mind the way he puts his whole body into playing the music, rocking the cello on its stand. It brought to my mind a touch of light S&M, à la the dominant/submissive relationship in Secretary. Regardless, it will inspire laughs but also awe, given the speed and suppleness of the dancers and the cleverness of the choreography, plus a bit of concern for Andrade, as she contorts her way through the piece.
Next up was Gauthier's 2019 work ABC. Grinning with self-assurance, Shori Yamamoto emerges upstage, silhouetted by a bright orange backdrop, wearing a white shirt with black vest and pants, as an offstage announcer gives one of those "don't try this at home" warnings: "The following presentation is performed by a professional dancer…" Then the announcer goes through the alphabet, calling out words and phrases related to dance as Yamamoto enacts them, with panache, making split-second transitions between positions and moves that illustrate arabesque, attitude, assemblé, avant garde, and many more words that start with "a," before moving on at a good clip to the "b" words: balancé, Black Swan, breakdance… You get the picture. And you laugh harder when he throws in a few sort-of on-theme words, too—like bitchy and badass, which get the same mock-serious treatment from Yamamoto, all the way through the alphabet, with dancer trying to keep up with the quick progression of words and phrases, while executing them with virtuosity. I'd say this was a really fun solo, but I'm not sure it can be called a solo given the sad-sack dancer who makes a split-second appearance during the "s" words (after sprain and stand-in). It might also be viewed as a throw-away humor piece but for the demands placed on Yamamoto to quickly snap in and out of every move, which he does with speed, precision, and comic flair, looking more harried as the alphabet goes on, up until the end, when the announcer calls out "X, Y, and Z" and our professional collapses flat on the stage.
The program's third piece, Point, choreographed and costumed by Israeli dancemaker Sharon Eyal, features three female dancers—Izabela Szylinska, Bruna Andrade, and Karljin Dedroog— moving together, performing pas de bourrée couru in unison nearly continuously for the entire length of the piece. The exceptional detail of Point is that the dancers are not wearing pointe shoes; rather, they are quick-stepping on the balls of their feet, a feat that must surely result in multiple blisters and calf cramps. Yet they do it with an appearance of effortlessness, even mechanization, while moving in and out of unison sequences, or with two in unison as one goes off on her own, only to rejoin the group. Their upper bodies move in smoothe, slow motion, in contrast to the constant pitter patter of their feet, their arms slowly snakeing in and out, up and down, hypnotically. Their pointedly expressionless faces, looking blankly at each other or off in the same direction, were magnetic, managing to convey the occasional odd-man-out dynamics of a trio of female friends.
I can't say exactly what Swan Cake, choreographed and scored by Hofesh Shechter in 2021 in collaboration with Gauthier, has to do with the classic ballet Swan Lake; the program notes say it's focused on the dark underside of the dance. What I can say is that this smoke-obscured dance, set on a dark stage cut by swaths of light, swept the audience up in its nonstop propulsive syncopation. Attired in colorful, mismatched, well-worn garb, the nine dancers move as one organism, pulling apart and coming together, in and out of unison, to the percussive rhythms of the score. Sometimes they look like members of a homeless encampment on the move; other times they seemed to be involved in a street protest. Look again, and it could be a fogged-up dance party. Bobbing along to the infectious score, many audience members seemed mesmerized by in the spectacle. Then, toward the end, the high-drama ominous phrase from Tchaikovsky's Swan Lake score (DA! da da da da da DA! duh DA!) blares from the speakers, and the audience is brought back to marvel at the virtuosity of the energetic dancers on stage, giving it their all to exhilarating effect.
Swan Cake ended the first half of the program with boundless energy, but as the audience filed out, dancer Shawn Wu took the stage, wearing a white shirt under a black suit and a jaunty black fedora, and proceeded to engage with the audience in an almost flirtatious manner, strolling purposelessly across the stage. Intermission over, audience members returned to their seats and the curtain rose, prompting Wu to perform a sudden backflip, then dance in a manner reminiscent of Twyla Tharp's modern classic Nine Sinatra Songs, with a little soft shoe and a lot of gliding, smoothly segueing into the first section of Ohad Naharin's crowd-pleasing closer, Minus 16, in which the dancers, costumed like Wu, spread across the stage, performing silky smooth Latin dance steps, like a cha cha or mambo, with the house lights still on. The segment ends as the cha cha music gives way to a Pulp Fiction/surf music dance club version of "Hava Nagila," a traditional Jewish song of celebration that is having a moment, then the curtains close, house lights dim, and the curtains reopen on what I consider this work's centerpiece.
There's a common modern dance device that I call the chair dance (I know, not very creative) in which dancers move on or around a folding chair, and though it's frequently employed, chair dance segments tend to be endlessly inventive and engaging. Naharin's is no exception; actually, it's a paragon of the genre. I've seen it performed before by other companies, and each viewing whets my appetite to see it again. But this time, the movements were larger, more defined, and the dancers had greater loft in a key movement.
The full ensemble sits in a semicircle, transforming from Latin dancers to a gathering of Orthodox Jews settling in for a spell of davening, their dark suits adding to this impression, as does the accompanying music, "Echad Mi Yodea," a traditional Passover song. In addition to being a chair dance, this segment is also an accumulation dance—a movement phrase is repeated than added upon. Each time it starts again, you see some new element atop the movements you've already seen. The phrase ends with each dancer consecutively exploding from their chair, limbs flung from their torso one by one around the semicircle, until the final dancer is seemingly flung from his chair, landing in a puddle a few feet away, haplessly crawling backward onto the chair as the sequence begins again. The move I regard with the most wonder is when the dancers grab the chair seat with one hand and propel themselves upward, into the air, floating for a magic moment above the seat.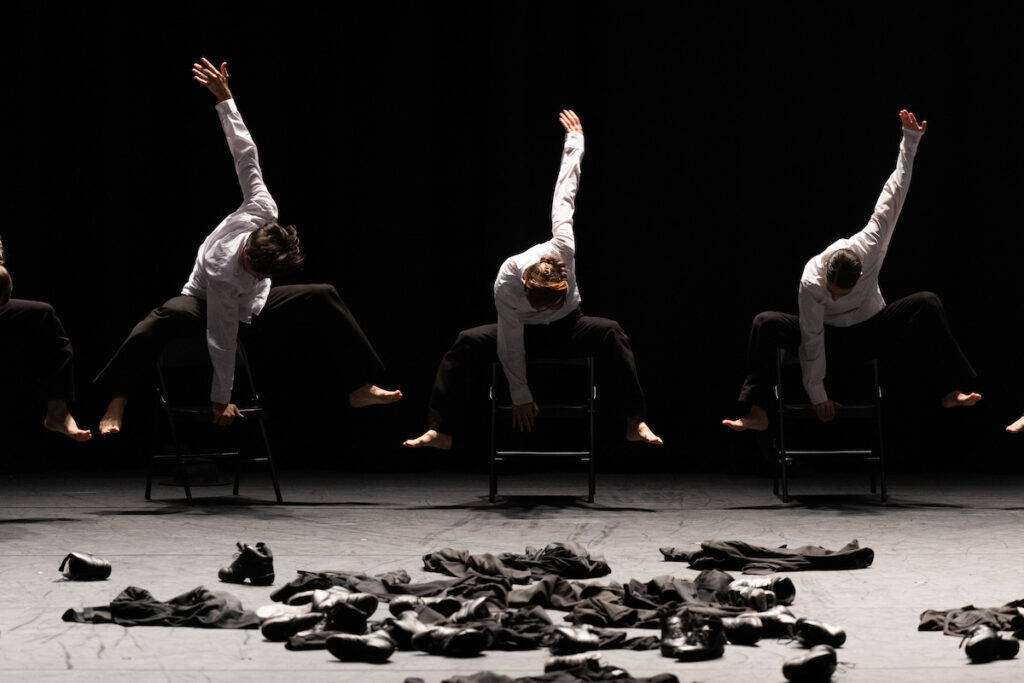 The segment ends with rounds in which the dancers sequentially remove one item of clothing (hat, shoes, jackets, etc) and furiously toss them into the center until they are down to gray shorts and undershirts. Then they quickly gather up all the tossed-off clothing and move on to other compelling segments: an eccentric duet in which the man, shuffling slowly and determinedly in a low crouched posture, repeatedly, relentlessly thrusts his clasped hands into the woman's torso, and the slo-mo impact reverberates through her body; tender duets by couples still wearing those gray underclothes; a venture offstage and into the audience to pull unwitting partners up onto the stage to slow dance and tango with them (which was hysterical, especially given the enthusiasm of some of those chosen audience members, who were not going to be passive participants—they were there to slay) set to the American songbook classic "Sway"; and a blowout ending with the curtains closing and opening with the dancers once again going all out.
Gauthier brought the house down with this exhilarating finale to jam-packed program of exceptional dance performed by a skilled troupe of young dancers whose commitment is apparent. Their individual personalities are allowed to shine, as do their skills. While this was my first exposure to the company, it won't be my last. I'm hoping Gauthier will join the roster of regulars at the Pillow, but I'd also travel to see them anywhere in the region. (Had I had the time, I would have seen this program again that very weekend.) As soon as I got home I told friends to be sure to see this show, and I received a few elated thank you notes in the subsequent days.