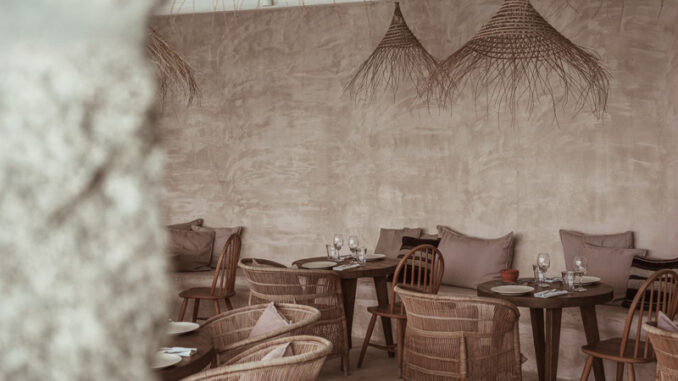 For those who travel to all the major cities in the world, who doesn't know Soho House? Members' only club hotels, esthetically pleasing, with beach side escapes, Soho House offers the perfect refuge to soak up the sunshine and indulge in a season of relaxation. In Mykonos, Soho Roc has partnered with one of the top Chefs in Greece, Athinagoras Kostakos and with the valuable curator Executive Chef Leyteris Lavdas. Together, this talented team prepared for us their signature menu to try!
We started with the House Meze, which included tzatziki avocado, spicy cheese with Mykonian Tsandiloti and Kopanisti, accompanied with Hummusme Soymak and handmade bread crackers of carob and corn pitas. We continued with Crispy Feta from Epirus, the northern part of Greece, with handmade tomatoed marmalade with lemongrass tomatoes confit and mint.
Next, we had the chance to try Crab Croquettes with lime, black garlic aioli and fennel. Spicy Tuna Tostadas followed and then Blue Corn tostadas with fresh Greek tuna dipped in aromatic lemon oil, with achiote mayo and avocado cream, chili and fresh onion. Grilled Aubergine with Hummus with garlic was also incredibly tasty and healthy. As far as the salads were concerned, we tried two. Black Lentils Salad with half sun-dried tomatoes, oil, vinegar and barrel feta cheese and the Watermelon Spinach Salad with baby spinach, watermelon osmosis, feta, chili and honey vinaigrette.
Sea Bass Crudo was the dish that followed. You can imagine that we were mesmerized by that time, and we were almost full but had definitely kept some space for the rest. The sea bass was dipped in ouzo, local yoghurt, oil, lemon and cucumber. A lemongrass sorbet cleared our pallet and Sea Bream Butterfly with Safran, oregano, green olives and fennel followed.
For dessert we had the most amazing Cheesecake I have ever tried, infused with the famous Vanilla from Madagascar and some delicious red berries and a bowl of Profiteroles with white chocolate cream and milk chocolate sauce!
These Mediterranean dishes were served in the open-plan restaurant and on the outdoor terrace. Last but not least, the cocktails that we tried were some of the best on the island and complimented the food perfectly.
Welldone!
Photos: Courtesy of the hotel with some personal shots.